The injury bug has been running through the St. Louis Blues roster quite extensively over the past couple of months, but will it ultimately cause the team to miss their leading scorer's touch through the playoffs?  Here we take a look at the road in front of Alexander Steen.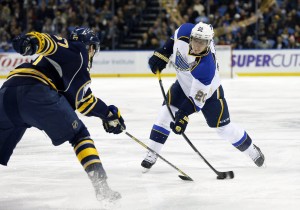 Alexander the Great(ly) Frustrated by Injuries
Steen is currently in the middle of an ongoing saga that has seen him in and out of the line-up over the past few months.  He is still among the team's top point producers (he actually still leads the team with 44 points), but has been out of the line-up for most of the past month and a half with various injuries.  He had just come back from a concussion that saw him miss 11 games when he left the game last Thursday night against the New York Rangers with an undisclosed lower body injury.
St. Louis Blues forward Alexander Steen leaves game with lower-body injury http://t.co/DL4mXTHjCX

— ESPN NHL coverage (@ESPN_NHL) January 24, 2014
At this point I hope Alexander Steen decides to take the cautious road and focus on the team's and fan's true goal, bringing Lord Stanley's Cup to St. Louis for the first time in the Notes' storied history.  However, he is obviously one of many NHL players looking to help their respective countries go for Gold in Sochi in a short time.  This could put the winger in a precarious position, as he is now coming back from 2 separate injuries. Though Alexander the Great came back and had 2 helpers on Saturday, I worry that he may be pushing himself too hard, trying to make sure he is on the game day roster in Sochi.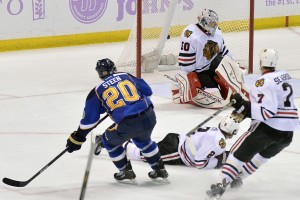 Will Sochi Olympics Be Steen's Demise?
I am hoping that the Blues' star forward will prove all of us wrong and find his stride on Olympic ice, then transition that success back to his Blues' team, where he can focus on a great playoff run. Alexander Steen has had some concussion troubles throughout his career, most notably during the 2011-12 season where he missed almost half the season due to similar injuries.  Luckily for St. Louis fans, Steen has always found a way to improve his game after injuries sideline him, and even in his most recent (and very short) stint back he was able to rack up 6 points (2 G, 4 A) which is a great sign of things to come for the silky-mitted power forward.
#HockeyOps explains review of Alexander Steen's goal at 8:38 of the 1st period in the @StLouisBlues/@NYRangers game. http://t.co/D2kA18qXEI — NHL (@NHL) January 24, 2014

Where does this ultimately lead?  Well as I stated earlier, hopefully Alexander Steen will take a cautious road and work at getting back to 100% in as healthy of a way as possible, so that he can be ready to lead the Blues on a deep playoff run.  Steen will be looking forward to helping Team Sweden in Sochi, but judging his latest injury woes, he may be best suited for a limited role in the 2014 Winter Games.
Steen Will be Ready for a Deep Playoff Run
Whatever the immediate future for Steen holds one thing is certain, he will do whatever it takes to make sure he is alongside line-mates David Backes and TJ Oshie to start the 2014 Stanley Cup playoffs.  His scoring touch and chemistry with teammates should help the Blues make it to the Conference Finals for the first time since the 2000-01 season, if not even further.  It may not unfold the way anyone thinks it will, but I can guarantee this year's playoffs will feature some of the best hockey the NHL has seen in a long while.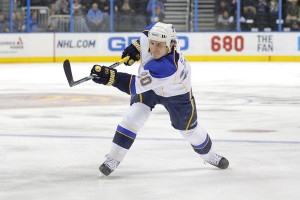 This year has felt different in a special way for Blues fans, as many characteristics that held past teams back, seem to be minor issues in the team's play this year.  In particular it has been nice to see the team consistently scoring goals; the Blues have averaged 3.38 goals per game so far this season, which is good enough for 2nd best overall in the NHL just behind the Chicago Blackhawks who are averaging 3.47.  Let's hope that they can carry these impressive scoring statistics through the Olympic break, and into the playoffs to try and bring the Stanley Cup to St. Louis fans, a lot of whom have been waiting their entire lives to see such a feat.
Like what you've just read?  Follow me on Twitter: @pep30