It's time to put away the binder and parade route details for Yonge Street, at least for now.
The Toronto Maple Leafs were on quite a roll there, winners of six straight before heading into Dallas Thursday and getting absolutely hammered by the Dallas Stars, 7-1. All of the things that had been going well for the Leafs during their winning streak went south in a hurry on a chilly Texas evening. The beating isn't the end of the world, though.
The key to the success of the Buds lately has been their disciplined play, especially in their own end, and their success on the power play. The Stars weren't in the penalty box much Thursday, but when they were, the Maple Leafs failed to capitalize. Entering play, the Leafs were 7-for-22 (31.8 percent) on the man advantage during their six-game winning streak, which is well over their already solid mark of 22.5 percent, which ranks fourth-best in the National Hockey League.
[Keep Fanxchange in mind for your Maple Leafs Tickets]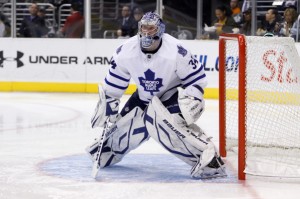 After seeing such a lopsided score, Leafs fans who did not bother to watch the game will begin wringing their hands again, as they typically do in the center of the hockey universe when things start to go remotely bad. But this is a different team than years past, and they have picked themselves up off the mat after it seemed they were down for the count before. If you believe the statistics, and they generally do not lie, this is a rather ordinary team with little depth. However, they have fought hard and been best when the chips are down.
Remember, they were absolutely tattooed in Carolina by a 6-1 count back on Jan. 9, and then dropped 3-2 in Washington the following night before their six-game winning streak started. And 7-1? If that score has a familiar ring, it should. That was the mauling the New York Rangers put on the blue and white back on Jan. 4. And this team responded positively after those setbacks, and they'll do so again going forward.
One of the biggest surprises, and perhaps most unheralded moves by general manager Dave Nonis, has been the addition of LW Mason Raymond, and how well he has fit in. He currently sits tied for third in points with 32 (13 goals, 19 assists) and a plus-1 rating. He has six power-play markers, and he is tied for the team lead with three game-winning goals.
What needs to get better for the Leafs
As good as Raymond has been, if the Maple Leafs are going to go far in the postseason this year, they will need RW David Clarkson to step up and start earning his giant paycheck. He is being paid $5.25 million this season, and he has a mere three goals, eight points and a minus-5 rating through 36 games. That's a lot of loonies for not a lot of production.
G James Reimer has not been terribly sharp lately, either. And while it is to be expected he'll be less-than-stellar when between the pipes once every six days or so, it's no excuse. He needs to be better. He sits with a fat 3.13 Goals-Against Average (GAA), and he has given up three or more goals in seven of his past 10 appearances. That simply will not do, and he has to be better when G Jonathan Bernier is getting a much-deserved breather.
Anyway, there might be a lot of moaning about this loss, but look at it as a positive. The Leafs didn't necessarily need a wake-up call, but they needed an opponent to step up and let the Buds know they're not as good as their six-game winning streak might indicate. But, they're also not 7-1 bad, either. This team needs to re-focus, re-dedicate itself to winning the little battles in the corners and make sure not to take ridiculous penalties. It seems so simple.
What's next for the Leafs?
We'll find out what this team is made of when they head to MTS Centre in Winnipeg Saturday on Hockey Night in Canada. Will all of the good work of their win streak be undone in Manitoba, or will they get back in the positive before heading home for Toronto? It will be interesting to see. What is clear is this club is not elite caliber, or anything close to it. They have some glaring weaknesses that still need to be fixed before we see floats and ticker tape littering Yonge Street in front of Eaton Centre.