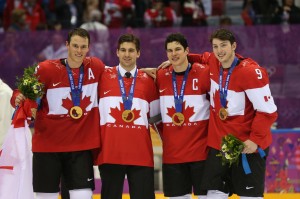 It has become a forgone conclusion that Pittsburgh's Sidney Crosby is the best player in the world. From media outlets to social circles, it seems as if anyone who appears to know anything about hockey will agree that Crosby stands alone. But what if I told you that they didn't know what they were talking about? What if I told you they were completely wrong? Well, that's exactly what I'm telling you, and here's why – Jonathan Toews.
Jonathan Toews vs. Sidney Crosby
When comparing Jonathan Toews to Sidney Crosby, one must assess the entire picture. If stacking points is the standard, Crosby runs away in the comparison hands down. But there's a reason why scoring isn't the lone standard – because it doesn't reveal the entire player. For instance, Montreal's Max Pacioretty is 5th in the NHL with 30 goals, seven more than Philadelphia's Claude Giroux. No one, however, would ever make the mistake of elevating Pacioretty, a fine player, ahead of Giroux.
Needless to say, Crosby, who has played two seasons longer and 61 more games, edges Toews with a 749-433 regular season point total. Even with a 61 game advantage, the ratio is lopsided. So how can anyone say Jonathan Toews is better? The answer comes in several fashions.
Championships
Both Jonathan Toews and Sidney Crosby are winners; that's a given. But of the two, who is the true winner?
https://twitter.com/nhlprobz/status/440263762768322560
Sidney Crosby has a Stanley Cup Championship to his name, along with achievements like the youngest player to record 100 and 200 points, the youngest captain to win a Stanley Cup, and the winner of the Art Ross, Hart Memorial, and Maurice "Rocket" Richard Trophies. Clearly, the inner circles know the best player in the world when they see him, right? Not exactly.
While Crosby was the youngest captain to win a Stanley Cup, leading Pittsburgh to a Game Seven against Detroit in 2009, he was on the ice for only 32 seconds of the 3rd period. Although Crosby tallied 31 points throughout the playoffs that year, it was Evgeni Malkin and Max Talbot's contributions that lifted Pittsburgh to the top.
"Talbot, who had four goals and was plus-four, both series highs, may have been the best player in the finals. But Evgeni Malkin, who led all scorers in the playoffs , was awarded the Conn Smythe Trophy as postseason most valuable player.

"But it was the 25-year-old Talbot who shone brightest on this night. Soon after a first period in which the Penguins held a 14-8 turnover advantage against a Detroit club clearly back on its heels, Pittsburgh jumped into the lead off another Red Wings giveaway. Under pressure from Talbot and Malkin, defenseman Brad Stuart passed the puck right to Talbot, who fired past Detroit goalie Chris Osgood from 12 feet at 1:13." — The New York Times
Jonathan Toews, on the other hand, not only won the Conn Smythe Trophy in 2010, he did so as the second youngest player at just 22-years-of-age. Crosby's 31 playoff points in 2009 wasn't enough to win the award when Pittsburgh hoisted the Cup, but Toews' 29 were, proving the point that scoring isn't the sole measuring stick of evaluating who is better than than whom.
Unlike Crosby, Toews added a second Stanley Cup to his trophy collection in 2013, helping the Blackhawks down the Boston Bruins in six games.
"He's a great player," said teammate Patrick Kane. "He's played big in a lot of big games. He won the Conn Smythe our last playoffs [in 2010] and was awesome in that Olympic gold-medal game, and made some big plays tonight, a big goal, a big pass to Bickell to tie it up. He's just a competitor.
"That's really all you can say about Jonathan Toews is he's a competitor, and he leads the team in the right way, and we all follow."
Jonathan Toews has played in two Olympic gold medal games and it's not unreasonable to say he was the best player on the ice in both.

— Jayson Hajdu (@JaysonHajdu) February 23, 2014
Olympic Awards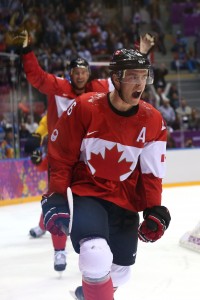 Jonathan Toews and Sidney Crosby have now been teammates for Team Canada twice with the conclusion of this year's games in Sochi. Both have helped their team win the gold medal twice, and both were considered for the captaincy for the Sochi games. And although Canadian head coach Mike Babcock ultimately gave Crosby the nod, it was Toews' ability and accomplishments that led to Crosby insisting on okaying the decision with Toews beforehand.
Neither Toews nor Crosby stood out statistically in the Sochi games, but both scored goals in Canada's 3-0 gold medal game against Sweden. In 2010, Crosby netted the game-winning overtime goal to give Canada the gold over Team USA. But it was Toews who left Vancouver with the Best Forward Award.
"In addition to guiding the Blackhawks to the Stanley Cup, the 22-year-old Canadian earned an Olympic gold medal in February, becoming the youngest player in history to win a Stanley Cup, Olympic Gold and a World Championship." — Bauer Hockey
Oh Captain! My Captain!
In 2007, Crosby became the youngest player to be selected as the captain for any NHL franchise. And even at 19-years-of-age, the star forward displayed maturity that is essential in leadership.
"Part of what makes Sidney not your average 19-year-old kid is that he gave it some thought for two or three weeks and came back to us and said he didn't feel the time was right," said Pittsburgh GM Ray Shero. "He didn't really turn it down, he deferred it basically."
The Penguins haven't lived to regret that decision, with Crosby blossoming into arguably the league's best player. But what about Jonathan Toews? The Blackhawks leader may not have been 19-years-old when Chicago named him the 34th captain in franchise history, but at age 20, Toews became the third youngest in NHL history.
"Jonathan deserves this honor, he is a tremendous individual and a wonderful leader on and off the ice," said Blackhawks GM (at the time) Dale Tallon. "He has experience in captaining teams from his World Junior appearances and guys follow his lead in our locker room."
With success coming to both young players early and often, the leadership comparison would normally be considered a push. That is, until their most recent match up in the outdoor Stadium Series game in Chicago.
Not only did Toews outshine Crosby with two goals and assist in Chicago's 5-1 throttling of Pittsburgh, he did so in conditions not conducive for a normal hockey game.
"The score is 5-1; if it were a straight-up matchup Jonathan (Toews) had two goals and we didn't match," said Pittsburgh head coach Dan Bylsma. "I don't look at it as a straight-up matchup and one-on-one competition. Our team wasn't good enough. Our team wasn't at the level we needed to be and they were. You saw that pretty much right from the get-go of this game."
Toews further exuded his leadership by calling out his former Olympic teammate on what he, and the hometown crowd perceived to be Crosby diving to draw a penalty. As shown in a recent episode of NBC Sports Network's NHL Revealed, Toews had no issue standing up for his teammates and saying what needed to be said.
"When the puck dropped in Chicago, the Olympics seemed like a distant memory.

'Stay on your feet there, Sid,' Toews chirps at Crosby.

He can-opened me!' Crosby yells back.

'Wasn't he just your teammate the last two weeks?' someone asks Toews on the Blackhawks bench." — NHL Revealed
Defense Matters Too
Sure, Crosby leads the league in points with 84 in 63 games. But not only is Toews not too far behind with 61 in 64 games, it's Toews' defense that adds to his claim to best player in the world. And although Crosby touts a plus-seven rating through 63 games this season, it was his minus-two rating against Toews and the Blackhawks that have all indications pointing to Pittsburgh's firepower to credit for Crosby's above average plus-minus on the season.
"Sidney Crosby isn't a Selke level defensive forward, and is bound to end up on the ice for some goals against just as a function of the heavy amount of minutes he plays plus all the faceoffs in the defensive zone he's called upon to take. At times there will be a lack of back-checking. The SH goal against last night, Crosby had played 2:49 of a period that only had 5:18 gone. When playing that heavy amount of minutes and several shifts in a row, the energy level (especially in the 3rd period) isn't always going to be there.

That's reasonable, but it's still an excuse. It's one thing to say that even great players occasionally have bad games, and last night certainly qualified as one of the worst in the celebrated career of Sidney Crosby. But, overall, the Pittsburgh Penguins outscore their opponents while Crosby is one the ice, eating the most minutes and faceoffs of any NHL forward, and battling the other team's toughest competition. That's a huge win that helps set the Penguins up to win many of their games." — SB Nation
Again, Toews won 13 of 16 faceoffs on top of his 2 goals and 1 assist. COMPLETE player #Blackhawks

— Tab Bamford (@The1Tab) March 17, 2013
Jonathan Toews, however, is not only a Selke level defensive foward, he proved so by winning the award last year. Toews captured the award, beating out Boston's Patrice Bergeron and Detroit's Pavel Datsyuk, with a plus-28 rating, a league best 56 takeaways, and a 59.9 percent faceoff winning percentage. There's no reason to believe the Blackhawks captain won't be in the thick of the race again this year with a current plus-minus of plus-24.
Is Jonathan Toews The Best Player In The World?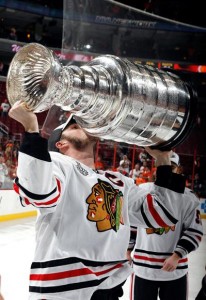 In comparison to the default answer in Sidney Crosby, Jonathan Toews has made a bullet proof case for being called the best player in the world. It's easy to declare Crosby the better of the two when it comes to pure scoring, especially when Toews isn't even the best scorer on his team (Patrick Kane – 65 points). But Toews is no slouch when it comes to inking the stat sheet. His leadership, defensive play, and championship intangibles make him the clear choice to call the best in the world.
If you don't believe me, take another's opinion into consideration:
"One player to choose to start a franchise? You can have Sidney Crosby.

I'm taking Jonathan Toews.

I'm taking the 25-year-old who already has two Stanley Cup rings and two Olympic gold medals, a player who intrinsically seems to comprehend what it takes to win and with a willingness to do whatever it means to get there." — Steve Simmons, Toronto Sun
Even after Toews won the first of his two Stanley Cups, then team president John McDonough recognized his star center for what he really is.
"He's one of those once-in-a-generation type of players as far as I'm concerned."