Sonny Milano
THW's NHL Draft War Room Rankings (E-Mac): #16 (Feb 2014)
THW's NHL Draft Rankings – The Next Ones Edition (aka Chris's List): #20 (March 2014)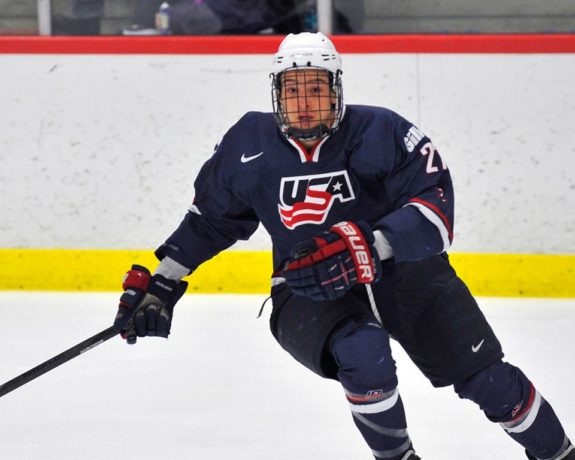 Hashtag/Nickname: #MrMagicHands
Team: #27, US U18 NTDP, USHL
Position: Left Wing
Shoots: Left
Height: 6'0
Weight: 183 lb.
Born: Massapequa, NY, 12-May-96
Twitter: @27SMiLano
Stats
Other Rankings
16 – Bob MacKenzie, Jan-14
18 – ISS, Feb-14
20 – Craig Button, Jan-14
20 – Future Considerations, Feb-14
20 – NHL Combined – Mid-term, Jan-14
27 – HockeyProspect.com, Feb-14
Worth Retweeting
LRT, Sonny Milano officially switched commitment from Notre Dame to Boston College. Expect Plymouth (OHL) to make a big push, though.

— Chris Peters (@chrismpeters) November 18, 2013
Sonny Milano- His offensive skill is poetry in motion. Explosive, serpentine skater with a nose for the net and a penchant for big plays

— Kirk Luedeke (@kluedeke29) September 4, 2013
http://t.co/dTmaEKMf2A
#18 Sonny Milano @27SMiLano
Dangerous player on puck… ability to control the games tempo. Elusive offensive talent.

— ISS Hockey (@ISShockey) March 4, 2014
Profiles
Shared some thoughts on Sonny Milano, the former Notre Dame recruit who is now committed to Boston College: http://t.co/JfihcWrKSV

— Chris Peters (@chrismpeters) November 18, 2013
New Prospect Watch: Boston College commit Sonny Milano has sick hands – and the video to prove it: http://t.co/OrCV7R8zh5

— Ryan Kennedy (@THNRyanKennedy) November 28, 2013
Quotable
Quote 1: David Gregory of NHL Central Scouting at NHL.com, "He's so dynamic, very good with the puck in traffic and in open ice and can make defensemen look silly. He enjoys chirping at other players too. He likes to get under your skin. He'll allow the play to come to him, take a hit and chirp it up before heading on a 2-on-1 in the opposite direction resulting in a goal … I've seen it happen. He certainly has the potential of becoming a complete player."
From the THW War Room
Eldon MacDonald, THW: A few words on Sonny Milano:

Magic hands – Give him the puck and you will see magic at top speed that will make a magician green with envy.
Skills – His acceleration and agility are money. Combine them with a good high gear, a great shot with a quick release and outstanding vision and you get the leading scorer on Team USA – U18 NTDP.
Intangibles – He has that will to be better that coaches love.
Defense – Could be better but he plays with enough grit and shows enough determination that he will eventually overcome any lingering deficiencies.
Draft position – 15-20 on most lists, Sonny could go higher with a break out U18 WJC performance.
Video
Video 1: Goal versus Chicago Steel from B Freatman
Video 2: Goal (while miked up) from NHL.com
About NHL Draft War Room Series
This series is compiled by Eldon MacDonald and edited by @ChrisRalphTHW)