Let's play a game of "Who would you pick?" If forced to give a definitive answer, would you choose Jonathan Toews or Patrick Kane? Both have been instrumental in Chicago's pair of Stanley Cup Championships in the past four years, and both have plenty of years left. However, one may prove to be more valuable to the franchise than the other, turning the hypothetical question into an observation worth recognizing.
Jonathan Toews Or Patrick Kane? – By The Numbers
With both players entering the NHL in the 2007-08 season, the playing field is nearly level when tracking statistics. By the numbers alone, Patrick Kane is easily superior. Throughout their time together, including the 60 games leading up to this year's Olympic break, Toews has scored more points than Kane in a single season only one time (2010-11) – a three point difference with Toews (76 points) playing seven more games than Kane (73 points).
In playoff action, the numbers still favor Kane. The 25-year-old assistant captain's 71 playoff points bests Toews' 64, despite Kane playing one less playoff game. Kane further builds a case with not only his prolific scoring, but his timely scoring. After all, it was Kane, not Toews, who scored the Game 6 overtime game-winning goal in the 2010 Stanley Cup Finals against the Philadelphia Flyers.
It's clutch performances that that have Kane's teammates no longer surprised. "Sure enough, it's little Kaner," said teammate Duncan Keith after Kane's game-winning goal in 2010. "He's scored big goals for us all year."
Jonathan Toews Or Patrick Kane? – Hardware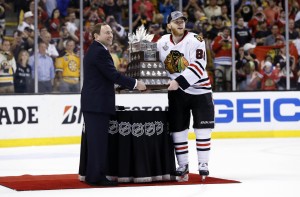 Both Toews and Kane are accomplished at the shared age of 25. The two have won a pair of Stanley Cups together, with each claiming the Conn Smythe Trophy in separate Cup Finals. When Toews secured his Conn Smythe in 2010, however, he became the second youngest to ever win it.
When Kane accepted his last year, he did so by scoring nine goals and 10 assists. His 19 points were 10 less than Toews' 29 points scored throughout the 2010 playoffs, despite scoring two more goals than Toews in the respective years.
Finding separation between the two in the trophy case may be problematic, especially since they're teammates. But for Toews, the Olympics have been the stage he's used to catapult him over Kane. With Canada's most recent victory over the Americans, Toews is now 2-for-2 when going against Kane on the international stage.
While there are those who say that the Canadian team is overwhelmingly better than the U.S.'s, the gap between the two has certainly shrunk. In their last two meetings, both games were determined by one goal. And despite the fact that Kane and his Olympic teammates failed to medal in Sochi, the competitiveness between the national teams and NHL teammates was at an all-time high.
"Everyone respects the players they have and what they've done as a country in the past," said Kane prior to their tilt. "They're the defending champions … they have some great players over there.
"At the same time, we have a chance to try to prove that we're in the same sentence with Canada. That's something USA Hockey has been trying to do for a long time is prove that we can play with the Canadians and the Russians and the Swedes and Finns consistently on a tournament basis. We have that chance (Friday); hopefully we can take advantage of it."
Kane rejoins the Blackhawks with four assists in six games to show for. His average ice time of 17:42 reveals his prominent role for Team USA, which makes the outcome of his Sochi experience all the more disappointing. Toews, on the other hand, added a goal and two assists for Canada to go along with yet another gold medal. But since his game isn't predicated on pure scoring, his increased ice time in Canada's shut out effort against Team USA is witness to his defensive command.
Jonathan Toews Or Patrick Kane? – All Around Game
Although it's abundantly clear that Patrick Kane is the richer of the two when it comes to scoring, other attributes should and do factor in. The plus-minus stat, although not as sexy or eye catching as goal scoring, is quite useful in determining other aspects of one's game. And for Jonathan Toews, it's a tier in which he stands out.
Jonathan Toews is starting to show the ability to impose his will on a hockey game. The league should be scared #Blackhawks

— Tab Bamford (@The1Tab) February 5, 2011
Canada's Mike Babcock: "Jonathan Toews has done a lot of winning with two Cups. I think that shows he has the ability to lead." #Blackhawks

— Chris Kuc (@ChrisKuc) February 11, 2014
To counter Kane's glamorous scoring, Toews does hold the plus-minus advantage in both the regular season and playoffs. Toews' plus-136 up-to-date regular season rating dwarfs Kane's plus-41 rating. Their playoff plus-minus comparison follows the trend as well. Not only does Toews stand at plus-7 over 75 postseason appearances, Kane's minus-four rating is quite unforeseen.
And while Toews' all around plus-minus may shed light on his defensive excellence, it doesn't begin to illustrate the full picture. Toews' defensive efforts last season earned him the Frank J. Selke Trophy, which is annualy awarded to the best defensive forward in the league. In doing so, Toews edged out worthy candidates such as Patrice Bergeron and Pavel Datsyuk.
"Toews, 25, ranked second on the Blackhawks with 48 points (23G, 25A) and ranked third in the NHL with a career-high plus-28 rating in 47 regular-season games. He also shared the league lead with 56 takeaways and ranked second in the NHL with a Western Conference-best 59.9 faceoff percentage." — NHL.com
Toews became the third Blackhawk in franchise history to win the Selke Trophy, and the first since the 1990-91 season when Dirk Graham won it. Patrick Kane's defense, though, has been the one chink in his armor. Kane's phenomenal ability to score may masquerade his sluggish defensive efforts at times to a certain extent, but as explained, it can leave the Blackhawks vulnerable.
"There isn't a lot to be critical about with Kane's game, but there is one thing that he is going to need to work on for next season, and that is his fluctuating level of effort defensively.

In most games this season, Kane did a very good job of aggressively pursuing the puck in the neutral zone, both on the forecheck and the backcheck, but there were intervals in which he looked slightly disinterested." — NBC Chicago, 2013
Jonathan Toews Or Patrick Kane? – An Edge In Leadership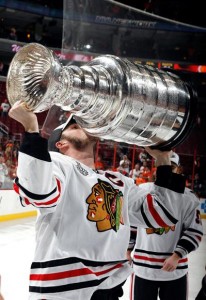 Toews doesn't hold onto the arbitrarily plucked plus-minus stat to state his case, however. The 25-year-old captain possesses other rare qualities that make him one of, if not thee best in the game.
''It's the intangibles that separate him,'' said former teammate Sean O'Donnell of Toews. ''Obviously, he's a talented guy, and there's lots of talented guys in this league, but the 'not being denied,' that will, the desire, whatever you want to call it that he has, you just can't make it up.
''You either have it or you don't. He's got it.''
In terms of leadership, Toews is second-to-none, growing from a timid leader, to being the benchmark of what a captain is.
"I think he has an aura about him and a myth about his leadership, but if you've played with him it's definitely no myth," said Blackhawks forward Kris Versteeg. "He's the real deal. I come back now and instead of this little kid standing in the middle of the room pleading for help, you have this confident young man there now."
Although Sidney Crosby was chosen to captain Team Canada in Sochi, Toews' leadership certainly didn't go unnoticed. That's because Crosby, who was the captain in the 2010 Vancouver games, actually cleared the issue with Toews before accepting the title.
"Sidney Crosby wanted to make sure it was OK with him, just for the fact that he had won a couple Cups," said Canada head coach Mike Babcock. "He's held in high regard, to say the least, amongst coaches, amongst management, amongst players. He's a huge part of the reason why [the Blackhawks] win as much as they do."
Crosby may have been named the captain, but Toews' notable leadership wasn't dismissed. He, along with Nashville Predators defenseman Shea Weber, were named the assistant captains for Canada.
"I never gave it to him," Babcock said of Toews. "He earned the right. He's won two Cups. He's won an Olympic Gold. He's won a World Juniors. I don't know what else he's won. He might have won more than that. He's a pro. He does it every day. He's a 200-footer.
"To me he's an impressive, impressive man. He's a guy, when we were talking about it, Sidney Crosby wanted to make sure it was OK with him because of the fact that he's won a couple Cups. He's held in high regard to say the least amongst coaches, amongst management, amongst players and he's a huge reason they win as much as they do."
Jonathan Toews Or Patrick Kane – Will It Be A Choice?
Toews and Kane are not only different in style on the ice, they're also contrasting off the ice as well. Their brotherly friendship, however, demonstrates just how much they enjoy having fun. In an effort to avoid separating the two, GM Stan Bowman has vowed to re-sign both stars.
"Jonathan Toews and Patrick Kane will be here forever," said Bowman. "I can't predict what the salary cap will be in the near future, but I can tell you that Jonathan and Patrick will be on this team."
Both Kane and Toews are due to become unrestricted free agents after the 2014-15 season, which buys Bowman some time to figure it all out. But with over $171 million wrapped up in long-term deals with Marian Hossa, Duncan Keith, and Corey Crawford, budgeting for Kane and Toews may not be as easy as advertised.
"Those two players put the Blackhawks back on the map, they're up in a couple years, and whatever the numbers are, we'll figure out the details," added Bowman. "The notion that the money we're spending now will affect our ability to keep Jonathan and Kane…it's a non-issue.
"They will be here no matter what."
Toews and Kane jokingly addressed the issue this past December in an impromptu interview with ESPN:
Kane: It's funny that people even bring it up now. We just got over the hump of our five-year contract. It's still two years away. I mean, who knows what's going to happen in that amount of time? I'm sure you want to stay here, Jonny. I'd love to stay here, too.

Toews: Are you hinting at who deserves more?

Kane: I'm leaving if you make more. [Laughs.]
In the event they do part, who would you choose – Jonathan Toews or Patrick Kane?
Andy is a contributor for The Hockey Writers, covering the Philadelphia Flyers. He holds a Bachelor's Degree in Communications from Walsh University. He enjoys spending time with his family, golfing, and reading. He is married with a daughter. You can follow Andy on Twitter @ADudones.