Over the last several hockey seasons, individuals such as Blake Weyrick have been making significant strides in their overall game. Progressing from two levels of play at Shattuck St. Mary's to the USHL, Weyrick has made a name for himself by gradually improving various aspects of his game over his last four hockey campaigns.
Weighing in at 203 lbs. and standing tall at 6'3″, Weyrick is certainly one of the bigger netminders that will be available at this year's NHL Entry Draft, but one shouldn't be fooled into thinking that the goalie simply relies on his size in order to be successful. Instead, Weyrick uses an impressive combination of talent and athleticism in order to make a stop – and that was certainly evident when the Central Scouting Service released its midterm rankings and slotted Weyrick in at number three.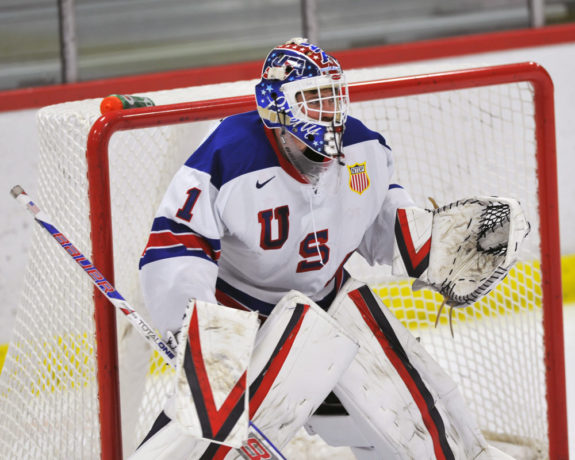 While the NHL Entry Draft is still months away and much can happen leading up to the festivities in June, Weyrick is certainly a netminder that hockey fans should keep in mind over the next few months. Recently, The Hockey Writers had a chance to sit down and have a conversation with Weyrick about the upcoming draft and his journey as a goalie thus far.
The Hockey Writers: Shattuck St. Mary's has been renowned as a center of hockey excellence. During your two seasons – one in bantam and one in midget – what did you get out of the hockey program that might have prepared you for the USHL and your hockey career going forward?
Blake Weyrick: I think that Shattuck is an unbelievable place – just being around great players and spending so much time on the ice and in the weight room, and just evolving as a player. I think it really makes you mature a lot more than anything else, and it turns you into more of an adult and a serious hockey player. Just being around people that are really focused and want to achieve bigger and better things, I think that was the biggest thing that I took away from Shattuck.
THW: You've shown noticeable improvement from last season, what has helped you with your adjustment to the USHL this season?
BW: I think just working over the summer and getting stronger and faster. I worked out my game with my coaches – our coaches out here are unbelievable at the National Team program – I definitely had a lot of ice time with coach Reiter. I really worked on my fundamentals, my technique, and paying attention to the details of my game has been huge for me, but our team this year has been great – they don't give me too much work so it helps me out a lot.
THW: You just came back from the Five Nations Tournament in Russia. Having been on the international stage over the last couple of years, how was this experience different from the others, and what did you take away from it?
BW: I think every time you wear the USA jersey internationally it's a big deal, and I think you're always very proud to wear the jersey regardless of the situation. Being in Russia for this past tournament was a really cool experience – the Olympics are just starting so there's a lot of emphasis and energy around hockey. So it was a really cool time to be in Russia, especially with all of the build up for the U18 World Championships, and it's a really big stepping stone for us as a group. This was the last time that we were going to see these teams before we play them in April, so we really wanted to make a statement and show what we were capable of right now.
THW: What would you say are your biggest strengths to NHL teams that are scouting you?
BW: I think number one would be my compete level. I think that's something that I really pride myself in, as well as my work ethic. Also, in terms of being on the ice, I think my leg strength, lateral movement, and athleticism is something that is a big part of my game and that's what I base my game off of. If I were to analyze myself, then those would probably be the strongest parts of my game.
THW: What aspects of your game would you say you need to improve upon or fine tune before the NHL Entry Draft rolls around?
BW: Definitely my rebound control. I think that's something that you can never be too good at, and puck tracking – I think that's something that I really need to focus on in practice and in these upcoming games. Those are the two big things and I think that playing the puck is a very key part of goaltending and I think that's something that elite goalies can do really well, so it's something that I want to work on myself.
THW: Has there been a particular NHL or professional goalie that you like to learn from or watch?
BW: I'm from L.A, so I'm a big Kings fan. I love watching Jonathan Quick and Antti Niemi, and I also like watching Kari Lehtonen in Dallas. I think that since I'm from the West Coast I like to watch a lot of the Western goalies. I think growing up, goalies such as Roberto Luongo were some of the guys that I watched a lot and tried to learn from.
THW: In terms of style of play, which NHL goalie would you say that you resemble the most?
BW: I think I'd say Antti Niemi. That's someone that I've grown up watching a lot when he was with Chicago, and the last few years that he has been with San Jose. I think that's someone that I compare myself a lot to in terms of style of play.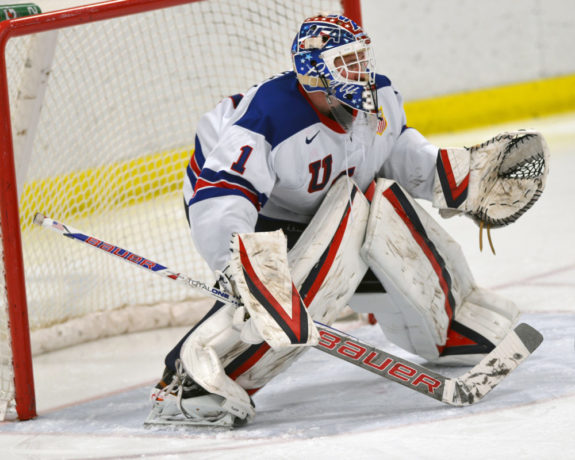 Not only will Weyrick be a goalie that will be on many teams' radar because of his size, his athletic ability, work ethic, and composition will make him a standout amongst this year's draft class of goalies. When and by whom Weyrick will be drafted is something that few can accurately predict at this point in time, but it is plain to see that anyone who does put stock into the young netminder won't be disappointed by the product that they will be receiving.