Anton Karlsson THW Close-Up:
Date of birth: 8/3/1996
Place of birth: Lerum, Sweden
Ht: 6'2″     Wt: 194 lbs
Shoots: Left
Position: LW/RW
NHL Draft Eligibility: 2014
Twitter: @Antonkarlsson61
THW The Next Ones Rankings (January 2014): 30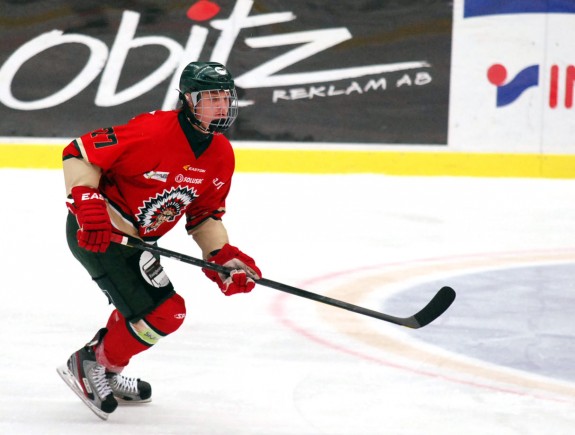 Other Rankings:
THW War Room Rankings (April): 26
Craig Button: 29
CS Final Rankings for European skaters: 11
***
While many Swedish players have a knack for having great skill, Anton Karlsson is more of a "meat and potatoes" type of player. He's physically imposing standing and plays a tough style. Even for his size, he can move very well and has great quickness. An excellent backchecker, Karlsson is a punishing check winger that gravitates to the dirty areas of the rink.
As with the majority of Swedish hockey, they stress skating and fluidity. Even for a big man like Karlsson, he is light on his feet and has superb agility. Given his frame and size, Karlsson is great at control the puck and his long reach makes him a great pokechecker.
Offensively, Karlsson's game doesn't have a "WOW" factor to it. He does have very good hands for a big man and provided Frolunda with consistent offense throughout his time with the club. Overall, his game can translate very well to the NHL.
Where Will He End Up In June:
Anton Karlsson is a likely a fringe 1st rounder. He will be an effective bruising player in the NHL so I'd peg him around 30-43.
Scout's Honor:
"Big hulking winger who is at his best when he forechecks hard and finishes his checks. He bought that role during the WJC in Sweden and was very effective until he got hurt in a game against Norway. He's got some offensive tools as well, but if he's ever going to play in the NHL, it'll probably be as a banging third-liner who plays responsible defensively and adds a lot of physicality to the game. Wouldn't be surprised if he ends up in the CHL next season. "
"Karlsson is a strong forward that is tough to handle at full speed. He has a good compete level, solid checking ability and the smarts to play both ends effectively. He's a strong playmaker given his vision, timing and soft hands but can finish, too. (August 2013)"
Aaron Vickers – Future Considerations
"Karlsson burst onto the scene internationally last season; wearing the captaincy for Sweden at the Under 17 Championships and following that up with a very impressive performance as an underager with the Swedish entry at the Under 18 Championships. The 6-foot-1 forward has already filled out to 203 pounds and has a motor that is rivaled by few prospects at this age. Karlsson is a tireless worker who is always making an impact with his hardwork and physicality. The 17-year-old is relentless on the forecheck and is excellent at creating turnovers and driving offensive zone puck possession with great board-work and puck protection. Karlsson is underrated offensively and his ability to be around the puck bodes well for him at the next level as he should develop into a forward who is capable of complimenting a first or second line centre."
Statistics:
Bio/Interview(s)/Links:
Interview with Not Your Average Hockey Blog
Profile from Last Word On Sports
International Tournaments:
Karlsson played for Team Sweden 12 times over the past three years. He's won two bronze medals, two silver medals, and one gold medal.
ETA:
2-3 years
Risk/Reward Analysis:
Risk: 2/5   Reward: 3.5/5
NHL Potential:
Bruising 3rd line power forward with some offensive potential
Strengths:
Forechecking/Backchecking
Puck control
Body checking
Nice stickhandling for his size
Pokechecking
Fluid skating
Work ethic
Top speed
Flaws/Aspects He Needs To Work On:
Can fill out his body more
Fantasy Hockey Potential:
Offensive: 6/10    Defensive: 6/10
NHL Player Comparison:
– NHL comparison: Martin Hanzel
Video(s):
***
THW's The Next Ones prospect profile template design architect: Chris Ralph
Follow Shawn on Twitter: @ShawnTHW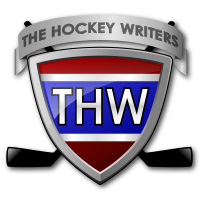 The archives of THW contain over 40,000 posts on all things hockey. We aim to share with you some of the gems we've published over the years.