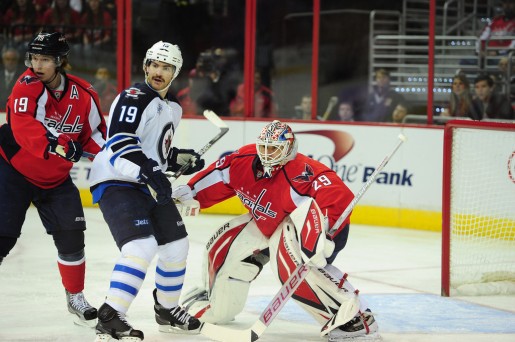 Winnipeg Jets center Jim Slater has been injured a lot in recent years. So, it should come as no surprise that 31-year-old underwent surgery Thursday to address an injury diagnosed after the 2013-14 NHL season ended.
The hip labrum surgery was performed by Dr. Bryan Kelly at the Hip Preservation Center in New York and was successful, according to the Winnipeg Jets' website. It is expected Slater will make a full recovery and be ready in time for training camp.
The question now is: can he stay healthy next season?
Slater has never played a full NHL season in his nine years in the league. In fact, he's played fewer than a 75 percent of potential games in his career and that number shrinks if you look solely at his time with the Jets. After playing a career-high 78 games in his first season with the Jets in 2011-12 — and notching career-best 13 goals and 21 assists — Slater played just 26 games in 2012-13 and 27 games in 2013-14. Most of the time missed was due to a hand injury and a sports hernia. He racked up just one goal and one assist in each of those seasons.
Thanks for the well wishes. I appreciate the support. Looking forward to getting back to the game I love and finally being healthy. GoJets

— Jim Slater (@slaterjim) May 31, 2014
A rugged fourth liner, Slater averages around 10 minutes per game in ice time and isn't expected to contribute much offensively. At 6'0″, 200 pounds, he certainly doesn't boast great speed or skill. But, he is a disciplined player who works hard, goes in the corners and backchecks effectively.  He won an impressive 58 percent of his draws last season and averaged nearly two minutes of penalty kill time per game.
Slater has one year left on his three-year, $4.8 million contract and the Jets have to hope he stays healthy. Yes, prospects like Eric O'Dell, Nic Petan and Patrice Cormier are improving, but they aren't ready to jump into Slater's role. The Jets need a veteran with experience, leadership abilities and good defensive awareness. That's exactly what Slater provides.
Eric is a postgraduate public relations student at Humber College. Prior to that he obtained a bachelor's degree in communication studies from the University of Windsor. He covers the Winnipeg Jets for The Hockey Writers and is a featured columnist for Bleacher Report.