by Eldon MacDonald (edited by @ChrisRalphTHW)
Ryan Rehill 
THW's NHL Draft War Room Rankings – Jun-14: #73
The Next Ones Final Rankings: Chris's List – Top 210: #105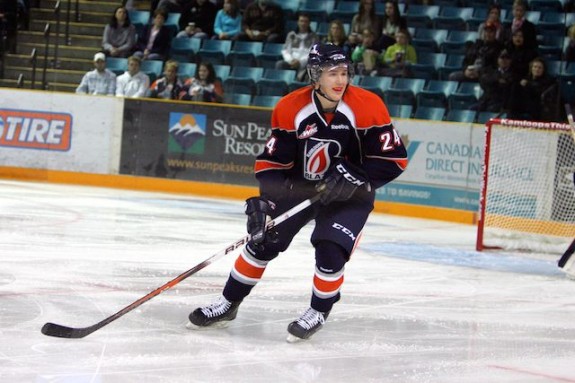 Hashtag: #TheKingofTruculence
Team: Everett, WHL
Position: Defense
Shoots: Right
Height: 6'3
Weight: 213 lb.
Born: Edmonton, AB, 7-Nov-13
Stats
Other Rankings
101 – NHL Combined – Final, Apr-14
Worth Retweeting
Ryan Rehill the lone Blazer ranked in @NHLCentralScout midterms rankings, http://t.co/ED7egiKCDk #Kamloops #WHL

— Kamloops Blazers (@blazerhockey) January 14, 2014
Ryan Rehill (76) & Edson Harlacher (196) were listed in NHL Central Scouting's final rankings for the 2014 NHL Draft, http://t.co/LJxKl3TSyG

— Kamloops Blazers (@blazerhockey) April 8, 2014
TRADE: Kamloops send Chase Souto and Ryan Rehill to Everett in return for Leedahl, Adam, 6th round pick, and conditional 4th round pick.

— WHL Informant (@WHLInformant) May 22, 2014
Profile
Quotable
Quote 1: Puckrant.com– Ian Esplen – "He's never going to be star, but with his size, leadership skills and unreal work ethic, he's going to be a quality NHLer. He still needs to work on his skating, but what prospect at 53ish doesn't have some warts. Burke/Treliving could do a whole lot worse then Rehill with this pick and "truculence is his middle name."
Quote 2: HockeyNow.ca– Ian Esplen – "But one of the bright spots this season (for the Kamloops Blazers) has been the play of Ryan Rehill. The rugged defenceman is one of only a few Blazers with a positive plus/minus. Along with his toughness, he has shown decent mobility and a hard shot."
Quote 3: HockeyNow.ca – Ryan Rehill (himself), "[Fighting] builds up a bit of a reputation for yourself, so that maybe guys think twice about hitting you when you're out in the ice."
From the War Room
Eldon MacDonald, THW:  A few words on Ryan Rehill:
The King of Truculence –Ryan Rehill is this year's draft eligible "King of Truculence". Simply put, he never backs down; he always sticks up for his teammates. He is that big brother that has your back as he didn't lead the WHL in penalty minutes (182) without addressing a few situations in a less-than-sensitive manner. Ryan is Mr. Truculence with a capital "T".
Offense – Ryan models himself after Douglas Murray so offense is not his game. He is, however, reasonably mobile and has a good shot from the point.
Defense – Ryan is that truculent stay-at-home defenseman who plays with an edge and is hard to play against. He is excellent one on one, plays with an active stick and can deliver Douglas Murray-like bone jarring hits. He is an effective leader and team player as his -4 (on a team where most of the players were in the -20s up to the -40s) indicates. Like Douglas Murray, he is not Mr. All-Skills but he does combine enough skill with the Douglas Murray hard physicality that makes him a worthwhile prospect who put smiles on the faces of his teammates, his coaches and his team's fans alike. You could say that Ryan Rehill has that "Gordie Howe trifecta for defensemen" game – team play first, then hard defense and finally, fighting if necessary.
Awards and Achievements –
Draft placement – NHL Central Scouting has Ryan as a fourth rounder which is close to where his skillset would merit as Ryan will probably will likely top out as that big, bottom pairing defenseman who takes care of business in a Douglas Murray something-less-than-tenderness fashion. However, NHL teams have been known to pay higher for prospects who have a skill which is best-in-class. That is why I have More Than a Feeling that Ryan Rehill, the King of Truculence, will go third round. Yes, you had better believe that truculence is a skill.
Video