by Eldon MacDonald (edited by @ChrisRalphTHW)
Brandon Montour
THW's NHL Draft War Room Rankings – Jun-14: #62
The Next Ones Final Rankings: Chris's List – Top 210: #112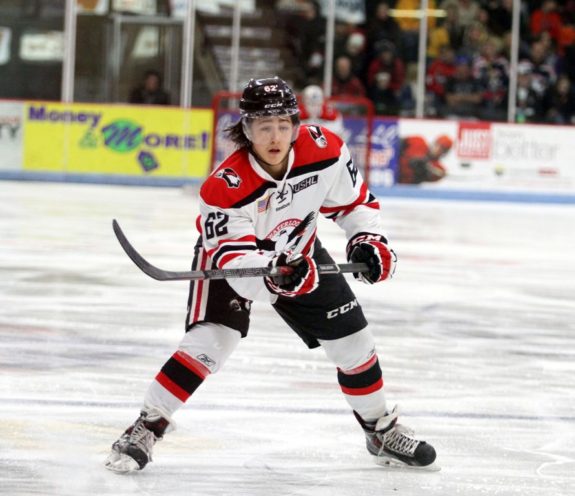 Hashtag: #MrMcWow
Team: #62, Waterloo, USHL
Commit: University of Massachusetts
Position: Defense
Shoots: Right
Height: 6'0
Weight: 172 lb.
Born: Oshwegen, ON, 11-Apr-94
Twitter: @Montour93
Stats
Other Rankings
124 – NHL Combined – Final, Apr-14 
Worth Retweeting
Brandon Montour ('94) has committed to UMass. Montour finished 2nd in the GOJHL in PTS for D last year.Playing for Waterloo (USHL) this year

— Andrew Weiss (@WeissFC) August 31, 2013
UMass recruit MT @USHL: Brandon Montour of @BlckHawksHockey named both #USHL Player and Defenseman of the Year http://t.co/zjzjqdThne

— College Hockey Inc. (@collegehockey) May 13, 2014
Includes @Montour93 "RT @USHL: @mikemorrealeNHL has compiled the #USHL 2014 Draft-Eligible All-Star team http://t.co/mgMoFKW2R0"

— Waterloo Black Hawks (@BlckHawksHockey) March 20, 2014
Profiles
Quotable
Quote 1: WCFCourier.com – Waterloo Black Hawks Head Coach P.K. O'Handley (USHL Coach of the Year) on his first impressions of Brandon Montour, "Boy, oh, boy … you kind of go. 'Wow'. Since the camp it's been wow, wow, holy cow and wow."
Quote 2: FlamesNHL.com,USHL President and Commissioner Skip Prince on Brandon Montour's year, "What Brandon did on both ends of the ice this season was phenomenal and a big part of the magical year for the Waterloo Black Hawks.He may have come into the USHL a little under the radar, but he made everyone take notice this season with his tremendous abilities and talent. Congratulations to him on this dual honor and for standing out in a league full of stars."
Quote 3: FlamesNHL.com,NHL Central Scouting's Greg Rajanen on Brandon Montour's year, "He is having a great year; very solid puck play, He's producing points and has some bite to his game. I believe he's a solid defender and good prospect."
From the War Room
Eldon MacDonald, THW:  A few words on Brandon Montour:
Mr. McWow – Like his coach, USHL Coach of the Year, P.K. O'Handley, said in the quotes above, "wow, holy cow and wow." That about sums up the play of Brandon Montour. He relishes that high-risk, high-motor offensive onslaught reminiscent of Ryan Murphyand Shayne Gostisbehere. Brandon was not just Mr. Mc Wow but Mr. Everything as well as he led his team, the Waterloo Black Hawks, all over the ice and into the Clark Cup Finals. For that, he was named both the USHL player of the year and the USHL defenseman of the year.
Offense – Skating – fast, agile, mobile, always on the move, always taunting you that he will make the rush; shot – It's in the net, fast and with a howitzer (slap shot and wrist shot alike); passing – sublime, led the league in assists.
Defense – Very strong positionally, can get the puck out of the zone in a hurry. Brandon was sixth in the league with a +35 plus minus.
Awards and Achievements –

USHL – No 1 – Points for a defenseman (62)
USHL – No 2 – Assists (All positions) (48)
USHL – Most points ever by a defenseman in the modern era of the USHL (2002 to present)
USHL – Five points under the all-time record of points ever for a defenseman
USHL – No 6 in plus minus (+35)
USHL – Player of the Year
USHL – Defenseman of the Year
Waterloo – 26 power play points to help his team, the Waterloo Black Hawks, to a league leading power play efficiency of 25.2%
Waterloo – Led defensive unit to second lowest goals against ever (153) and third fewest in the USHL
Waterloo – Consistent offensive effort – 18 game point streak
Waterloo – Consistent defensive effort – Even or better plus minus for 50 of his 60 games

Improvements to make – Weight and strength (he is only 6'0, 172) are Brandon's only significant issues. Brandon will need to add some strength to play at the pro level.
Draft placement – Yes, since Shayne Gostisbehere led Union to the NCAA Championship, a lot of NHL teams have been thinking, "I want one of him too." Brandon Montour is that Shayne Gostisbehere kinda guy – modest-sized power play quarterback who produces team results as well as points and takes care of the back-end too – the trifecta for defensemen. In the first post-Shayne Gostisbehere draft (after winning the NCAA championship), I think that there will be at least one NHL team who will step up to the podium and select Mr. Brandon Montour fairly early (I have Brandon early third).
Video
Chris is THW's senior draft/prospect analyst and a Managing Editor. Watch for "The Next Ones" Prospect Profile series, exclusive rankings, mock drafts, as well as the annual THW NHL Entry Draft Guide. Follow @ChrisRalphYQ on Twitter as he infiltrates, dissects and analyzes all happenings of hockey prospects and the NHL entry draft. Email: cralph[at]thehockeywriters[dot]com