Hockey Bloodlines in the "City of Brotherly Love" Draft
The City of Brotherly Love will soon be hosting the 2014 instalment of the NHL entry draft. This nickname of Philadelphia is fitting for this draft as this class presents perhaps more hockey bloodlines than we have ever seen in a draft. Reinhart, Nylander, Ritchie, Kapanen, Lemieux (Claude not Mario) and MacInnis are some of the familiar and obvious surnames. Others are more obscure. How many can you pick out as you scroll throughout the Top 210? Eiserman doesn't count.
Prospects Ranked Higher than Most
The big three seem to be a recurring theme in most rankings – Ekblad and the two Sams (Reinhart and Bennett) are also entrenched at the top of The Next Ones rankings. Then comes my personal favourite prospect in this draft class – Nikolaj Ehlers. This kid has Drouin-ian like talent and I was left almost speechless at his showing at the CHL Top Prospects Game when I stated:
"I can envision Ehlers stickhandling deftly through downtown Shanghai traffic in rush hour."
How high can he go? He remains firmly entrenched at 4th overall in this final instalment of The Next Ones draft rankings. Other rankings have wisely moved him substantially as the year has progressed.
Conner Bleackley seems to fall in to the last part of the first round or early second on most draft rankings. I think Conner brings so much to a team that I have him as a mid-first rounder, ranked 15th.
Brayden Point just makes it into the first round of the rankings, in at 30th. Because of his size, most have him as a 2nd or 3rd rounder. That's where he may ultimately be drafted in Philly, but Brayden seems like a kid who just will not be denied.
Prospects Ranked Lower Than Most
The Masked Men: No offense intended to any of the goalies ranked or unranked. In comparison to skaters,  gate-keepers present more of a risky proposition and thus many are ranked lower than what you might see elsewhere.
2014 NHL Draft Rankings: The Next Ones Edition – The Final Top 210
*Notes:
The table display approximately 35-40 of the prospects at a time; simply scroll down to view the other prospects.
Only a portion of the table displays by default; you can scroll over to see the rest of the player demographics and stats or select "View full-size workbook" option, which is the icon in the bottom right hand corner, to view the full table.
The 1st column (THW) is The Next Ones ranking of the prospect
The 2nd column on the left is players' rankings based on the combination of NHL Central Scouting Service's four separate rankings (NR = player was not ranked by NHL-CS).
A link to Elite Prospects statistics for most of the players is also included (click on individual player name).
The table is searchable – CTRL/Command "F" on the table brings up the search feature.
Constantly updated as profiles are completed, check in with the above link often to get more detailed information on this year's prospect class.
2014 NHL Draft Order Chart: Future Considerations has a draft tool with up-to-date NHL draft order – available here
About Chris's List – The Next Ones
A common query is how these particular rankings are formulated. There is now an abundance of sources of hockey prospect information. For instance, many hockey fans flock to TSN, which has Craig Button's Craig's List, which is a "monthly rankings represent his individual assessment of where players are slotted in the NHL draft. They will be posted in addition to Bob McKenzie's consensus NHL rankings, which is compiled four times a year. Bob's rankings represent the consensus NHL team view of where players are slotted in the NHL draft."
In contrast, The Next Ones rankings take into account many influences. While I obviously cannot reveal all my trade secrets, the following are some of the considerations contemplated when compiling the rankings:
First of all, my personal prospect analysis and scouting reports from live player viewings (due to geography restraints mainly limited to WHL and to Hockey Canada events/camps) and video analysis.  Admittedly, there is nothing comparable to live viewings, but video does have its place, albeit with limitations.
Secondly, my personal ranking system with influences from contacts whom I consider respected, knowledgeable, passionate hockey people with unique insight from all over this great hockey universe of ours. Many thanks to those who passionately offer up their unequivocal outstanding scouting analysis to me – you know who you are.
Thirdly, I utilize some unique statistical analysis for guidance purposes only. Compiling and merging all of data along with copious amounts of research results in Chris's List (a.k.a The Next Ones rankings) coming to fruition.
The Next Ones – Prospect Focus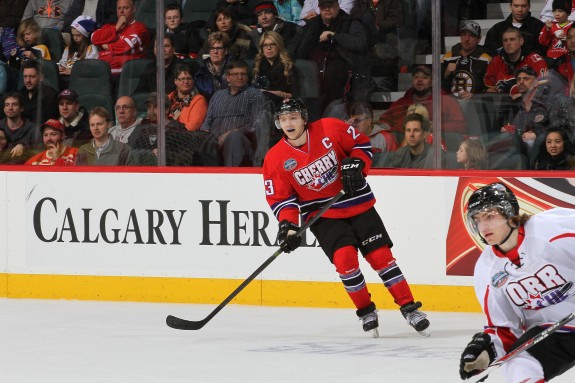 Emphasis is placed on prospects who thrive with respect to hockey sense, puck skills and puck movement, as well as skating.

Intangibles are key as well

Defense can be taught

Physical attributes: prospects will obviously grow – pairing with appropriate trainer can improve this area immensely, so not too concerned if not optimal at time of drafting.

Player Development

If somehow The Next Ones team of prospect profilers were responsible for a professional hockey team's scouting:

Hypothetically, would be gearing towards prospects who support the vision of a team with great puck possession capabilities and a relentless puck pursuit mentality.
_________________________________________