Nikolaj Ehlers
(pronounced eel-hers)
THW's NHL Draft War Room Rankings: #13
THW's NHL Draft Rankings – The Next Ones Edition (aka Chris's List): #4 (March 2014)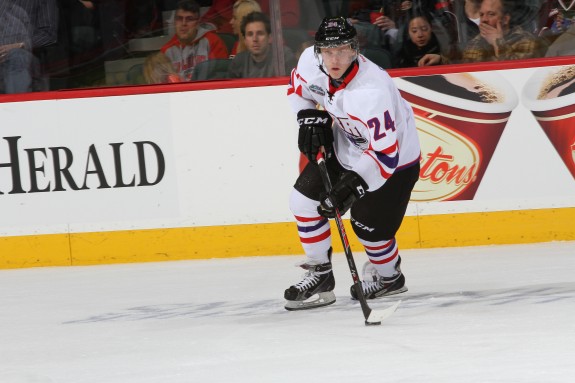 Hashtag/Nickname: #TheElectricEhl
Team: #24, Halifax, QMJHL
Position: Left Wing
Shoots: Left
Height: 6'0
Weight: 162 lb.
Born: Aalborg, Denmark, 13-Feb-96
Twitter: @NikolajEhlers24
Stats
Other Rankings
3 – HockeyProspect.com, Feb-14
8 – Craig Button, Jan-14
11 – Future Considerations, Feb-14
15 – Bob MacKenzie, Jan-14
20 – ISS, Feb-14
28 – NHL Combined – Mid-term, Jan-14
Worth Retweeting
Reinhart is back at #1 & Nikolaj Ehlers moved into our top 5.Check out more #2014NHLDraft rankings in our Feb preview http://t.co/60f65ozTCA

— HockeyProspect.com (@ScoutingService) February 24, 2014
Talking to scouts today about Halifax's Nikolaj Ehlers; looking like a top-15 pick. One said "I don't want to compare him to Drouin, but…"

— Ryan Kennedy (@THNRyanKennedy) February 3, 2014
http://t.co/TMB326PEad
#20 Nikolaj Ehlers @NikolajEhlers24
Explosive acceleration who powers himself into scoring areas. Dynamic on puck.

— ISS Hockey (@ISShockey) February 4, 2014
Profiles
Mooseheads star Nikolaj Ehlers gets high praise from Edmonton Oilers GM http://t.co/DSKugOIsDP via @metrohalifax

— Andrew Rankin (@AndrewRankinCB) February 21, 2014
Quotable
Craig Button, TSN Director of Scouting at TSN.ca:
"Nikolaj is a dynamic player who – while not being really big – plays big and is elusive. A very quick player, he is able to see opportunities and take advantage. He is equally adept at finishing plays as he is making them."
From the War Room
Eldon MacDonald, THW: A few words on Nikolaj Ehlers:

Skills – High-end top speed and acceleration combined with amazing agility, Jonathan Drouin class back-hander, elite wrister, adept at changing direction and flow of the play. Maybe not quite Jonathan Drouin class in all areas just yet but his improvements to date have him heading in that direction.
Shows up – Shows up for work every game with a determination to make a difference every game. His league leading +41 shows just what a difference he is making.
Not a perimeter guy – Goes to the net, spends time in the paint, works the cycle.
Keeps getting better – Just when you think he is topped out, he shows a new skill or improves on an old one.
Size – Size and strength are still issues but he is well aware that he needs to add weight and strength. As he is not a perimeter player and plays at a dynamic tempo with amazing skills, this issue will reduce going forward to where it becomes close to a non-issue.
Draft placement – He is all over the map in the rankings. However, if he keeps improving on his dynamic play as he has so far this year, I could see him pushing the top 10 by the end of the year.
Editor's Note
I finally got to see this phenomenal talent live at the CHL Top Prospects Game in Calgary after relying on video for previous analysis. His stickhandling often left me speechless, but I did come up with this description from the press box: I can envision Ehlers stickhandling deftly through Shanghai traffic in rush hour. 
Video
About NHL Draft War Room Series
This series is compiled by Eldon MacDonald and edited by @ChrisRalphTHW)
Chris is THW's senior draft/prospect analyst and a Managing Editor. Watch for "The Next Ones" Prospect Profile series, exclusive rankings, mock drafts, as well as the annual THW NHL Entry Draft Guide. Follow @ChrisRalphYQ on Twitter as he infiltrates, dissects and analyzes all happenings of hockey prospects and the NHL entry draft. Email: cralph[at]thehockeywriters[dot]com