Reaching the National Hockey League is something all young hockey players dream about and spend years working towards. While each NHL club carries 23 men on their roster, per-game line-up limits mean that typically three roster players don't get to suit up. These players have to watch the game from the press box as healthy scratches.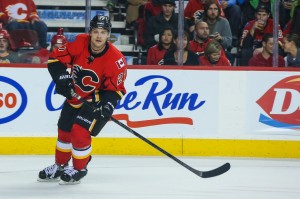 Calgary Flames defenseman Derek Smith is one of those players.
A native of Belleville, Ontario, Smith went undrafted and spent three years with Lake Superior State University. He caught on in the Ottawa Senators organization, working his way into 11 NHL games while racking up a lot of points with the Senators AHL affiliate. He joined the Flames as a free agent and really impressed, particularly during a stretch where Mark Giordano was out with an injury.
However, an injury of his own derailed things, and Smith hasn't seemed to have found his in-game fearlessness ever since. Playing a more cautious game, with less-daring outlet passes and jumping into the rush, Smith was still strong enough as a defender to earn a roster spot out of training camp this season.
Since then he's played 14 games in Calgary, 15 games in Abbotsford, and sat as a healthy scratch for 25 NHL contests. He's spent the majority of the year on the NHL roster, but is the seventh man on the depth chart.
"It's definitely a little different than I'm used to the last few years," said Smith. "When I'm up here, I'm not playing much, but that's why it was nice to go down to Abby a few times and get some games, get some minutes, get some puck touches, and play and get my confidence back so when I get back up here I can just keep playing the way I did down there and the way I'm used to up here, and just work hard at practice."
At 29 years old, Smith is a professional veteran who hasn't solidified himself as an everyday NHLer. When he was sent down to Abbotsford to get playing time twice this season, that put him in an odd position on the farm team – a mentor to several Flames farm-hands that he's competing with for a job. He's taken the situation in stride.
"It's nice to go down there and try to be an older guy and kinda be a leader," said Smith. "But the biggest thing is to get minutes and get back in the groove of things. Up here, a lot of practices and then not much playing, so you kinda fall out of the rhythm, so it's nice to get down there and get some minutes, and hopefully it can transfer up here."
Derek Smith is one of the lucky few that managed to work his way to the NHL. While he's not slotting into every game, he's in every practice and drawing an NHL pay-cheque – his cap-hit is $775,000. And he's focused on being prepared for any opportunity to contribute in the Calgary Flames line-up.
"You've just got to go out every day and you've got to make sure you're working hard," said Smith. "You've gotta be readying yourself personally, because when you get the call, you gotta be at your best. And if you're not, it's gonna be awhile before you get back into the line-up."