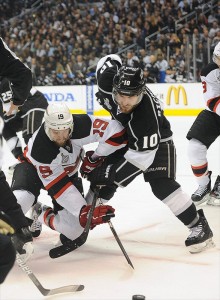 Let's face it: Mike Richards is a winner.
Drafted 24th overall in the much-heralded 2003 NHL entry draft, the 5'11", 200-pound centerman from Kenora, Ontario has accomplished quite a bit over his nine-year NHL career. Richards has made one All Star appearance (2008), averaged 30 goals a season over a three-year period with the Flyers (2007-08 to 2009-10), is second amongst active players with 28 career shorthanded goals, and has 462 points in 635 regular season games.
Richards gets even better when all the chips are on the line. He won a Memorial Cup with the Kitchener Rangers in 2003, a World Juniors gold medal in 2005, a Calder Cup with the Philadelphia Phantoms in 2005, and an Olympic gold medal with team Canada in 2010. In the NHL, he has elevated his game in the playoffs (77 points in 98 career games), culminated by winning the holy grail — a Stanley Cup championship — with the Los Angeles Kings in 2012.
All that hardware, and yet he just turned 29, arguably smack-dab in the middle of his prime. His trajectory should at least be level, perhaps even still on the rise.
Richards is having his worst year since his sophomore season
All sports fans know that statistics don't tell the entire story, and that may be especially true with respect to Mike Richards, a man who literally oozes intangibles. That being said, when Dwight King has more goals, you know something is wrong. Richards is still dishing out assists with regularity and is on pace for 40, which is roughly his average over a full season during his career. However, for someone who scored 112 goals over a four-year period, seven in 60 games just won't do.
Richards has proven throughout his career that he's an excellent 2nd line center who, when on his game, could play the top line for at least a handful of NHL teams. Given his pedigree and $5.75 million cap hit, much more has to be expected of him. It's part and parcel for a player of his caliber, one who the Kings gave up Wayne Simmonds, Brayden Schenn and a second-round pick to get back in 2011.
Richards is hardly the only Kings player struggling offensively this season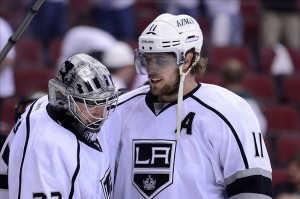 To be fair, Richards does not deserve the lion's share of the blame for the Kings' tepid offense this year. Earlier this month, I wrote an open letter to Anze Kopitar, all but begging him to shoot the puck more often. Dustin Brown has been invisible all year, and Justin Williams has been streaky at best. Drew Doughty has openly wondered why he had more offensive success in the Olympics than with the Kings. There are others who have experienced dips in their production as well.
The Kings have averaged just 2.31 goals per game so far this year, just ahead of Florida (2.30) and Calgary (2.25), with Buffalo dead last (1.90). Fortunately for Los Angeles, Jonathan Quick (17-13-2, 2.11, .914, four shutouts) is having a bounce-back season, and the backup goaltenders have played great as well. The defense has been lock-down once again this year, surrendering the third-fewest shots per game in the league.
The net result is a 33-22-6 overall record, sixth-best in the West. The Kings aren't rampaging through the schedule, but they appear to be on the way to making the playoffs for the fifth straight season.
It's time for Richards to step on the gas
And yet, the Kings just suffered through a nearly-disastrous 5-14-2 stretch and, given the offensive troubles, aren't out of the woods just yet. The Kings play fifteen games over the next 31 days, including key battles with the Montreal Canadiens, Anaheim Ducks, Phoenix Coyotes, Washington Capitals and Pittsburgh Penguins. They finish off the schedule in April with six more games, all against divisional rivals.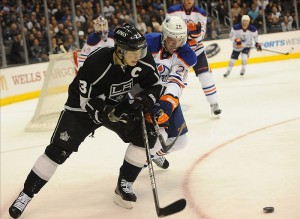 There are plenty of games left to play. With how tough the West is this year, there is a chance the Kings could slip out of a playoff spot if they aren't careful or can't fix their offensive issues. That's where Richards comes to the forefront.
As stated previously, Mike Richards has a history of playing at his very best during crunch time. The Kings are just about to enter said crunch time. They need the myriad offensive talents of one of the game's most versatile players — all of them — if they want to stave off the teams below them. Dustin Brown might be an old 29 with all the wear and tear his body has undergone over his career, but Richards should still have plenty of miles left on the tires. Despite the lower points total this year, there's no reason to believe he can't kick it over the last quarter of the season.
As New Jersey Devils head coach Peter DeBoer (who coached him in Kitchener) once said, "Winning follows him around." Let's hope a few more goals do as well.