Current PairWise Rankings, as of Feb. 27 (via USCHO):
1. Minnesota
2. Wisconsin
3. Clarkson
4. Harvard
5. Boston College
6. Cornell
7. Robert Morris
8. Mercyhurst
9. Quinnipiac
10. North Dakota
11. Boston University
12. Northeastern
T-13. Princeton
T-13. Minnesota Duluth
T-13. Syracuse
16. Ohio State
College Hockey America
Quarterfinal Round: Best-of-three series, Fri. 2/28-Sun. 3/2
#6 Penn State (4-27-3, 1-18-1 CHA) at #3 Rochester Institute of Technology (16-15-3, 11-7-2 CHA)
#5 Lindenwood (5-24-3, 5-13-2 CHA) at #4 Syracuse (18-13-3, 9-8-3 CHA)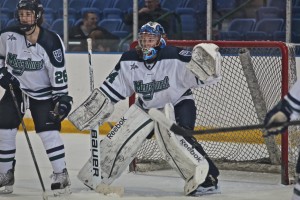 The CHA won't get an autobid until next year, but both Mercyhurst and Robert Morris are in the mix to make the NCAA Tournament. Each has a bye into the conference semifinals, and are the easy favorites to win the postseason championship. The Colonials looked like they were going to win first place, but have fallen off a bit lately, losing to Syracuse and RIT and tying the Orange within their last six games. The Lakers, on the other hand, were riding an eight-game winning streak before tying with Lindenwood in the last game of the regular season. They've got a good group of offensive weapons led by forward Christine Bestland, who's had a great senior season. Robert Morris will be led by Rebecca Vint and Brittany Howard, while Anneline Lauziere and Kylie St. Louis anchor a solid defensive corps.
Syracuse and RIT are both a clear step ahead of Lindenwood and Penn State, and it's going to take a lot for the latter two to advance to the conference semifinals. But the Lions did tie Mercyhurst and beat Robert Morris this year, thanks in large part to the efforts of goaltender Nicole Hensley. Neither the Orange or Tigers want to overlook this weekend, but they both pose reasonable threats to Mercyhurst and Robert Morris. They both have solid goaltenders who are capable of pulling off an upset. Forward Melissa Piacentini and defenseman Nicole Renault will play important roles for Syracuse, who is a little deeper than RIT. The Tigers, though, also have some key players in forwards Marissa Maugeri and Kolbee McCrea.
Eastern College Athletic Conference
Quarterfinal Round: Best-of-three series, Fri. 2/28-Sun. 3/2
#8 Dartmouth (9-18-1, 8-13-1 ECAC) at #1 Clarkson (25-4-5, 16-2-4 ECAC)
#7 Yale (8-14-7, 6-9-7 ECAC) at #2 Harvard (21-4-4, 16-3-3 ECAC)
#6 Princeton (14-11-4, 10-9-3 ECAC) at #3 Cornell (20-5-4, 15-4-3 ECAC)
#5 St. Lawrence (13-17-3, 12-7-3 ECAC) at #4 Quinnipiac (20-5-9, 11-4-7 ECAC)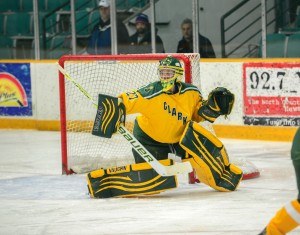 Clarkson's done a good job of establishing themselves as the ECAC's best team heading into the playoffs. They have the country's best forward in Jamie Lee Rattray, best defenseman in Erin Ambrose, and a top-three goaltender in Erica Howe. The Golden Knights don't have an electric offense, but it's very efficient, and they've got an extremely solid defensive corps to go along with it. Cornell and Harvard are the other favorites heading into the ECAC Tournament. The Crimson also have a great netminder in Emerance Maschmeyer, but they're a top-heavy team and their lack of depth leaves them vulnerable. Big Red forward Jillian Saulnier is on another level this year, but their defense and goaltending are a little questionable even though their offense is set.
Quinnipiac has tailed off over the second half of the year, and they'll face a tough St. Lawrence team with strong goaltending. If the Bobcats can move on to the semifinals, they pose a real threat to the top three teams in the conference, especially with a player as dynamic as Kelly Babstock. Yale has held its own all season in the ECAC, and freshman phenom Phoebe Staenz will be returning to the line-up after an excellent performance at the Sochi Olympics. Princeton's also a team to keep an eye on; they just beat Cornell 4-3 to close out the regular season and goaltender Kimberly Newell will give them another chance to upset the Big Red here.
Hockey East
Quarterfinal Round: Single-game elimination, Fri. 2/28-Sat. 3/1
#8 New Hampshire (9-22-2, 4-15-2 WHEA) at #1 Boston College (25-5-3, 18-2-1 WHEA)
#7 Providence (11-23-0, 6-15-0 WHEA) at #2 Boston University (21-12-1, 14-7-0 WHEA)
#6 Maine (7-19-5, 5-13-3 WHEA) at #4 Vermont (17-13-4, 13-7-1 WHEA)
#5 Connecticut (9-23-2, 6-14-1 WHEA) at #3 Northeastern (18-13-2, 13-6-2 WHEA)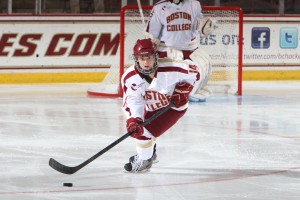 Though they suffered a loss to Connecticut in early February, Boston College heads into the postseason as the top seed in Hockey East and the favorites to win the whole tournament. They've got a balanced offense led by Haley Skarupa and Emily Field, and goaltender Corinne Boyles has had a really good second half of the year. The Eagles' defense is their weakest link, but they still have the talent on the back-end to move the puck efficiently. Northeastern has had a strong second half of the season, and thanks to key players like Paige Savage and Katie MacSorley, is capable of making another postseason run. Boston University has been struggling over the past month and a half, but forward Sarah Lefort has put the puck in the net more than any other player this season and good goaltending from Kerrin Sperry will help them challenge for the Hockey East Tournament crown.
Besides those three teams, the only other legitimate contender is Vermont. It's been a historic season for their program, and they could make a push this year. Forward Amanda Pelkey will play a huge role in whatever happens for the Catamounts, but they've got some other decent pieces up front who can help out as well. Goaltender Roxanne Douville will also need to be on her game for UVM to make a run. Connecticut is a team that could also surprise, if Elaine Chuli has a big night in net.
Western Collegiate Hockey Association
Quarterfinal Round: Best-of-three series, Fri. 2/28-Sun. 3/2
#8 St. Cloud State (4-25-5, 3-21-4-2 WCHA) at #1 Minnesota (32-1-1, 26-1-1-0 WCHA)
#7 Minnesota State (12-21-1, 7-20-1-0 WCHA) at #2 Wisconsin (25-5-2, 21-5-2-1 WCHA)
#6 Bemidji State (11-19-4, 8-17-3-2 WCHA) at #3 North Dakota (17-11-4, 14-10-4-2 WCHA)
#5 Ohio State (14-15-5, 9-14-5-1 WCHA) at #4 Minnesota Duluth (13-13-6, 11-11-6-4 WCHA)
Minnesota enters the postseason as the uncontested favorite to take home its third national championship in a row. The Gophers' offense is as close to unstoppable as anyone's, their defense is unmatched, and Amanda Leveille has had an excellent season as a first-year starting goaltender. It's going to be very tough for someone to unseat them and win the WCHA Tournament, but Wisconsin and North Dakota both still have a shot. The Badgers were swept by Minnesota two weeks ago, but they have a really good defense and a fantastic goaltender in Alex Rigsby. North Dakota ended the regular season in the midst of a losing skid that saw them get swept by Minnesota State and Ohio State; however, they're still the only team that's knocked off the Gophers this year, and they'll have top-six forward Susanna Tapani and top-four defenseman Tanja Eisenschmid back in the lineup; the Olympics' Best Forward Michelle Karvinen just returned last weekend.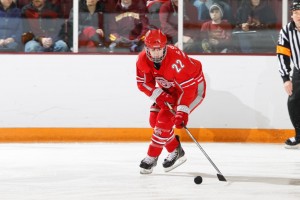 The Buckeyes will enter the tournament on a high after that sweep over UND, but they'll face a Minnesota Duluth team with some talented players in the first round. Either team could make things interesting next week at the WCHA Final Face-Off, but neither has the depth to truly contend for a spot in the championship game. Minnesota State and Bemidji State should both put up sizable fights this weekend against Wisconsin and North Dakota respectively; the Mavericks swept UND two weeks ago thanks to a stellar performance in between the pipes by Danielle Butters, and the Beavers forced a tie with North Dakota in the last meeting between the two teams.