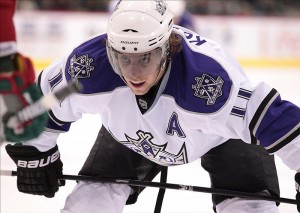 Pozdravi, Anze! May I call you 'Anze'? I hate to sound too presumptuous.
I sure hope Google was on the money there with respect to the Slovenian word for 'hello', or I may have blurted a non-sequitur like 'couch' or accidentally cursed at you. And believe me, I'd never do the latter, as you're one of my very favorite Kings players.
Before it was cool to be a Kings fan
To take a step back, I've been a Kings fan since I was a teenager in the late 1970s. Back then, disco was all the rage, striped green, yellow and brown shirts were fashionable and horn-rimmed glasses were bitchin', man. The Kings? Well, they weren't exactly fashionable or cool in a pre-Gretzky (not to mention pre-Anze) Los Angeles, but they were our Kings, for good or for bad. Trust me, with a ton of losing seasons and first-round exits from the playoffs during that era, being a fan of the team was a labor of love.
It's not as if we didn't have our share of stars. In your eight seasons in Los Angeles, you've certainly become well-educated about guys like Wayne Gretzky, Marcel Dionne, Rogie Vachon, Dave Taylor, Rob Blake and Bernie Nicholls, to name just a few. They were all great players, to be sure. We just didn't have enough of them to make more than one Cup appearance — a loss — in the franchise's first 46 seasons.
You, Anze, helped change all that
It must have been something else, being the first Slovenian-born person ever to play in the NHL. As you know, Dean Lombardi drafted you with the 11th overall pick in the 2005 entry draft, at a time when the building blocks toward the eventual 2012 Stanley Cup were just beginning to be assembled. With a pinch here and a dash there, Lombardi eventually created a team that came together at just the right time during the 2011-12 NHL season, making an amazing run that started right around the trade deadline and ended with Captain Dustin Brown hoisting the Cup high overhead on June 11, 2012.
But what am I telling you this for, Anze? You know it already.
Time to don the red cape and blue tights
Well, the reason is simple: you (along with a few others) put the team on your back late in the 2012 season and carried it all the way to the championship. It isn't even so much what you did as how you did it: a strong finish (32 points in the last 30 games, with a +12 plus/minus), followed by eight goals and twelve assists in 20 postseason games. You were opportunistic, almost always in the right place at the right time, and aggressive. Frankly, you were fantastic, and along with Dustin Brown, Drew Doughty, Jonathan Quick and a few others, became everything L.A. fans wanted and needed you to be. And more.
Fast forward to the present. I know it sounds crazy on the heels of a terrible 2-10-1 stretch that saw your team score just 18 goals, but on paper this team has the potential to be just as good as the 2011-12 version. Heck, you're basically the same team — Lombardi has locked many of you up to retirement contracts. In addition, Dwight King has emerged as a legitimate power forward, Tyler Toffoli is a bright young scorer and the defense is amongst the NHL's very best.
But you're struggling, Anze, all of you. Not only can't you score with consistency, but now even the defense and goaltending are developing cracks. It actually reminds me of 2011-12, just before the acquisition of Jeff Carter and the resulting explosion as the team came together in a way that will live in Kings fans' memories forever.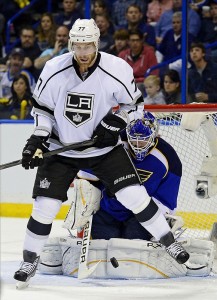 Believe it or not, it's not to late for yet another run. For that to occur, though, it's going to take you being a little more selfish.
Shoot the puck!
The good news is you've put the puck on the net a bit more lately than earlier in the season. The bad news is you are still on a pace for just 206 shots and 24 goals.
Far be it for me to be critical of one of my favorite players, but despite the recent uptick, you're just not shooting the puck enough. Amongst NHL centers, you're just 21st in shots taken and 22nd in goals scored. Ok, so you're not Joe Thornton (76 shots), but you're also not Phil Kessel (220) or Patrick Marleau (198), either. With Dustin Brown having a terrible season, Justin Williams aging and Mike Richards not the natural scorer you are, the team needs Anze Kopitar to shed the playmaker role and return to being the 30+ goal scorer you were just four short years ago.
You're still just 26 years old, Anze. If the Rangers' older-than-Methuselah Brad Richards (all right, so he's only 33) can fire 188 shots on net in 57 games, so can you. The difference between you and Richards is you'd score quite a bit more often, and right now, that's exactly what your team needs. As you know, sometimes when one guy gets going, it becomes contagious. All you have to do is recall the magic of 2012 for confirmation of that fact.
Thanks for hearing me out. Now get out there and put the 'I' back in 'team'.
Walter McLaughlin is a Los Angeles Kings correspondent for The Hockey Writers. He is an avid sports fan, having followed the Kings since living in L.A. in the mid-1970's, as well as suffering through Seattle sports teams' general futility. He has a Bachelor's degree in Finance and has worked in community banking for over 25 years, specializing in SBA loans. He is married and has two daughters.