Are leaner days ahead for the defending Stanley Cup Champions? Certainly, anyone could argue that all teams – good and bad, great and pitiful, experience adversity throughout a grueling 82-game season. That's not what the Chicago Blackhawks are looking at in the very near future, however. In fact, there are a few daunting factors that could determine if the Blackhawks will turn into a modern day dynasty or experience leaner days ahead.
Marian Hossa's Contract
Let's face it, something's got to give. In an effort to acquire the talent necessary to achieve the sport's pinnacle experience, the Blackhawks went for broke, whether anyone realized it or not.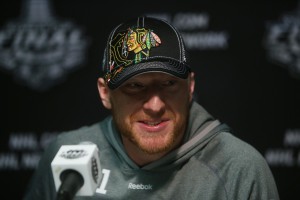 The Marian Hossa mega-deal that helped solidify a second Stanley Cup Championship in four years is one of a few contracts that could come back and bite the Hawks in the rear. Hossa, who will be 42-years-of-age when his contract expires in 2021, has already began to take maintenance days to rest his body. And while it's not unusual for players to do so, concerns regarding Hossa's age at this point have got to be building.
Despite an undisclosed shoulder injury before the 2009-10 season, investing in Hossa was wise for the win now mentality. The five-time All-Star who joined the 400 goal club last season has played in 60 or more regular season games in 12 of his previous 14 seasons as a full time player in the league. With last season's lock-out shortened 48 game schedule, Hossa still partook in 40 of them, scoring 17 goals and 14 assists.
That was before Hossa opted out of Game 3 of the Stanley Cup Finals last year and battled a back injury throughout the offseason. When asked about his back injury recently, Hossa said, "What if this, what if that. What if I can't play at the level I'm used to? Those types of questions are in your head and you start to think about those, but I'm glad with the way it is now."
This is not to say Hossa's gas tank is on empty, or that he would be better suited for a broadcasting gig next season. Although he's missed five games this year due to a  lower-body injury, Hossa is third in team goals with 23, fourth in points with 48, and first in plus-minus, leading the Hawks with a plus-24 rating. But at 35, the idea of Hossa playing to his contract's conclusion seems to be unrealistic and a $5.25 million cap hit for the next seven years is enough to handcuff a team who will have to address other needs in the near future.
A Choice Between Kane Or Toews?
While the idea of having to part ways with one of two elite players isn't ideal or even thinkable, it could very well be a reality. That's because the contracts of both Jonathan Toews and Patrick Kane will expire in two years. That's a problem for the simple fact that the Hawks are already committed to six players with salaries exceeding $4 million a year past the expiration date of Kane and Toews.
Bowman: "We've been planning for [re-signing Kane and Toews]." Team can't re-sign until one year from contract expiration. #Blackhawks

— Chicago Blackhawks (@NHLBlackhawks) June 27, 2013
Unless GM Stan Bowman can duplicate David Copperfield when it comes to cash, difficult decisions will be forced, which could ultimately lead to the departure of either Kane or Toews. Along with Hossa's mountain-sized contract, the Hawks are in it for the long haul with Duncan Keith until 2023, and Corey Crawford until 2020. With Johnny Oduya set to hit unrestricted free agency along with Kane and Toews, the scratch will be tighter than a tick. This puts Antti Raanta's development onto a larger platform, but even he will be due for a pay raise this offseason.
The Hawks have been vocal for quite some time now that they have every intention of re-signing both superstars. Even if they both agreed to more cap friendly deals, neither Kane nor Toews would be downsizing to a lesser neighborhood. In other words, it isn't going to work without sacrificing somewhere. Either you lose one of the two, or you severely  downgrade at other positions while hoping a prospect or two answers your prayers.
Young Blood For The Leaner Days Ahead
Speaking of prospects, the Blackhawks are getting sort of a sneak peak into their farm system with Brandon Saad and Brandon Pirri. Chicago's minor league system is strong, and could very well be the entity that saves the organization from a massive rebuilding phase, should they have to purge their roster to re-sign Kane and Toews. Although Saad has established himself as a full time player with 18 goals and 22 assists for 40 points, Pirri has experienced the anticipated growing pains with his transition from the minors to the NHL.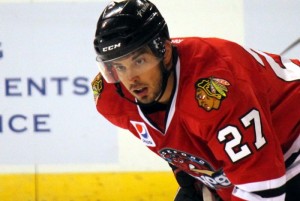 It'll be a waiting game for the rest of the prospect pool. Teuvo Teravainen, Adam Clendening, Phillip Danault, and Mark McNeill give the Blackhawks a chance to breathe easy when it comes to the positions of center and defense. But despite being ranked 10th among all NHL farm systems by Hockey'sFuture, they appear to be short handed on both wings, which means they could either try to find a bargain on the market, or move one of their centers like McNeill or Danault to a wing.
With Ryan Hartman now in the system, the Hawks could always draft heavy on wingers of course. But unless they find a way to nab a top 10-15 pick, the chances of a forward developing within a year are slim. After all, not a single prospect in Chicago's organization ranks above a C by Hockey'sFuture.
Win Now Mentality
Whether or not the Blackhawks actually do experience leaner years ahead, the fact remains that they've won the Stanley Cup twice within a four-year span. With so many NHL teams practicing fiscal irresponsibility in order to just win one attests to the type of team and strategy Stan Bowman and Joel Quenneville have put together. The win now mentality is good as long as you win and the Chicago Blackhawks have done just that. Furthermore, they've done so without completely mortgaging their future. Leaner days may be ahead, but their definition of leaner may be different than yours.
Andy is a contributor for The Hockey Writers, covering the Philadelphia Flyers. He holds a Bachelor's Degree in Communications from Walsh University. He enjoys spending time with his family, golfing, and reading. He is married with a daughter. You can follow Andy on Twitter @ADudones.