In a coaching career that has now reached 17 seasons, current Chicago Blackhawks head coach Joel Quenneville has tasted victory 693 times. Chicago's latest win, a 5-2 victory over the Vancouver Canucks, thrusted the 55-year-old into third place of all-time winningest NHL coaches, and and added to an ongoing list of accomplishments that will undoubtedly land him in the Hall of Fame. But with the plethora of accomplished coaches in the league, is Joel Quenneville the best coach in the NHL today?
Coaching Wins
The Best Coach In Franchise History?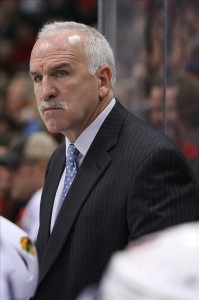 Of the 36 other head coaches in the rich history of the Chicago Blackhawks, none have won more games in such a short time span than Quenneville. Only Billy Reay, who guided the Hawks for 13 seasons, has won more games than today's Blackhawks coach. But despite holding that feat, Reay failed to achieve what Quenneville has now done twice – win the Stanley Cup. Reay's 13-year tenure as Chicago's head coach included 1,012 games, which is 632 more games than Coach Q.
Quenneville's 693rd career win moved him past former Blackhawks head coach, and three-time Stanley Cup Champion Dick Irvin. Although Irvin spent the majority of his coaching career leading the Montreal Canadiens, Irvin added to his legendary coaching numbers with the Blackhawks and Toronto Maple Leafs. And although it took Irvin a total of 27 seasons to reach 692 wins, it's worth mentioning that the NHL seasons were considerably shorter for the vast majority of Irvin's tenure. Still, Quenneville's 455 total wins as the leader of the Hawks have come in under six full seasons.
Active Coaching Wins
If today's active coaches were a monarchy, Joel Quenneville would best be described as the King, despite current Los Angeles Kings coach Darryl Sutter not far behind in the rear view mirror. Quenneville's 455 head coaching wins leads all active NHL head coaches, which includes St. Louis' Ken Hitchcock, Dallas' Lindy Ruff, L.A.'s Darryl Sutter, Detroit's Mike Babcock, and Phoenix's Dave Tippett. Of the five closest, only St. Louis' Hitchcock has over 600 career wins in his 17th year as a head coach in the league.
#Blackhawks coach Joel Quenneville (693) moved into sole possession of 3rd place in all-time wins behind S. Bowman (1,244), A. Arbour (782).

— NHL Public Relations (@PR_NHL) January 30, 2014
Joel Quenneville is the leading active coach in career wins. Lindy Ruff is third. (Ken Hitchcock is second.) #Blackhawks #Stars

— Mark Lazerus (@MarkLazerus) November 10, 2013
When it comes to the playoffs, Quenneville's 46-29 record and two Stanley Cup Championships as a head coach leads an elite group of coaches. Along with batting 1.000 in Cup Finals appearances, Quenneville's multiple titles make him the only active head coach to own more than one ring. The closest active coach to Quenneville's 88 total playoff coaching wins is Mike Babcock, who has amassed a 78-55 playoff record over 9 playoff appearances with Anaheim and Detroit. Unlike Coach Q, however, Babcock knows what it's like being on the losing end of the line of a Cup Final, losing in seven games to the Pittsburgh Penguins in 2009.
Like Babcock, Ken Hitchcock is 1-for-2 when playing for the league's ultimate prize. His 72 playoff wins trail Babcock by six wins, and Quenneville by 16, despite appearing in the playoffs 11 times. "You learn after a while that your biggest job as a coach is to give hope," Hitchcock told reporters in 2011. While immersed in turning the young Columbus Blue Jackets around, Hitchcock added, "You've got to let the losses go easier. I move on much quicker now…"
Darryl Sutter's 12 playoff berths have resulted in a 72-67 mark, and a Stanley Cup Championship. And despite being bounced in the 1st round six times, Sutter has only missed the playoffs one time as a head coach. Sutter, who manned the bench in Chicago for three seasons between 1992 and 1995 compiled a 110-80-26 record as the boss of the Blackhawks. Despite his success in Chicago, which included a 106 point season, the closest Sutter got to even reaching a Stanley Cup Final was in 1995 when Detroit disposed of Sutter's Blackhawks in five games.
Trend Setter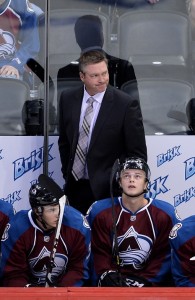 When Patrick Roy was named the head coach of the Colorado Avalanche, he brought with him a savvy form of piracy. Not only has the four-time Stanley Cup Champion watched Quenneville's schemes in Chicago as a bystander, he also played under Coach Q when Quenneville was an assistant in Colorado. Since then, Roy has spoken candidly of his former coach, saying, "I played for Joel in 1995-96, and since that (season) I have a lot of respect for him, and learned a lot from him.
He was an assistant coach then (1995-96), and I had no doubt in my mind that he would turn out to be a great NHL coach, and that's been the case. (He) won two Stanley Cups with Chicago. I mean, that speaks for itself." If Roy has been taking notes off of Quenneville, it's shown. Colorado's 73 points are only six behind Chicago, despite having one more win than the Hawks and three games at hand.
What The Future May Hold
At only 55-years-of-age and two seasons left on his current contract, Joel Quenneville is likely to add to his list of accolades. As anticipated, his Blackhawks are back in contention this season, despite their recent struggles of late. And while the Hawks continue to play volleyball for first place in the Central Division with St. Louis, it's nearly a forgone conclusion that the Blackhawks will qualify for the postseason for the sixth consecutive year under Quenneville.
While it's highly unlikely that Quenneville will reach Scottie Bowman's all-time coaching wins record of 1,244, it's very possible that Coach Q will catch, and or surpass Al Arbour's mark of 782 wins for 2nd on the all-time list. Quenneville's pace of racking up wins have made him one of 10 coaches to win 600 games, with only Bowman needing fewer games to reach the milestone.
While speaking with NHL.com, Quenneville reflected on his journey, saying, "I'm pretty excited about where I'm at. I feel good about the situation and privilege I have of working with the teams I have worked with in the past and now especially here in Chicago with winning a couple of Championships. I'm privileged for coaching some great players in all the spots I've been at  and some great teams, which helped me be where I am today. I'm thankful, appreciative."
With a third Stanley Cup Championship in his crosshairs, the Windsor, Ontario native with duel citizenship leaves little room for debate – he's the best coach in the league.
Check out our partners at TiqIQ for the best deals on Chicago Blackhawks tickets for all 2013-14 games.