The Bruins got off to a rocky start in January, losing two of three games on a west coast trip, leaving many to question Boston's ability to compete against elite competition.  The Bruins managed to rebound nicely, posting a record of 8-4-1 for the month.  Who has been responsible for the Bruins struggles in January?  Or better yet, who deserves the most credit for their success?
Three Up
Brad Marchand
No one in the NHL was quite as hot as Brad Marchand was in January.  Through the first three months of the season, the Bruins agitator had netted nine goals and tallied ten assists.  In January, he scored eight goals to go along with six assists, nearly doubling his point total for the season.  Marchand's horrible start to the season went far beyond the stat line, as he had looked helpless on a regular basis.  He's now playing with more conviction, getting physically involved in the game, lifting the Bruins second line to be one of the best in the game.  Marchand's re-emergence as a goal scoring threat has correlated with a surge in production from Reilly Smith and Patrice Bergeron, suggesting that Marchand is not only improving his own game, but that of his line mates as well.
Torey Krug
After seeing his offense drop-off a bit in December, Torey Krug got back on track with three goals and six assists in January.  Krug posted his best +/- in January, registering a +6, while averaging 17 minutes of ice time a game.  Krug's high level of play was hugely important to the Bruins in their first month without Dennis Seidenberg.  Each of the first three months of the season were marred by at least one really bad defensive performance, but in January, he limited his defensive lapses, while contributing at an elite level offensively.  Although he's been a consistent presence on the power play all year, his ability to move the puck has been instrumental as Boston has avoided extended slumps on the man advantage.
Johnny Boychuk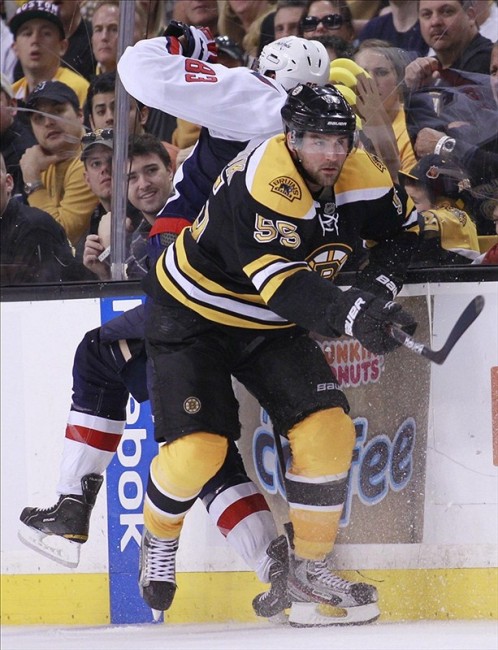 Unlike Krug and Marchand, Johnny Boychuk did not light up the score sheet in January, but he may have played the biggest role in Bruins success for the month.  With Dennis Seidenberg lost for the season, the Bruins defensive depth was tested.  A majority of the Bruins healthy defensemen were known for the offensive abilities, between Krug, Dougie Hamilton, and Matt Bartkowksi, putting a lot more pressure on the likes of Zdeno Chara and Boychuk to step up defensively.  Boychuk did just that.  He entered January with a +/- of +13 on the season.  By month's end, he was sitting with a +22.  He contributed a goal and two assists, but his defensive play was a driving force behind Boston's strong performance in January.
Three Down
Tuukka Rask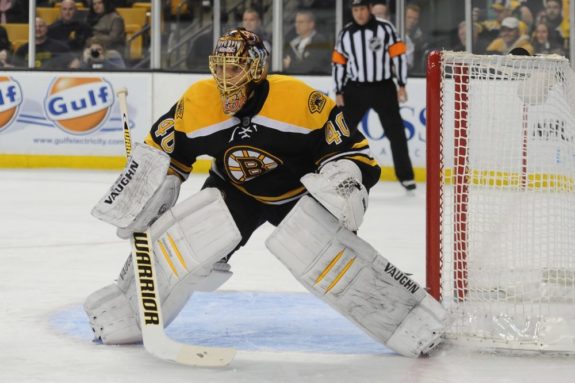 For the first three months, Tuukka Rask was the front-runner for the Vezina trophy, stealing a number of games for the Bruins.  That came to screeching halt in January.  Rask stumbled to a 4-4-1 record with a GAA of 2.64.  These numbers aren't awful, but by the standard that he's set, this was not a good month.  Every stellar performance was matched by an equally forgettable showing.  The Bruins offense was able to overcome Rask's lack of production, but the defense was not able to shelter him through this rough patch.  Going forward, the Bruins will need Tuukka to get back on track, otherwise their quest for a playoff-berth will be a lot more challenging.
Ryan Spooner
The Bruins top prospect makes the list, not so much because of a poor performance, but as a result of his inability to breakout.  With Chris Kelly out of the lineup, Spooner was given a lengthy opportunity to showcase his skills on the third line.  With Carl Soderberg and Loui Eriksson on his wings, Spooner posted three assists over nine games, averaging just over 12 minutes per game.  In the eyes of the organization, the young pivot didn't do enough to secure his roster spot, and has since been returned to Providence, giving way to the returning Kelly and Shawn Thornton, while Jordan Caron has stepped in as the 13th forward.  Spooner will be back, but he missed a valuable opportunity to make his stay in Boston a permanent one.
Adam McQuaid
With Seidenberg on the shelf, McQuaid was one of the defenseman the Bruins were expecting to step up to help fill the void.  McQuaid's game did not take a noticeable step forward, instead remaining as a bottom-pairing defenseman, having little impact on the Bruins success.  For the month, he averaged just over 15 minutes per game, although that number is weighed down by the half game he played on January 19th, a game that saw the veteran defenseman exit early with an injury.  For the month, he had two assists and posted +1, while racking up 23 PIMs.  He's been out since January 19th, but did very little to impress before sustaining that injury.
Be sure to follow me on twitter @kirkvance and check back throughout the season for more updates on the Boston Bruins.