With a 5-3 win over the Philadelphia Flyers last night, the Anaheim Ducks became the first team in the NHL to reach the 40 win mark. The next closest teams are the Penguins and Blues who sit with 38 and 36 wins respectively. With only 56 games played thus far in the year, the Ducks have another third of a season to set some team records and climb the ranks among the greatest regular seasons of all time.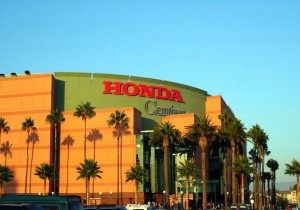 The Pond has been kind to the Ducks this season, where their 22-2-2 record is tops at home in the league. Not once has Anaheim lost two in a row at home.  Thus far, the low point of the season came during mid-November when the Ducks lost a season high four in a row. But that losing streak is largely overshadowed by separate winning streaks of seven, eight and a whopping 10 games.
Is it All About Firepower?
According to www.nhl.com the Ducks sit second in the league in goals-for with 189, or 3.4 goals-per-game. Having only allowed 137 goals, Anaheim's differential of +52 is once again good for second in the league, behind only the St. Louis Blues. Though this differential may seem daunting to many lesser squads, exactly half of Anaheim's wins have come by virtue of a one-goal game. In that respect, Anaheim boasts the top record.
One reason the @AnaheimDucks have the most points in the NHL, they are a league best 20-2-5 in 1-goal games

— Mike Kelly (@MikeKellyNHL) January 28, 2014
NHL Network's host Mike Kelly found that Anaheim has only lost two one-goal games in regulation all season, which is the kind of clutch effort needed for a deep playoff run. Firepower alone does not deliver a Stanley Cup, just ask the Pittsburgh Penguins in recent years. The ability to shut down and maintain a one goal lead in the dying minutes of the game is a hot commodity, and one that requires equal effort from the whole team.
So with a dazzling home record, several large winning streaks and a killer goal differential, the Ducks have set many personal records through 56 games this year, including reaching the 40-win bench mark faster than they ever have before. Bruce Boudreau's squad needs nine more victories to set a franchise record, beating the 48 they had in 2006-07 leading them to the Cup.
All Time Top Seasons
At 40-11-5, Anaheim has 26 games to surpass their franchise record. However, at the pace they've been playing all season, 9 wins in 26 games is very easily attainable. In fact, if they finish the season on a strong note, the Ducks may earn a place among the top seasons of all time. Anaheim is projected to finish 59-16-7, which is good for 125 points. This would be the most since Detroit's dominant 2005-06 season. Below is a look at the top five seasons in terms of points.
A record of 59-16-7 is good for 125 points, which would displace Detroit for fifth all time, just a few points behind Montreal's 1970's dynasty and Detroit's NHL record 62-win season. At this point, Anaheim's pace puts them in legendary company. And with just five games in February (for most of the team), everyone should be feeling well rested for the last two months of the season.
It should be an interesting final stretch, and one I look forward to covering from this point on.