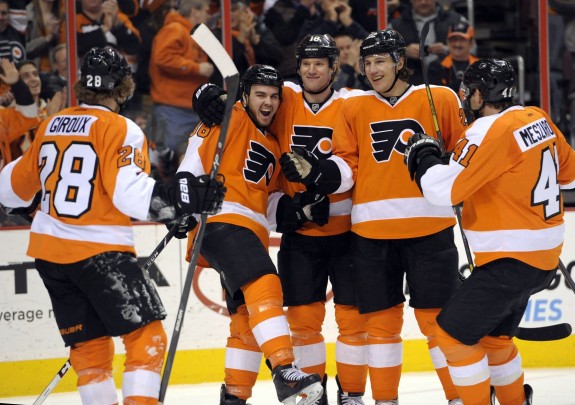 Will the real Philadelphia Flyers please stand up?
Fifty five games have been played and we're still not sure if the Flyers are contenders or pretenders.  The beginning of the season was ugly to watch.  Nothing would fall into place, the defense would play anything but, and they're offense couldn't score.  They regained some ground during a nice stretch in the middle of the season, clawing their way into a playoff spot before ultimately having a rough go of late.
Whether fans like to believe it, there was a lot of planning that went into selecting the pieces for this team.  Here's a look at how this roster came to be:
Draft Picks
If you've followed them for any amount of time you'd realize Philadelphia isn't a team that hangs onto their draft picks long enough for them to make an impact.  However, the ones that do have panned out nicely.
Steve Downie: In the 2005 draft, Philadelphia selected Downie 29th overall.  In his early career he's been known for the hit he laid on Dean McAmmond.  Since then, he's been moved from Tampa Bay to Colorado before making his return to Philly in a trade that sent Maxime Talbot to the Avalanche.
Claude Giroux: His most memorable moment was draft day when the GM at the time, Bob Clarke, completely forgot his name.  He was touted as a "special" player coming from the Gatineau Olympiques, and he's shined in the City of Brotherly Love.  Since 2010-11, Giroux has been one of the league's premier players and was named the captain of the team during the 2012-13 season.  Giroux started the year off slowly, but has since been able to get back into his groove.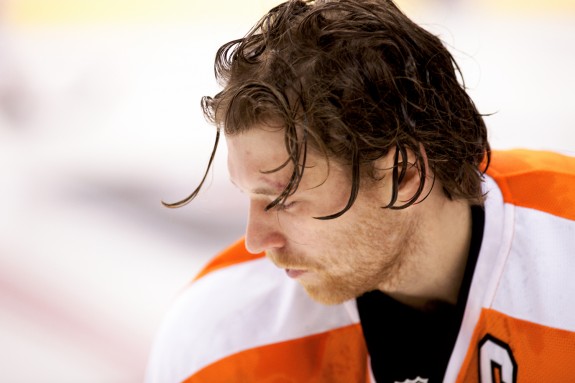 Sean Couturier: 
If the Flyers never moved Jeff Carter, they wouldn't have Sean Couturier.  Along with Jakub Voracek, the Flyers received the 8th overall pick in the 2011 draft.  Couturier has been one of the best all-around forwards for the three years he's been with the team.  Having played against opposing team's top lines each and every night, Couturier continues to improve on both sides of the puck.  Thanks Scott Howson!
Zac Rinaldo: A 6th round pick,  178th overall, Zac Rinaldo has been a pleasant surprise compared to when he first entered the league.  You could almost guarantee that he'd be called for a few penalties a game, but over the past two seasons he's kept a low profile.  Instead of being a hot head, he's baiting the opposition to take penalties.  Although not completely tamed, in the three years he's played for the Flyers he's amassed 418 penalty minutes.
Trades
As with many trades, some work well for a team, others not so much.  Paul Holmgren has had the good fortune of making a couple solid trade decisions to help this Flyers team in the long run.
Scott Hartnell/Kimmo Timonen: The Peter Forsberg foot saga is still a vivid memory.  Paul Holmgren wanted to get good money for the once prominent NHL star, so he cut a deal with the Nashville Predators that sent Ryan Parent, Scottie Upshall, a 1st round pick, and a 3rd round pick for Forsberg.  After the Predators were bounced from the playoffs, another deal was made between the Flyers and the Predators that gave Philadelphia Scott Hartnell and Kimmo Timonen in exchange for Nashville's first round pick.
Kimmo Timonen has been a consistent force on the blue line ever since he got to Philly.  Although he isn't the player he once was, Timonen is still a formidable defenseman that does his job well and puts his body on the line every single night.  Likely in his final NHL season, Timonen was a great get for Philadelphia keeping them in contention year in and year out.
The long-haired, beard growing Scott Hartnell is a crowd favorite.  He's not the most nimble skater on the team as evidenced by his #Hartnelldown phenomenon, but he has served a purpose on this team.  Given the right teammates, Hartnell has been an effective forward – albeit struggling mightily this season.
Brayden Schenn/Wayne Simmonds: The biggest news during the 2011 draft was the trading of Flyers captain Mike Richards to the Los Angeles Kings for Wayne Simmonds, Brayden Schenn, and a draft pick.  Fans knew what to expect of Richards as he was the face of the franchise, but were unsure of what they were getting in return.
Simmonds is a workhorse.  A competitor in all zones, his game has continually progressed and he may be having his best season to date.  A multi-faceted player, Simmonds isn't afraid to get to the dirty areas of the rink and mix it up with players in front of the net.  Simmonds currently sits 2nd on the team in points.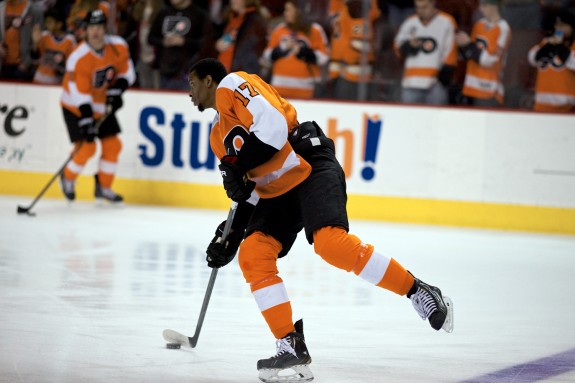 Brayden Schenn has taken some time to develop, but having been given the opportunity to play center full-time, he's shown just how valuable he can be this season.  Schenn is a skilled forward capable of being a set-up man and a natural goal scorer.  Showing signs of promise every season, the Richards trade doesn't look so bad after all.
Braydon Coburn: Arguably Holmgren's best move as a general manager, the Flyers were able to steal a promising, young Coburn from the Atlanta Thrashers for Alexei Zhitnik.  Coburn has become a mainstay for the Flyers and is likely the best defenseman this season.
Andrej Meszaros: An ironman for a good portion of his career, Meszaros was traded to the Flyers from Tampa Bay for a 2nd round pick.  In his first season with Philadelphia, he stood out scoring 32 points in 82 games.  The following season he missed 21 games with an nagging injury, but still put up decent numbers.  In the lockout-shortened season, Meszaros couldn't fight the injury bug much longer and was reduced to playing 11 games.
Since his return from injury this year, he's had a positive affect on the team.  Here's to hoping he stays healthy.
Nicklas Grossmann: There isn't a "WOW" factor to Grossmann's game.  He's limited in what he can do on the ice, but in terms of being defensively aware, he's one of the best in the game.  He cuts down angles very well, uses his body to separate opponents from the puck, and is a responsible player.  An acquisition at the trade deadline last year, Grossmann was shipped to Philadelphia from Dallas for a 2nd and a 3rd round pick.  Though this season isn't showing his finer points as he leads all defenseman in the lowest plus-minus (-12).
Jakub Voracek: The other key part in the Carter to Columbus deal was Czech winger Jakub Voracek.  Voracek didn't have much to play alongside in Columbus, but was able to find chemistry with Claude Giroux.  The two have complimented each other with Giroux's passing and Voracek's knack for finding the net.
Steve Mason: Although Mason won the Calder trophy as a member of the Columbus Blue Jackets, he was never able to regain that torrid pace…until now.  Mason has been far and away the best player for the team the entire year.  The only reason they aren't further back in the standings is Mason's 2.61 GAA and his .914 SV PCT.  At the price of Michael Leighton and a 5th, this trade turned out great for Philadelphia.
Luke Schenn: After countless rumors of the Flyers being interested in Luke Schenn, Holmgren decided to trade an inconsistent, streak James van Riemsdyk for the defenseman they call "The Eraser".  Although many enjoy his physical play, Schenn hasn't been nearly consistent enough this season.  His constant pinching on the play and lack of foot speed have led to many scoring chances against the Flyers.
Free Agent Signings
Paul Holmgren has been the proprietor of more bad signings than anyone would like to admit.  This offseason, he's hovering around 50/50 in terms of good/bad signings.
Vincent Lecavalier: People were shocked that when the Flyers made a last second push to sign Lecavalier after he was bought out by Tampa Bay.  But the contract offer (5 yrs., $22.5M) was accepted by Vinny and he started of the year great.  Since then, he's tapered off and hasn't been able to find the game fans have been accustomed to seeing.  Hopefully for the Flyers, Lecavalier is just in a slump and will find his way out of it in due time, but right now this signing isn't looking good.
Mark Streit: Another questionable contract, Mark Streit got paid for his success with the New York Islanders.  Streit is a very one-dimensional offensive defenseman.  He does lead the defense in points, but that's about it.  Signed to a 4-year, $21M contract, many questioned the length and salary given to Streit, who was 35-years old at the time of the signing.
Ray Emery: Coming off a successful year with the Chicago Blackhawks that saw him go 17-1-0 and win the Stanley Cup, Emery signed with the Flyers for a 2nd time.  The 1-year deal was meant to see who would get the starting job.  With Mason being lights out, Emery hasn't done nearly as well as last season.  Currently holding a 6-9-1 record, Emery has done his job as a serviceable backup.
Adam Hall: To say the least, Adam Hall has done very well for this Flyers team.  Hall is a gutsy player.  He's relied on for his defensive acumen and ability to win faceoffs in the defensive zone, which he's done tremendously well.  At a price tag of $600k, it be nice to see him signed for a few more years after this season.
Michael Raffl: Raffl was playing in the second-tier league in Sweden prior to this year.  He stood out for some teams, but the Flyers had much interest in him.  He was signed to a 1-year deal, but you can rest assured the Flyers will likely re-up his contract.  Raffl has made each line he's played on better.  The mix of size, skill, and puck control make Raffl a difficult player to play against.
Matt Read: Philly seems to be the team that's always in the mix for players who were never drafted during their college tenure.  Matt Read is no different.  He was a standout on Bemidji State's hockey team that made it to the Frozen Four in 2009.  The Flyers nabbed him once he graduated and he's been a steady force for the team since.  Having built nice chemistry with Sean Couturier this season, Read was signed to a 3-year extension at the beginning of the season.
Follow Shawn Reznik on Twitter: @ShawnTHW