Jaden Schwartz has been a great joy to watch on the ice night in and night out for the St. Louis Blues.  His ice awareness and offensive mid set are only surpassed by his back-checking ability, and will to play defense first.  Here we shed some more light onto Jaden's skill set, which is a big reason the Blues have had so much success this season.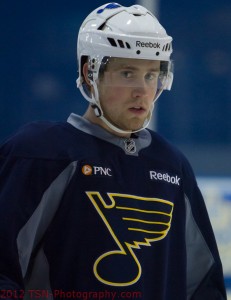 Jaden, Use the Schwartz
One of Jaden Schwartz' biggest assets is his ability to find open areas on the ice, and to make plays before he gets the puck.  This means he actually reads the play so well that he is proactively making plays to teammates, which gives them more open ice to work with and a better shooting angle to snipe pucks past opposing goalies.  Schwartz has a knack for supporting the play, and is paramount in odd man rushes for the Notes.  He regularly uses his body position to fool opposing team's defenders so that the weak side wingers can get open for scoring plays.
Though he has been a silent contributor for the team, he is currently showing why he was drafted alongside fellow star Vladimir Tarasenko.  His 36 points this season (16 G, 20 A) is a very impressive mark in only his second full year in the NHL, but you don't truly see his worth until you look at his plus/minus.  He is currently a plus-20 which is good enough to tie for 18th overall in the league, something that is no small feat.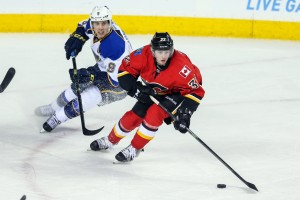 Protecting Tatooine
Jaden Schwartz has truly come into his own through his defensive play, and his relentless ability to chase down pucks and opposing players before they get to the net.  He has been a key component to the Blues penalty kill, which currently sits 5th overall with an 85.0 percent kill rate.  His uncanny ability to stay in passing lanes, keep an active stick, and willingness to block shots for his team make him a defensive threat every time he touches the ice.
What makes him the up and coming star that he is though, is what he does in transition from defense to offense.  He has been known to out race some of the NHL's finest, and rarely loses a puck battle in the corners which has led to many scoring chances (and goals) for the Blues this season.  This skill set is what drives his production, and it's often what keeps the Blues offense active in tight games and through lulls.

Light Speed Hyperdrive
Schwartzy has been able to really find his rhythm this season when he starts skating for an open puck, or an open area of the ice.  His shifty speed causes defenses to misread his intentions, something he plans for with every stride.  He knows he can take that last minute step and reach in with his stick to knock pucks loose, then he can use his strength to gain possession and find the open man in front.  This is why he has become so dangerous in the offensive zone, and why he is a threat every shift.
His transitional play isn't all about speed though.  He uses his quick feet, and swift hands to get to open areas of the ice while protecting the puck and waiting for teammates to gain position.  When he is without the puck he enters the zone with purpose, and changes speeds very quickly to gain separation from the defenders to wait for a rebound to pop out, or for a cross ice pass to net for a goal (just watch the highlight reel above).
Jaden Schwartz is the seventh Blues player to reach 20 assists this season. #StlBlues

— Andrew Allsman (@allsmandrew) January 29, 2014
Episode 2: Jaden's Development
One thing is certain, if this is Jaden Schwartz at year 2, I can't wait to see him by year 5.  he is quickly becoming an NHL superstar along with Tarasenko, and the tandem will only continue to keep the Blues atop most NHL power rankings for the foreseeable future.  Jaden was a standout at Colorado College, but always put the team first, and it is truly paying dividends for his game, and for the Blues team who desperately want to bring a Stanley Cup to St. Louis for the first time in the franchise's storied history.
The team certainly likes having him around, and even attended a Yale University home game to honor Jaden's late sister who played their in college.  This shows the team's commitment to their rising star, something all of us fans can be thankful for (and get excited about).
Like what you've just read?  Follow me on Twitter: @pep30