With the NHL's trade deadline looming soon after an impending Olympic roster freeze, hockey fans everywhere wait with eager anticipation to see what moves will be made around the league.  It's no different in Pittsburgh where the Pens' faithful anxiously anticipate what G.M. Ray Shero may have up his sleeve.  Will he acquire, for example, a  winger to replace Pascal Dupuis or simply aim to bolster the club's depth at the forward position?  And, should he pull the trigger on a deal, who (or what) will he move?
With regards to who the Penguins may actually dangle as trade bait, there isn't a more polarizing name than Kris Letang.  Love him or hate him, it seems everyone has an opinion regarding how the Penguins should handle the former-Norris Trophy finalist.  Thus, as the March 5 deadline approaches, an apparent steady stream of kerosene pours over the burning question of whether or not Shero should move the talented, yet, maligned defenseman.
Here, we present three reasons Shero may find it in his best interest to retain the star blue liner:
 A Dynamic Defenseman
Make no mistake, flaws exist in Kris Letang's game.  At times, his decision making can prove puzzling; he sometimes tries to force plays that aren't necessarily there.  But, you know what?  In the long run, the risk typically proves worth the reward.
"I think the story of Kris Letang can be told in a quick recap of Game 4 against the Senators in 2013. Letang was on the ice for a few horrendous goals against in the first period of that game. The public was ready to have him shipped out of town. The next 40 minutes were about what he can do offensively. He somehow finished the night +1 with 4 assists and was a key reason the Penguins won that game." – Jesse Marshall, on Letang's game
And, that's just it. Sure, Letang will make some mistakes.  Some of them will drive coaches and fans nuts; he'll even cost the Pens a few goals along the way.  But the elite upside, the plays he and only a handful of others are capable of, will ultimately outweigh the negative.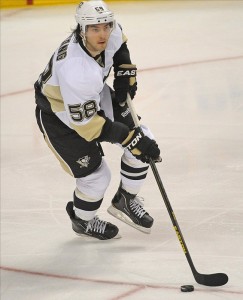 Outside of Erik Karlsson, Letang might be the most dynamic defenseman in hockey.  His nearly unmatched skating ability allows him to both join an offensive rush or recover to break up an outnumbered attack in his own end.  When healthy, "Tanger" collects points like few rearguards can while providing a nasty snarl in his own end that punishes opponents.
Last year, Letang was the NHL's only defenseman to average better than a point per game (38 points in 35 contests).  And, while he has failed to produce at a similar level to this point in an injury-plagued 2013-'14 campaign, he still ranks seventh among all blue liners with 10 goals (prior to Thursday night's contests).
Following his early January return from the shelf, Letang's game is finally rounding into form, his unique talent almost palpable to even the most casual of fans.  So, while Shero has admittedly stockpiled a plethora of talented rearguards in the Penguins' system, dealing such a dynamic star preparing to enter the prime of his career may not fall into the Penguins' plans.
A Losing Deal?
In looking at any potential deal involving Letang, many people compare the pending move to a 1992 blockbuster headlined by the Pens shipping Mark Recchi to Philadelphia in exchange for Rick Tocchet, Kjell Samuelsson and Ken Wregget.  The argument correctly points out that parting with Recchi allowed the Pens to obtain the pieces they needed to bring home a Stanley Cup.
But this is a different time.  With the implementation of the salary cap, such deals prove much more difficult to pull off in today's NHL.  Thus, with the Pens lacking significant cap space and Letang's hit relatively low until his extension kicks in next year, executing such a trade wouldn't be easy.
Meanwhile, Tannor Torrao, a THW colleague, recently suggested a Letang for Evander Kane swap, a transaction that would serve to fortify the Pens' top line.  And, while Kane would surely look fantastic flanking Sidney Crosby alongside Chris Kunitz, such a deal really doesn't address the Penguins' greatest need: depth at the forward position.  Sure, it would free up Beau Bennett, Brian Gibbons or Jayson Megna to slot in on the third line, potentially providing a slight upgrade. In reality, though, will that fulfill the Pens' needs for a deep, successful playoff run?  After all, a lack of forward depth undid the Penguins against Boston last year and this Pittsburgh club currently possesses less of that depth than last year's edition.
So, yes, finding a replacement for Dupuis would be great but Shero's most pressing need comes in the form of producing a significant upgrade to the third line.  That's what this squad desperately misses from the '08 and '09 playoff runs and that's what this squad needs to get over the playoff hump: a third and fourth line capable of providing speed, grit and the occasional tally.
Simply put, moving Letang would require more of a return.  In fact, unless Shero can find a suitable trade partner,  acquire both a replacement for Dupuis and some sort of upgrade for the third line and stay within the confines of the salary cap, moving Letang would likely represent a losing deal.  Throw in the fact that Shero likely possesses alternative assets that he could move in order to address his greatest need and retaining Letang almost becomes a no-brainer.
Long-Term Blue Line Stability
Upon first glance, this argument may appear somewhat perplexing.  After all, the Penguins' organizational depth along the blue line is likely the envy of the rest of the league.  With a stout group already in Pittsburgh and a seemingly endless supply of talent in the pipeline, the Pens appear set on defense for years to come.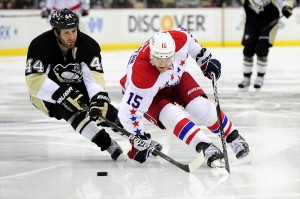 A closer look, however, reveals a unit positioned for transition.  Soon.  With Brooks Orpik and Matt Niskanen preparing to hit free agency this summer, there's no guarantee Shero can (or will) bring one or both defensemen back.  Indeed, Niskanen has set himself up for a substantial raise and Orpik is starting to grow somewhat long in the tooth.  Yes, moving Letang would open up room to retain the two but there's no guarantee either will don a Pens' sweater next year.  Delving deeper, 2014-'15 represents the last year of Paul Martin's (32) deal and Rob Scuderi (35) will be another year older.
Sure, it's difficult to imagine Shero wouldn't find a way to retain one of the free agents but moving Letang leaves the Penguins open to the possibility of losing what most would consider three of their top five defensemen in a matter of months.  Worse yet, two of the remaining regulars will find themselves on the back nine of their careers.  Yes, Olli Maatta has inspired confidence in the fact that he's capable of stepping into a larger role but moving Letang could quickly backfire.
Of course, no shortage of young defensemen exist within the system, anxious to spread their collective wings at the next level.  Furthermore, all signs point to the fact that some should develop enough to make the jump as soon as next season.  But, outside of Maatta, the Penguins don't typically trust young blue liners with significant ice time (see Simon Despres and Robert Bortuzzo).  Thus, Shero might be more inclined to stagger his youngsters' promotions to the NHL.
And, if that proves to be true, the Penguins won't likely be comfortable filling the potential holes in their lineup that moving Letang may create.