Former Pittsburgh Penguins GM Craig Patrick did it in 1991, and then again in 1992.
Current Pens GM Ray Shero did it 2012.
They made very difficult decisions to trade away very good players for the betterment of their team.
And unless Shero pulls the trigger on a blockbuster prior to February 7th (the NHL's Olympic roster freeze), he'll have roughly the next four weeks to mull over another similar decision.
That decision… Will be whether or not to trade away Kris Letang.
Easy and Not So Easy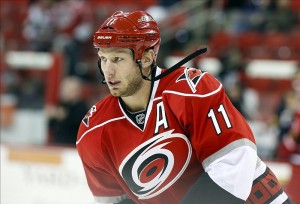 Think back to the 2012 Entry Draft, when Shero pulled the trigger with the Carolina Hurricanes on the Jordan Staal trade.
Nearly a week prior to that trade, Shero offered Staal the exact same contract that Staal signed immediately after being dealt to Carolina. Ten years and $60 million. Once Staal turned down the Pens' offer, it became clear to Shero that the trade needed to happen. It was a no-brainer to call up Jim Rutherford in Raleigh and lay out the parameters of the 'Canes adding captain Eric Staal's brother to their roster.
Knowing that Jordan wasn't going to resign in Pittsburgh the following season upon entering free agency made Shero's decision an easy one. In this case, trading Kris Letang is far from simplistic.
The Penguins are under zero pressure to make something happen here. Letang already signed his contract extension, and a very team-friendly one at that; considering what he could have gotten on the open market (think $8.5-$9 million/year). That shows Letang's commitment to winning with this organization, or more simply put: his loyalty.
Letang quickly became a fan favorite after his breakout season in 2009, also the same season of the Penguins' last Stanley Cup victory. But he has since come under fire – and to a degree rightfully so – for lackadaisical play in his own end, and not producing in the offensive zone.
He is still a fan favorite around the Steel City, and I include myself in that group. But just remember one thing, you don't always win a trade by acquiring the most talented player (subtle teaser).
Lack of Forward Depth
The fact is, the 2013-2014 Pittsburgh Penguins – as currently constructed – are not a team that I see competing for the Stanley Cup come June.
When you consider that the bulk of their scoring is coming from their top two lines and their power play, an offensively anemic bottom-six group won't get the job done in the Stanley Cup Playoffs.
A team needs depth up and down their roster. For the Penguins, their depth lies in their defense and goaltending, not within the forward group.
Oh sure, guys like Jayson Megna, Andrew Ebbett, Brian Gibbons and Chuck Kobasew have filled in admirably thus far in the regular season; while mainstays and undoubtedly more talented players like Pascal Dupuis, Beau Bennett – and at times James Neal and Evgeni Malkin – have been shelved with injuries.
Shero's task will be finding that depth amongst the NHL's "sellers" rosters on or prior to March 5th.
This will not be a season in which Shero looks for the typical NHL trade deadline "rental" player. Instead, – especially after last year's debacle of acquiring Jarome Iginla, Brendan Morrow and Douglas Murray – he will look to acquire players under team control.
And relatively young players at that.
In order to pull this off, Shero will need to be willing to move a big time piece of the current puzzle to get back what this team needs. Let me say that again: what this team NEEDS.
Right off the bat, this team needs to find a replacement for Pascal Dupuis. The combination of Jayson Megna/Chuck Kobasew/Brian Gibbons simply isn't working. None of those three players fill the role that Dupuis did when his knee was healthy. None of the three has the pedigree of a top-6 forward. In fact, Megna and Gibbons weren't even drafted.
Beau Bennett was thought to be a top-6 guy, but he hasn't been able to stay healthy for any length of time to show the coaching staff what he can do with a legit opportunity.
Top Six vs. Top Line
I hear the phrase "top six" when mainstream hockey pundits refer to what Ray Shero and the Penguins are looking for. I've decided that I don't agree with that.
(Consider this: Evgeni Malkin and James Neal play on the Pens' "second" line. I put quotations around the word "second" because on just about any other team in the NHL (excusing the Ducks and Blackhawks) those two would be on the top line.)
No, the Penguins aren't looking for a guy who is more likely a second-line winger; whom they hope can make magic with Sidney Crosby and Chris Kunitz. They're looking for a top-line winger with a proven track record and a high pedigree.
I admit, Pascal Dupuis is not that guy. But the chemistry that he had with Crosby and Kunitz is unmistakable.
Two of the names linked to the Penguins in recent weeks have been Blake Wheeler and Evander Kane, both of the Winnipeg Jets. Wheeler plays on the Jets' top line with Andrew Ladd and (usually) Brian Little. Kane meanwhile, sees his time on the second unit with Olli Jokinen and Mark Scheifele/Michael Frolik.
Either of those two wingers (Wheeler a right wing, Kane a lefty) would look fantastic on alongside Crosby and Kunitz. But do you think that Simon Despres and a first round pick will pry either of them out of Winnipeg? HIGHLY doubtful.
The Value of Letang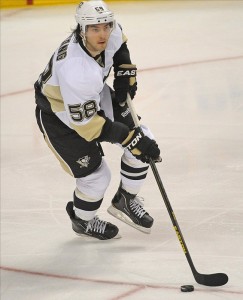 In Kris Letang, the Penguins have a defenseman whom Bob Errey – former Penguins' winger and current Penguins' TV analyst – described just last week as "not even scratching his (Letang's) potential's surface."
In other words; for all of his miscues and bone-headed decisions with the puck over the past 3 seasons, Kris Letang is a game-changing defenseman. If he stays healthy for the remainder of this season – and remember that you heard it here first – he will win the Norris Trophy.
He's as fleet afoot as you'll find in the NHL. He almost seems to glide up the ice when carrying the puck, making it look nearly effortless. When his mind is right (when he's thinking like a defenseman) he's nearly as shut-down as there is. Letang can lay a huge check on an opposing player, then skate the puck out of danger in his own end immediately after.
Then there is his offensive upside. Along with his aforementioned skating ability, his hands are like velvet: Smooth. He carries the puck with ease, can deke an opposing d-man out of his skates, and with a flick of the wrist the puck is in the back of the net off his BACK hand.
He's not a visible leader on this team, but then again he's not asked to be. In the right situation I believe Letang could be an invaluable cog in the leadership wheel.
The Craig Patrick Trade of 1991 & 1992
Avid (and old enough to remember) Penguins fans will remember that in February of 1992, former GM Craig Patrick made a deal with hated in-state rival Philadelphia; acquiring winger Rick Tocchet, defenseman Kjell Samuelsson, and goalie Ken Wregget for Brian Benning and the beloved Mark Recchi. Patrick said after the trade that it's not always about acquiring the best players, but the right players.
Even go back a year further to 1991, when Patrick pulled off arguably the biggest heist in Penguins history by acquiring Ron Francis, Grant Jennings and Ulf Samuellson from the Hartford Whalers for Zarley Zalapski, John Cullen and Jeff Parker.
The lesson to be learned there is precisely what Patrick said regarding the '92 trade with the Flyers.
The Trade that Needs to Happen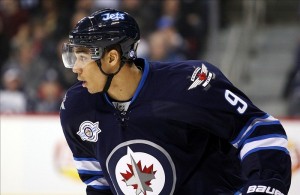 As long as you can come to grips with the idea that the Penguins may not receive the best player in return in a potential deal involving Kris Letang, then you should be able to live with this:
Shero should call Winnipeg and offer up Letang to (Jets' GM) Kevin Cheveldayoff for Evander Kane. Straight up, or throw in a draft pick if need be. The Penguins would trim $2 million (beginning next season once Letang's new contract extension actually kicks in) from their roster in the deal, perfect for resigning Matt Niskanen (sure, this can be the jump-off where I start lobbying for his return to Pittsburgh).
Kane is young and fast, a gifted scorer, and is under team control through the 2018-19 season.
In other words, exactly what the Penguins are looking for.
Of course your comments are welcome here and to my inbox:
TDTorraoTHW@gmail.com
Or send your comments and questions for the THW/Pittsburgh Penguins Mailbag to me on Twitter: