Sometimes familiarity breeds contempt. Sometimes it builds fondness. In the sports world, often there's a level of attachment for a team you put together, sometimes regardless of that group's success.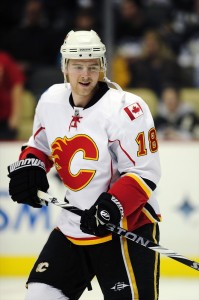 That's why the Calgary Flames may be extremely active at this year's trade deadline. Acting general manager Brian Burke has actively acquired one player – Kevin Westgarth – and decided to hold onto another four – Matt Stajan, and draft picks Keegan Kanzig, Emile Poirier and Morgan Klimchuk. Beyond that? Burke probably has zero emotional attachment to the group.
And that means these individuals are assets to maximize rapidly improving the Calgary Flames from a cellar-dweller into a team that could aim for a playoff spot before too long.
PLAYERS UNDER CONTRACT
The biggest challenge facing Burke – and whoever he eventually hires as general manager – is to rebuild the Calgary Flames. The secondary, and short-term, challenge is to hit the cap floor next season. The third challenge will be to ice a team that people in Calgary will want to spend money watching.
Here's what Burke will be starting with:
Goalie Karri Ramo
Defensemen Dennis Wideman, Mark Giordano, Ladislav Smid and T.J. Brodie (and minor-leaguers Shane O'Brien, Tyler Wotherspoon, Patrick Sieloff and John Ramage, and junior Keegan Kanzig)
Centres Mikael Backlund, Matt Stajan and Sean Monahan (and minor-leaguers Corban Knight, Markus Granlund and Josh Jooris)
Wingers Jiri Hudler, David Jones, Curtis Glencross and Brian McGrattan (and minor leaguers Sven Baertschi, Max Reinhart, Michael Ferland and Turner Elson, and juniors Morgan Klimchuk and Emile Poirier)
After putting him on waivers this week, the club is reportedly shopping Shane O'Brien. The team may also be considering offers for Mikael Backlund – Matt Stajan's long-term deal makes the role of "tough minutes center" suddenly a bit crowded – while the super-productive Jiri Hudler and struggling sophomore Sven Baertschi may be players they receive calls about. Hudler's the team's leading scorer, while Baertschi has been dispatched to the AHL after failing to make a consistent splash in the NHL. He's still got a lot of talent, and a change of scenery may re-invigorate him.
PENDING FREE AGENTS
If you were going to rebuild the Flames, the best place to start would be by deciding which pending free agents to keep and which to deal. Unlike last year, where arguably only Jarome Iginla was the major free agent of note, this off-season a laundry list of significant players could hit the market.
Unrestricted free agents on July 1 (barring new deals) are Mike Cammalleri, Lee Stempniak, Blair Jones, Kevin Westgarth, Ben Street, Kris Russell, Chris Butler, Derek Smith and Joey MacDonald.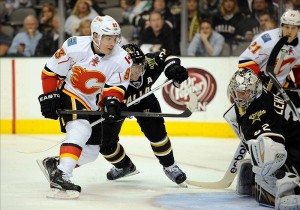 Restricted free agents (presumably they're qualified) on July 1 are T.J. Galiardi, Lance Bouma, Paul Byron, Joe Colborne, Ben Hanowski, Lane MacDermid, David Eddy, Chris Breen, Chad Billins, Mark Cundari, James Martin, Olivier Roy and Joni Ortio.
As you can see, there's a lot of 'em.
Cammalleri and Stempniak have been subject of the most trade rumours of late around the league, likely because they're both skilled wingers who provide much-needed depth. Cammalleri is the most dangerous offensive player, but Stempniak can be used in a checking role and help out immensely. The Flames may also be getting calls about Kris Russell, who's been excellent for the club. While they may try to re-sign him, they may get an offer they can't refused. With Giordano, Wideman, Smid and Brodie signed long-term, the temptation to re-sign Russell may be balanced against the need to cycle youngsters into the NHL line-up (and the prospect of a nice return on the original investment of a fifth-round pick).
There's also a handful of players that the team is trying to make their mind up about. Those likely include T.J. Galiardi, Joe Colborne, Paul Byron, Blair Jones and Ben Street. The likelihood of college standouts Kenny Agostino, Johnny Gaudreau and Bill Arnold turning pro in 2014-15 further complicates things, as the Flames will have to hedge their bets regarding how ready they feel these collegiate players to be. If the club retains a lot of these guys, they may be a bit apprehensive about the college kids. If they ship them out at the trade deadline, it may reveal a bit of confidence in their future.
But overall, outside of a handful of players – Mark Giordano, Curtis Glencross, T.J. Brodie, Sean Monahan and perhaps a few of their prospects – it's likely that Burke is listening to any and all offers on the table. With the discontent up north in Edmonton due to the length (and lack of success) with their rebuild, Flames management may feel pressure to turn things around in a hurry. As such, no move may be off-limits.
If you're a Flames fan, it's probably best to hold off on getting a player's name on your jersey until after March 5's trade deadline.