"I was born in Hartford, Wisconsin in October of 1980. I graduated high school in Berlin, WI in 1999. About 2 months before graduation I went to an army recruiter office in Oshkosh (about 30 miles from my house) and asked about the military. I decided I would enlist after graduation."
Many stories of the heroes that protect this great country start just like this. For US Army-Retired Staff Sergeant Michael Cain, this was the beginning of his journey to chase his American dream. But this one takes an inspirational turn at one point and ends up being a remarkable story. A true hockey warrior was made.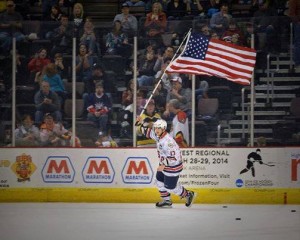 Just as many stories that start this way, you probably know how SSG Cain's story goes. After boot camp in Fort Still, Oklahoma, Cain graduated and went straight to Fort Leonard Wood, Missouri. Or as Mike and most soldiers call it: "Fort Lost in the Woods in Misery." Cain was eventually deployed on tours with the 173rd Airborne Infantry Division in Vincenza, Italy, and followed it up with deployments to Germany, Kosovo, Tunisia, the Ivory Coast, the Czech Republic and Hungary.
The frequent flyer miles certainly aren't as glamorous as they seem.
At the start of 2003, Cain was reassigned to Fort Hood, Texas and was assigned to the 299th ENG, 4th Infantry Division. As a devout hockey fan and proud American, I was brought to tears with the way the rest of his story played out:
"I was deployed to Iraq on April 1, 2003 at age 22. On April 4, 2003 we finally crossed enemy lines [into Iraq]. We ended up setting up base camp at forward observation base Omaha (FOB Omaha). On August 10, 2003 at 7:30 am local time, I went out on a resupply mission with my squad. We were supposed to be the 2nd convoy to leave the base but the first convoy was missing personnel so we went in front of them. The first 3 vehicles made it off the desert sand onto the highway just fine. I only remember the front of my vehicle hitting the blacktop and then I blacked out.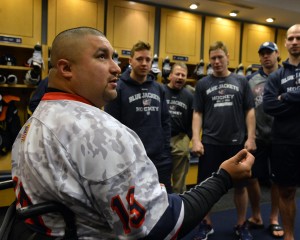 "I started to come to and I could hear my driver Keisha Duff screaming. I couldn't see, but it felt like water was running down my face and my legs felt like they were asleep. My eye sight started coming into focus and I saw the windshield of my truck blown out and my door was blown off. Then I looked down at my legs and saw the flesh and bones that were there from the wreckage. The medics came and air lifted me and Keisha to Baghdad where we were treated for our injuries. I remember telling my platoon sergeant to tell my family I loved them very much."
This was the last memory SSG Cain had of Iraq. When he woke up from the explosion caused by an improvised explosive device (or IED) that destroyed his and Duff's humvee, he was in Walter Reed Army Medical Hospital in Washington, DC. He didn't even know that he spent some more time in Germany for treatment before being transported back to the States. He spent the next 4 years in rehab for his injuries which included having his right leg amputated. On October 7, 2013, Cain decided that his fight had gone on long enough. After 10 long years, he had is left leg amputated.
The Next Challenge
Growing up in Wisconsin, Sergeant Cain was always a hockey fan. We'll forgive him for being a die hard Green Bay Packers supporter. With Chicago Blackhawks and Minnesota North Stars fans all around him in rural Wisconsin, it wasn't one of those traditional favorites that Cain became a fan of. It was love at first sight for the Washington Capitals. Who wouldn't love seeing someone "beat the CRAP out of the guy from Boston" as he put it?
As recently as just 3 weeks ago, SSG Cain received his prosthetic left leg and he's already back on the ice. And the football field. When I first spoke with Mike, he was just coming off of the field of an amputee flag football game against NFL Alumni and celebrities in New York. That's the kind of warrior he is. He doesn't complain about it. He'll even let you give him a foot massage if you ask nicely.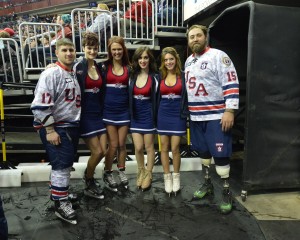 Fast forward to Thursday night. With both the USA Warriors and the Washington Capitals in town to play the Blue Jackets, I had joined the Warriors to cover their weekend trip to Columbus. The team prepared to leave the locker room situated down the hall from the Blue Jackets bench, while they played the 1st period out on the ice. SSG Cain was itching to get out to the stands to watch the game and couldn't stay in the locker room any longer. Moments after he saw a bloodied Nick Filigno come past the locker room having just engaged in an on-ice fight, he yelled back into the room "Come on guys! Let's roll!!!"
I'm not kidding when I say I almost wet my pants – first in fear because he was talking to a room of teammates and fellow warriors who were in wheelchairs. Then in comic relief as the entire room burst out in laughter. "Pun not intended!" he yelled as he doubled back. Well…it was a nice try at redemption, anyway.
Despite the stand up comedy show that usually follows SSG Cain and the rest of the team, the USA Warriors isn't just a nickname or a lightly used term. By my count, 22 Purple Hearts have been awarded on the current sled roster, another 11 have been awarded to the standing team and there are 2 coaches and board members that also carry that badge of honor. "Being on the USA Warriors ice hockey team has changed my life so much," Cain said. "I am able to play a game that I am very passionate about after I thought that it was taken away from me. The guys on the team like to push each other to be the best we can be."
Columbus, OH Welcomes the USA Warriors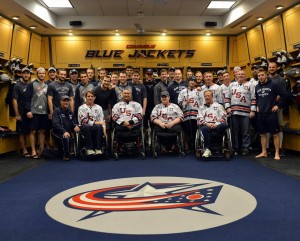 When the Warriors contacted me to cover their trip, I was nervous at first. How could I ever repay them for their service? Well, it was quickly apparent that I wouldn't be able to. These guys are true warriors from all branches of the military, and I will never be able to repay them. But they're soldiers after all, and at the very least, I knew my offer of beers at the Blue Jackets game would go over just fine. Getting to know these guys in such a short time was tough. I asked them about their playing time, and where they came from and where they had been. Many had traveled the world with the Army, Navy and Marines, but there were no Falcons from the Air Force on the trip.
At the Friday night Ohio State hockey game, a veteran behind us even asked if there were Air Force vets on the team. At first SSG Cain spun around and answered this query with "Nah, I don't know anyone off the top of my head from the Air Force." Pause… Double take at who was actually asking the question…
"Oh yeah, I was in the Air Force!" SSG Cain said, matter-of-factly (even though he is an Army soldier through and through). And as there usually is between any current and veteran soldiers, they had an instant connection. Not only about war stories and where they had been stationed, but also with the mom's 10 year old son Westin, who is a hockey player himself.
These instant connections are what immediately draw you to this motley crew. I didn't have to wait until jumping on the ice with the Warriors on Friday afternoon's sled hockey clinic to feel welcomed. But when I did, I felt just a little bit of what it is like to be confined to a sled on the ice. Normally used to skating free, I even laced up my skates to jump on the ice standing up at the clinic. That was clearly the wrong decision. The soldiers insisted that I get into a sled, and it was an experience I won't soon forget. I wasn't exactly comfortable in a sled, and after about an hour I couldn't feel my legs. I didn't bother telling any of the Warriors that – I get the feeling that would have fallen on deaf ears if I had.
Jody Shelly of the Columbus Blue Jackets even joined in on the sled clinic fun and took his turn on the ice. It was a stunning gesture for Shelly – both because he was known as a brawler on the ice, and because he was dressed in his expensive dress shoes because he was at work. Neither seemed to matter on this day.
Hockey Therapy
USA Warriors standing team members Petty Officer Third Class Heath Fishburn of the United States Navy and Specialist Johnny Laursen of the United States Army 10th Mountain Division reminisced about their days in between deployments while enjoying the hockey games we attended together. To this day, post traumatic stress disorder affects both of these heroes, as it does for many who have served in the armed forces. In the car, GSE3 Fishburn frequently has fits of rage and even scared his fiancé to the point of having to pull over the car he was driving in the last month. SPC Laursen doesn't exactly enjoy fireworks. He had an interesting go of it at the Blue Jackets game where each time a goal is scored, a working Civil War era cannon is fired.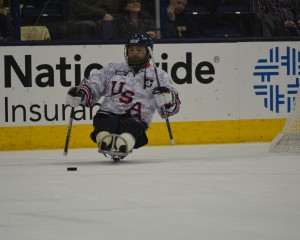 But on the ice, nothing stops these heroes. GSE3 Fishburn and SPC Laursen relish the opportunity to be on the ice every day. In fact, it gives some of these heroes the legs that they may have taken for granted in the past. Hospital Corpsman 1st Class Tom Murphy even got his new leg because of hockey.
HM1 Murphy subjected himself to many hours of therapy a week until he asked his doctor "will I ever be able to play hockey again?" When the answer was finally "no" and Murphy's chances of playing hockey again were all but lost, he had his left foot amputated. Murphy had tried several prosthetics with his doctor until he tried one with a hockey skate attached. Murphy is now the goalie for the USA Warriors stand up team. He and all of the Warriors take these injuries as gifts, and each and every one of them truly do relish the opportunity to show others that there is more to life with an injury.
Sergeant Jeff Woods, a member of the USA Warriors standing team told me that "this team is very important" to him. "It was kind of funny," he said. "I hadn't heard Mike's injury story (until this week) and he probably hasn't heard mine. That's another part of it. The details don't matter. We're just brothers. Just like when we played the Canadian Soldier On standing team at Comerica Park. They may as well have been American, or we Canadian. It's different than any other team that I've been a part of. The best part is that I feel like I am normal again since joining the team. I was Sergeant Woods and I had a career I loved. Then suddenly, I'm just Jeff. I didn't know what to do."
Play hockey. That's what to do. SGT Woods, SSG Cain, GSE3 Fishburn, SPC Laursen, HM1 Murphy – they all do it. As their motto says, there truly are "None Tougher" both on the ice and especially off of it.
What's Next?
In the 10 years since his injury, Mike Cain has fought for every single inch. There's plenty of inches top shelf as he proved on the ice at Nationwide Arena last week, but his journey isn't over yet. His new legs give him the freedom to run and maybe even to skate again. SSG Cain plays on the sled team and is their emotional leader. His jokes and antics are infectious and SSG Cain is already working to become just the second double amputee to play on the standing team for the USA Warriors. Don't be surprised for an update piece in the near future with some of SSG Cain's highlights when he is back on his feet on the ice again.
I was less than pleased that the Warriors were moving their caravan on to the Cincinnati Cyclones (ECHL) game and I had to stay behind. The snowball fight outside the game Friday night was a great topper to my time with the Warriors.
For those of you in the Columbus area who want to get involved, there are many ways to do so. Thom Hirsch and Brian Rosen of the DAV and USA Warriors Hockey would love your help. As Sergeant Shane Parsons of the 4th Infantry Division of the US Army (and Columbus resident) mentions, there is hope of having a team of Warriors in town in the near future. It takes both volunteers and players to start a sled hockey or standing hockey team, and Columbus certainly has the military presence to get the job done for our soldiers.
Ohio already has the Ohio United Sled Hockey team and are looking for help to start their own USA Warriors program in Columbus. For more information, head over to the USA Warriors website, or say hello on Twitter or Facebook.
Doulas Cutler is a Lead Writer for The Hockey Writers covering the Chicago Blackhawks. Follow him on Twitter at @DougCutlerTHW. In addition, he also writes on The Blog of Brotherhood, dedicated to Miami RedHawks Hockey (www.blogofbrotherhood.com and @MiamiHockeyBlog). LET'S GO HAWKS!