The 2013 edition of training camp has been one of major change for the Calgary Flames. For the first time in years, the camp began with two sheets of ice being used simultaneously – one for practice, one for a scrimmage. Oh, and there's the whole thing with the Flames having neither of Jarome Iginla or Miikka Kiprusoff for the first time since 1995. While much has been made about the absences of #12 and #34 from the team, a more interesting wrinkle may be emerging from the changing of #4 since last year.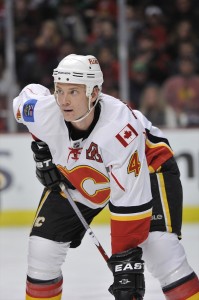 Acquired from the St. Louis Blues over the summer, newcomer Kris Russell inherits Jay Bouwmeester's old jersey number, but the minutes that Bouwmeester would eat up – he averaged about 26 per game – will have to be doled out by committee. That means that Calgary will need more out of their bottom-pairing defensemen than they have in years, and it also means a huge opportunity for a trio of new faces at Flames training camp.
Tyler Wotherspoon, John Ramage and Patrick Sieloff are still in Flames camp, having survived first cuts. To be honest, their survival hasn't been all that surprising, although the degree to which they're blending in with – and occasionally out-shining – their veteran teammates is impressive. So are their individual resumes.
Wotherspoon, 20, is a product of the Portland Winterhawks, a hockey factory that absolutely churned out NHL talent in recent years. In three years with Portland, Wotherspoon went to three straight WHL Championship series, finally winning last year and playing in the Memorial Cup tournament. Arguably Wotherspoon's biggest accomplishment was striding into Team Canada's try-outs for the World Junior team and beating out several first round picks for a spot on the team.
Ramage, 22, is the son of two-time Stanley Cup Champion Rob Ramage. He comes to the Flames from four years at the University of Wisconsin, where he served as captain for two years and went to the NCAA Championship game as a freshman. He's arguably most noted for his international experience: he won a gold medal at the U18s and gold and bronze at consecutive World Juniors with Team USA. He served as captain for the bronze medal squad.
Sieloff, 19, is arguably in the most interesting position. As a player drafted out of the USHL, he's not subject to the NHL/CHL transfer agreement. Therefore, he is eligible to play in the NHL with the Flames, the AHL with the Abbotsford Heat, the ECHL with the Alaska Aces or the OHL with the Windsor Spitfires, where he spent last season. The rugged blueliner had a decent first year in major-junior, but a strong World Juniors, winning gold with Team USA. He's rumoured to be a contender for the captaincy for this year's American squad. He came into training camp in tremendous shape.
Each of the trio has made a case for staying with the big club, although none of the three has any professional experience. However, all three play very strong, quiet defensive games, downplaying the offensive side of the game but chipping in with smart passes at times. Wotherspoon likely has the most offensive upside of the three and was one of the WHL's plus-minus leaders last season, while Sieloff brings a physical element and is known for his big (clean) open-ice hits. Ramage is likely the most prototypical stay-at-home defender.
The big question for the Calgary Flames is whether one – or more – of these players displaces a veteran, such as Chris Butler or Derek Smith, on the bottom pairing. Butler's cap hit ($1.7 million) is potentially too big to bury in the minors, he found himself in the press box on a few occasions last season. Smith's cap hit is only $775,000, and he may be bumped to the AHL – and Butler to the press box – if one of the Flames younger players outshines them at camp.
Flames head coach Bob Hartley noted, in response to whether veterans should be nervous about their spots, that pro hockey is a competitive business.
"Veterans should always be nervous," said Hartley. "This is a job that, you steal a jersey, as soon as you steal a jersey, you turn around and someone's trying to take it back from you. That's a cycle of this business for all of us, that's the way it goes. Whether you're nervous or not, the only thing you control is your play. What all of our youngsters, why they're still here is they showed a certain talent, they showed a commitment and they showed confidence."
Wotherspoon explained that he brought some confidence with him from a successful season with Portland and Team Canada.
"I came into this camp feeling that I can make this team, not coming here thinking about playing in junior or in minors," said Wotherspoon. "That's the mindset you've got to have when you come here. You've got to come here expecting big things. I think that's what I've done and I've been rewarded here, but it's not over yet and I've got to keep playing my game and keep battling to get that spot."
Hartley was complementary to the Flames scouting and management for restocking their prospect cupboards so quickly. He noted that due to the strong play of many of the younger players in camp, team management had heated debates over even the first round of roster cuts.
"They're making our decisions tough, and that's their role," Hartley said, later joking that furniture may be thrown during debates for the next round of impending cuts.
The Flames have 38 players left in camp. They have to declare their 23-man roster on October 1 and begin their 2013-14 regular season on October 3 in Washington, D.C.
Ryan Pike has covered the Calgary Flames and the NHL Draft extensively since 2010 as a Senior Writer for The Hockey Writers and Senior Contributing Editor of FlamesNation.ca. A member of the Professional Hockey Writers Association, he lives in Calgary.