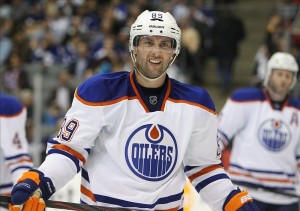 For at least a couple days or so, everything was looking good in Oiler nation. Ryan Nugent-Hopkins (who is recovering well and on schedule from his shoulder surgery) signed a massive long-term contract to solidify his spot at the center ice position. Taylor Hall seemed to be looking good playing down the middle and Sam Gagner was picking up where he left off from last season. The team as a whole was playing strong, albeit just in the preseason, but they appear to have a good mix of skill and toughness.
But against the Vancouver Canucks last Saturday night, a wrench was thrown into their plans. Or rather, an errant stick. Canucks forward Zack Kassian, the guy whom they traded Cody Hodgson for, carelessly threw his stick in Sam Gagner's face, breaking Gagner's jaw. Last season, Sidney Crosby was hit in the face with a slap shot and missed 12 regular season games and one playoff game. At this point there's no indication of how long Gagner will out, or if the injury is as bad as Crosby's was. The Oilers are saying that he is out "indefinitely".

Nugent-Hopkins isn't expected to return until around November, which leaves the Oilers with a huge gaping hole at center ice. Now this isn't a new problem. The fact they had to take one of their best wingers in Hall and move him to center speaks of the lack of depth they already have at the position. Next up to take Gagner's spot is Boyd Gordon, while players like Will Acton and Mark Acrobello round out the rest of the internal options. For a team looking to compete for a playoff spot, that isn't looking good.
But once again, this is a really a hole they dug themselves. The team knew Nugent-Hopkins wouldn't be ready to go, and pinned their hopes on Hall adapting well enough to the position, which is still up for debate. Of course no one could have predicted Gagner would be injured, but organizational depth is key for a teams success, and the Oilers are lacking. The best free agent center out there are the moment is Tim Connolly. Could be a suitable replacement, because at least he has legitimate NHL experience.
The Oilers may try to tread water as they currently are, but it's a risky proposition. Falling behind early in the year is not what the want to do in a tough Pacific Division. Injuries are part of hockey, they always have been. Injuries to key players at key positions have a way of derailing a team's hopes for success. But resiliency is what this game is how about. How will the Oilers respond to the situation? Rookie coach Dallas Eakins will not use Gagner's absence as a excuse, of that you can be sure. The Oilers want to overcome this, and they will try. But they might not have the talent to do so.
Marcy, a former hockey player, is a hockey correspondent on CTV News and TSN radio. She began her career as a Sports Journalist in 2009 and has been part of The Hockey Writers since 2010, where she is currently a senior writer and editor.