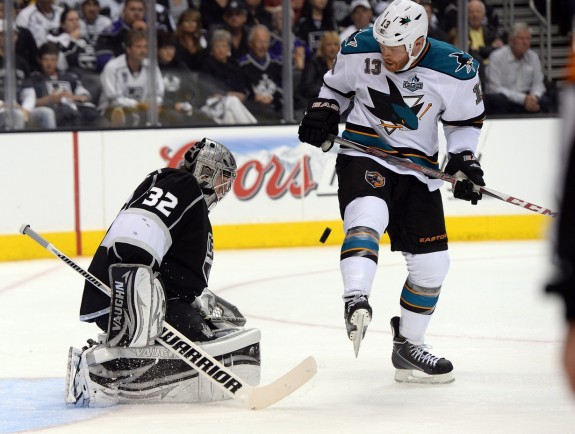 It's been a long summer since the Sharks fell to the Los Angeles Kings in the Western Conference semifinals last year. But it capped off a rather long and tumultuous playoff tenure under Todd McLellan, something that has haunted the Bay Area's hockey franchise since its' inception.
With their core well established amongst ever interchanging parts that are the Sharks third and fourth liners, it's hard to argue that their lack of postseason success is due to a lack of talent. Joe Thornton and Patrick Marleau continue to put up big numbers year in and year out, and the emergence of Logan Couture and Joe Pavelski over the years has added some big name offense to an already explosive team.
Yet here we are, four months later after another disappointing playoffs run. Four months later from another disappointing effort against a matchup that the Sharks, probably, should have emerged victorious from. Yet, here we are, and the question remains: what is it going to take for this team to find success in the postseason?
Frankly, they've had a lot of success getting there. They haven't missed the playoffs since 2002-2003, and have won the Pacific Division six times in that span.
And yet despite that success, the Shark still finds ways to flop when the fans break out the rally towels and the players start growing their beards.
The question is why?
Answer 1 – The Final Forward Ingredient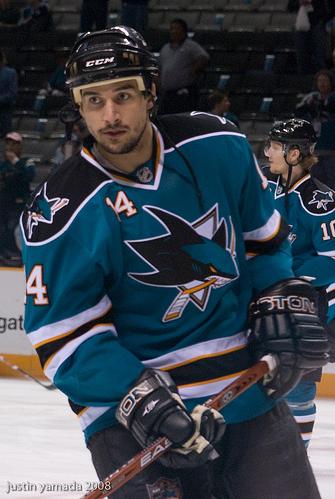 Anybody else notice that the Sharks have been desperately looking for that last piece of scoring juice to add to the melting pot? Like, they've been trying to do it for years, and so far it hasn't exactly worked out the way that they had hoped.
2005-2006: Jonathan Cheechoo
Sure, the guy set a franchise record in 2005/2006 with 56 goals and 93 points, but after that…well, let's just say he wasn't the player he was. Not to take anything away from him, but it sure looks like that one year with the Sharks was a fluke.
2006-2008: Milan Michalek
Yeah, he's fast as anything and he looked great as a Shark with 26 goals and 66 points. Then, in 2007-2008, his
production dipped to 24 goals and 55 points. Yet even as the second highest scorer on the team behind Big Joe, and being given a six-year, $26 million contract extension, San Jose decided to trade him to the Ottawa Senators, along with the aforementioned Cheechoo for none other than Dany Heatley and a 2010 second round pick. Which brings us to…
2009-2011: Dany Heatley
What a win for the Ottawa Senators. Heatley was a locker room pariah, and formally made his request to be traded in June of 2009. With his large $7.6 million contract, San Jose decided to pick him up and give him big minutes on the top six. However, frequent injuries and inconsistent play led to Heatley's demise as a Shark. He was traded to the Minnesota
Wild for gifted goal scorer, and injury magnet Martin Havlat.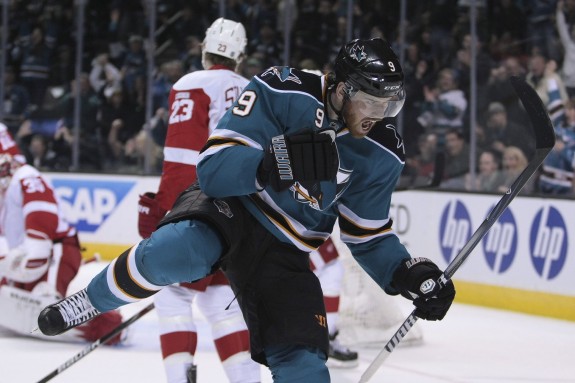 2012-present: Martin Havlat
He's played 79 games for the Sharks in two years. He's scored 15 goals and added 3o assists. Most of all, he's been injured for most of his time on the team. Tell me how he hasn't been the biggest bust in recent Sharks history.
Whatever it is, the Sharks can't seem to find the correct missing puzzle piece at forward, something that has haunted them for years and something that they need to figure out if they want to take that next step in the playoffs.
Answer 2 – Bad Luck
There is no doubt that the Sharks have faced some tough opponents in the playoffs as of late. But you would think after so many consecutive years of post season play, they would eventually find a way to get around those tough playoff opponents. That, of course, hasn't happened.
Last year, the Sharks ran into a brick wall that is Jonathan Quick and the Kings, one year removed from their Stanley Cup Championship and a solid playoff tenure under Darryl Sutter. In 2010, they faced the unstoppable Blackhawks in the Western Conference Finals. In 2011, they were stopped by a dominant Canucks team that, eventually, fell to the Bruins in the Finals in seven games.
The team has failed to score, the defense hasn't stepped up, and Antti Niemi looks more and more average with every playoff appearance he has in black and teal. Not a good sign.
Sure, they haven't faced the easiest opponents in the postseason in recent years but who has? The Western Conference has been jammed up with talented teams since the lockout, and that isn't good news for a team who's core isn't getting any younger.
Reasons for Hope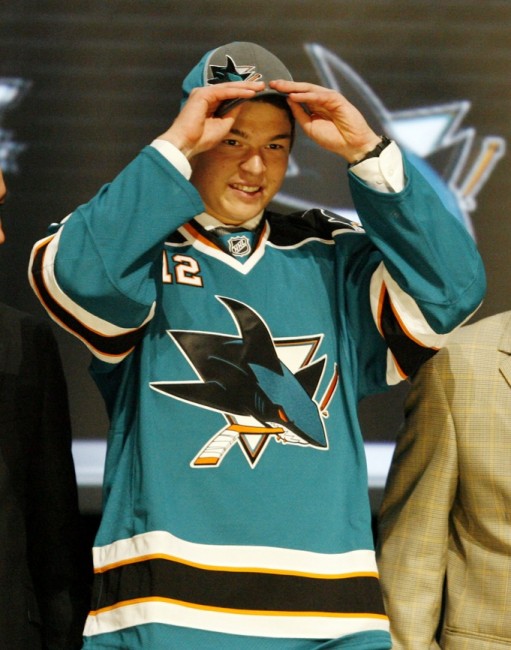 That being said, the realignment should help San Jose with their postseason cause. Facing familiar teams in the postseason should give San Jose an advantage that they haven't had before, namely facing a hot St. Louis team in the first round like they did in 2011. (Here's to hoping that never happens again).
With Havlat injured to begin the season (surprise, surprise), that gives youngster Tomas Hertl a real shot at not only making the lineup, but making a significant statement for the Calder Trophy. If he is as good as everyone is making him out to be, the Sharks may already have the missing puzzle piece they've been looking for.
Either way, if history is any indication we will see another great regular season performance from a Sharks team that has yet to show us anything otherwise. It's what happens in the postseason that we should be worried about, and with Joe Thornton on the last year of his contract and Patrick Marleau and Dan Boyle not getting any younger, the time for San Jose to make a postseason statement is now.