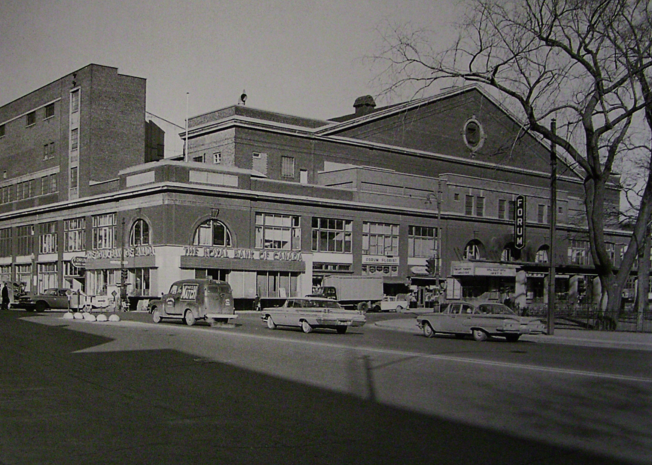 The Montreal Canadiens.  Le Habitants.  Le Bleu, Blanc, et Rouge.  Le Grand Club.  Le Saint- Flanelle.
No matter the name, Montreal's team sits atop the hockey world – and for good reason.  They've been in existence over a century and still their fan base remains loyal to the CH crest.  Montreal has 24 very good reasons why their club is the pinnacle of hockey royalty.  Through the doors of the old Montreal Forum have walked some of hockey's most elite players to ever touch skate to ice.  The names are staggering: Jean Beliveau, Maurice and Henri Richard, Howie Morenz, Yvan Cournoyer, Jacques Plante, Guy Lafleur, Patrick Roy, Serge Savard (the list goes on and on).
But are they really the greatest team ever or just a tad bit overrated?  Twenty-four Stanley Cups certainly speaks volumes in a case against the argument I'm about to make, however there is more to their cup wins than just having been dealt a swell hand for the better part of 104 years.
16.67% Chance
The Original Six teams carries with them an aura.  The Montreal Canadiens, Toronto Maple Leafs, New York Rangers, Chicago Blackhawks, Boston Bruins, and Detroit Red Wings all did battle against each other for 40 years.  They were the only teams duking it out for hockey supremacy until the NHL expanded in 1967.
In a six-team league, the Montreal Canadiens – along with the other five teams – had a 16.67% chance at winning the Stanley Cup when the season began.  That's a far greater chance at winning than the current 3% chance in today's NHL.  During the years 1927-1967, the Montreal Canadiens won a total of 12 Stanley Cups.  They were able to snag half of their Stanley Cups by dominating a six team league.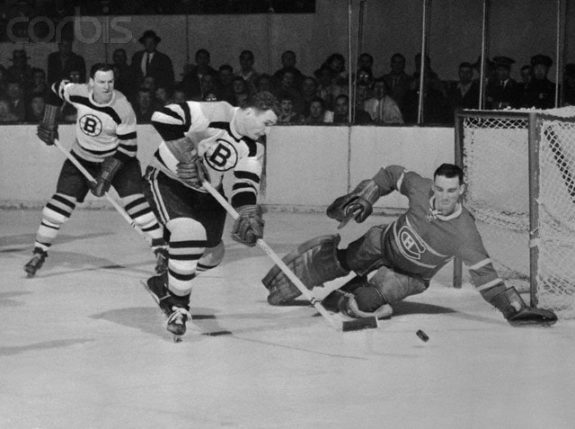 I can hear some of you already, "But Shawn, each other team had the same chance at winning the cup.  Isn't winning a Stanley Cup 30% of the time over 40 years impressive?"
No question it's impressive.  What's not impressive is dominating a 6-team league.  I should probably explain my argument further.
The Quebec Aces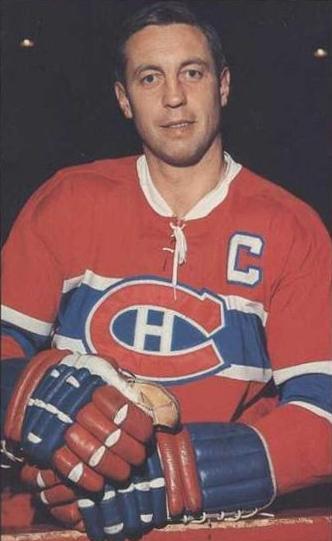 After 1946, the Canadiens hit a bit of a dry spell with Stanley Cups.  It had been a 7-year drought for the city that was so used to winning.  That was until the Quebec Aces caught the attention of Frank Selke.
The Aces were a team part of the Quebec Senior Hockey League (QSHL).  They had a budding star who, not only had tremendous skills, but was a big, 6'3″, 205 lb center with gamebreaking potential.  His name was Jean Beliveau, the leading scorer in the entire QSHL.
The Canadiens owned his rights and could call him up at any point.  Problem was, Beliveau did not want to play for Montreal and chose to stick with the Aces.
In his biography on Legends of Hockey:
"The Canadiens owned the rights to Beliveau, so he couldn't play for another pro team unless Montreal traded him. Since the Aces were an amateur team, there was no conflict with his staying there. Finally, Montreal purchased the entire Quebec Senior Hockey League, turned it pro and added Jean Beliveau to their roster. Without much choice in the matter, Beliveau signed on with the Canadiens in 1953 for a then unheard-of $100,000 contract over five years."
Sounds fair…
With Beliveau now a lock to play in the NHL, Montreal would go on to win five straight Stanley Cups from 1956 to 1960.  He was a cornerstone of their franchise for the better part of the 18 seasons and helped lead the team to 10 total cup wins.
"Come on, Reznik!  Just because the Canadiens had the cash and wherewithal to do so, you're going to hate on them for using their resources to their advantage?"
I'm in school for business.  I know what it means to get the best return on investment, even if you have to shell out some cash for a greater payout.  But that isn't the only thing Montreal had in their favor.
First Come, First Served
During the 1950s and early 1960s, teams had no way of drafting prospects so Montreal began scouting and stashing teenagers to add to their minor teams and Quebec league teams, creating arguably the greatest farm system any NHL team had to offer.
Then there was the infamous C form.  The C form was contract given out by 18-year old amateur players during the Original Six Era for sole negotiating rights to that player – an NHL contract I.O.U of sorts.  The Canadiens' scouting staff would scour North America for the best young talent around.  If they found a player they liked, more often than not, a C form would be awarded.
To boot, Montreal had the upper hand with the 50-mile rule.  According to A Thinking Man's Guide to Pro Hockey by Gerry Eskenazi it was said:
"…each NHL franchise had exclusive rights to players within its 50-mile territorial limits. So the Leafs and Canadiens could browse the neighbourhood rinks near Toronto and Montreal at their leisure, while the Rangers had a lock on the next great goalie from Hoboken."
At that time, Quebec was churning out talent left and right and was a hockey mecca for development.  The team was able to essentially get first pick of the litter in regards to top French Canadian-born players, housed those players in their farm system, and signed those players to C forms at the ripe age of 18.  Swell, isn't it?
In 1963, the NHL Draft was implemented to diminish the effect of C forms and allowed all teams a chance at Canadian talent without the 50-mile radius.  However, it wasn't until the 1969 NHL Draft that the C form issue was completely eradicated:
"However, this process could not be changed overnight. In each of the drafts from 1963 to 1968 there were very few quality players available. This problem developed because most of the best young players had already signed the C form. This meant that the only players eligible for the draft were players who had not signed a C form. It wasn't until 1969 that the draft became a true amateur draft as the C form faded into history."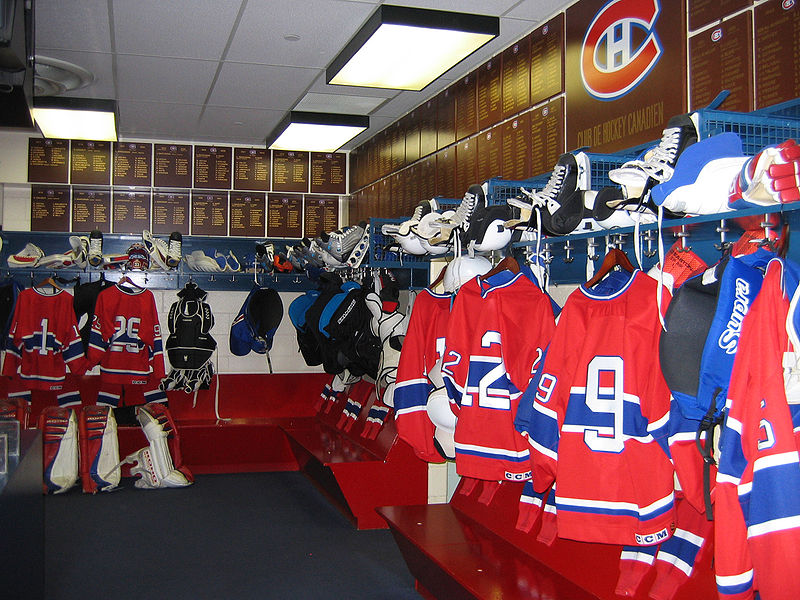 Montreal Canadiens Overrated?
The Stanley Cup is the hardest championship to win in all of professional sports.  Players give tooth and nail (most of the times literally) to win the 35 pound trophy at all costs.  In order to win the most recognizable hardware in all of sports 24 times, you're going to need a team made up of dynamic talents paired with grinders who take care of the dirty work.  Montreal had every aspect covered during the 60s and 70s.
They iced some of the greatest teams ever assembled and came away victorious on a consistent basis.  Their province cranked out excellent young players.  Their general managers were ahead of their time in building a farm system before any other team could catch up.  They made shrewd business decisions to bring in an eventual superstar and a great ambassador of the sport.
Is the Montreal Canadiens franchise the most overrated in NHL history?
No.
However, they did have a slight unfair advantage.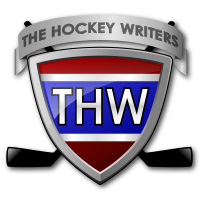 The archives of THW contain over 40,000 posts on all things hockey. We aim to share with you some of the gems we've published over the years.