Jared McCann
THW's NHL Draft War Room Rankings: #12 (Feb 2014)
THW's NHL Draft Rankings – The Next Ones Edition (aka Chris's List): #12 (March 2014)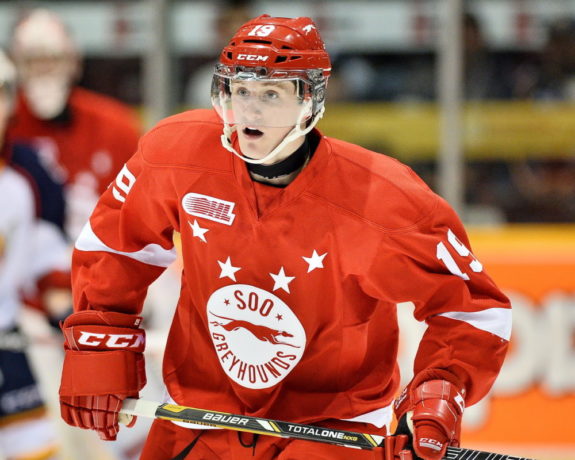 Hashtag: MrTwoWay
Team: #19, Sault Ste. Marie, OHL
Position: Centre/Left Wing
Shoots: Left
Height: 6'0
Weight: 179 lb.
Born: Stratford, ON, 31-May-96
Twitter: @jaredmccann19
Stats
Other Rankings
6 – Craig Button, Jan-14
10 – Future Considerations, Feb-14
12 – Bob MacKenzie, Jan-14
15 – NHL Combined – Mid-term, Jan-14
17 – ISS, Feb-14
Worth Retweeting
Jared McCann with a beaut from Josh Ho-Sang. This game is like a slam dunk contest, but interesting. What skill on display.

— Damien Cox (@DamoSpin) January 16, 2014
ICYMI: Jared McCann (@OHLHoundPower) scored the biggest goal of his career in the most important game of the season http://t.co/1dPnBYH5nR

— Aaron Vickers (@AAVickers) January 16, 2014
http://t.co/TMB326PEad
#9 Jared McCann @jaredmccann19
Determined & driven to lead others through his play; intelligent puck mover.

— ISS Hockey (@ISShockey) December 25, 2013
Profiles
Quotable
"He brings a number of offensive skills to the table and possesses a quick burst of speed when cutting through the middle of the ice that catches many defenders flat footed. Jared displays excellent vision and is particularly so successful because of his very high level of hockey sense. He reads the game at a level higher than most of his peers and it allows him to create, execute and read plays that some players simply cannot. He scored a number of highlight reel goals this season and possesses an absolute rocket of a wrist shot with a lightning quick release that catches many goaltenders off guard."
From the War Room
Eldon MacDonald, THW: A few words on Jared McCann:

Skills – Top-end speed, impressive, acceleration, lethal wrist shot, high-end dangle.
Work ethic – Top-notch in all zones, a battler, a dog after the puck.
Vision – Reads the game well, makes the players around him look better.
Defense –  Two way player with top end back-checking and PK skills. A student of the game, he also excels in all the little details.
Size – He is not nearly as physically developed as most of his North American peers at the top end of the draft so that could affect his draft standing a bit.
Draft placement – Most of his rankings are in the 10 to 15 range which I think is pretty fair for him.
Video
For those that missed it, you need to check out Jared McCann's fantastic goal against London last night. http://t.co/3K0eQF3jmj #OHL

— OHL Prospects (@BrockOtten) December 5, 2013
About NHL Draft War Room Series
This series is compiled by Eldon MacDonald and edited by @ChrisRalphTHW)