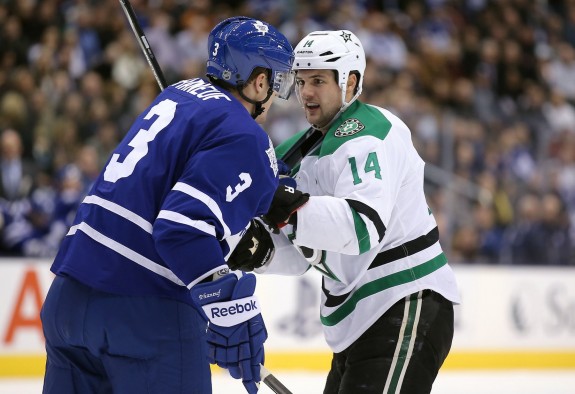 On Thursday night's 4-1 win against the Carolina Hurricanes, the Dallas Stars looked about as much like a playoff team as you could possibly get.
The 34-30 shot advantage doesn't come close to telling the tale of a Stars team that out-chanced, out-skated, and out-possessed the Hurricanes from the start of the game until the very end. Were it not for the heroics of Carolina goalie Anton Khudobin, who made several stunning saves, the scoreboard would have been much more lopsided.
The Stars were absolutely flying before the Olympic break began and look like they haven't missed a beat, despite nearly three weeks between games. They've gone 7-1-2 in their last 10 games, currently one of the best streaks in the league.
Jamie Benn, fresh off of a breakout performance and a resulting Gold medal playing for Team Canada in Sochi, has never looked better. Number one goalie Kari Lehtonen is healthy and rested, and has a Bronze medal of his own. Point-per-game center Tyler Seguin is still on a mission to redeem himself from his ugly breakup with the Boston Bruins. Dallas' overall team defense, which has been a major issue all season long, hasn't allowed more than a single goal in five consecutive games.
Right now, things couldn't be going much better for Dallas.
Yet, despite the fantastic stretch of hockey, Stars management will have some very difficult decisions to make in the next week as the March 5th trade deadline approaches.
The Stars currently hold onto the 8th and final playoff spot in the NHL's Western Conference with 66 points, but do so by a hair. The Phoenix Coyotes are one point back at 65 with the same number of games played, while the Vancouver Canucks, Winnipeg Jets, and Nashville Predators are still in the hunt. All it takes is one winning streak or one losing streak by any of those teams and that order could shift dramatically.
Dallas' main goal now, as it has been the past few seasons, is rebuilding: loading up the current team with young, promising talent, and backing them up with an overflowing prospect pipeline. It's certainly working, as the team has a steady core built around players like Benn, Seguin, Valeri Nichushkin and Brenden Dillon, supported by one of the top ranked prospect pools in the league.
At the same time, with five consecutive years of missing the playoffs, it's no secret that the Stars desperately want to get back to the post-season as well. But at what cost?
In 2011, in the thick of the playoff hunt, the Stars, under the guidance of general manager Joe Nieuwendyk, elected to hold onto pending free agent Brad Richards instead of dealing him before the trade deadline for what likely would have been a very wealthy return. However, the Stars wound up missing the playoffs, and in the end Richards as well, who left in the summer for a lucrative contract with the New York Rangers. The Stars were left completely empty-handed on both fronts.
While the stakes this year aren't nearly as high, the Stars nevertheless are faced with a similar situation: just what the hell do they do at the trade deadline?
Dallas currently has three soon-to-be free agents on the roster with Ray Whitney, Vernon Fiddler, and Stephane Robidas. Whitney and Fiddler's names have been making their rounds in the NHL's rumour mill for months, and there is just as much talk now as ever about the two veterans being shipped off to stronger contenders for chances at deep playoff runs. The writing is on the wall that neither player fits into the franchise's long-term plans, so the chances of them being re-signed in the offseason are slim.
Robidas is a more interesting case. The heart and soul of Dallas' rag-tag blueline for years, Robidas has given his body numerous times for his team, and is currently recovering from the worst injury of his career, a broken leg sustained on November 29th. However, his recovery has been steady, and it appears that he will be ready to play again before the playoffs begin. But despite his ties to the team, the 36 year-old defenceman is at the end of his contract, and with the Stars already having seven defenders signed into next season, will there be room for Robidas? Moreover, would there be any interest from other teams in him right now given his recent significant injury?
At a glance, the Stars appear to have enough depth to back up these kinds of moves. Travis Morin and Colton Sceviour of the AHL's Texas Stars have been dominating the minor pro league all season long, and appear ready for full time NHL duty, while Texas defenceman Cameron Gaunce looked steady in nine games with Dallas earlier in the season.
While the Stars could certainly get some nice picks and/or prospects in return for the three free agents, moving them could still have a negative impact on the current roster. Even though Whitney and Fiddler's roles on the team are reduced, and Robidas hasn't been a part of any of Dallas' recent success, all it takes are a string of injuries with no depth support or some lost team chemistry and the Stars could fall into a slump that could cost them to miss the playoffs, even by a single point. What if Morin and Sceviour aren't ready? What if injuries hit and there are no safety nets?
While a playoff appearance now wouldn't result in a deep playoff run for the young Stars, that kind of experience can go a long way, and would certainly provide a confidence boost as players like Benn and Seguin continue to learn how to lead their team to success.
Do the Stars move the free agents at the deadline, possibly sacrificing this season for the sake of the future? Do they make a trade to bring someone new in to help push for a playoff spot? Do they stand pat completely, making no moves, and see how the cards get dealt?
New Stars GM Jim Nill, entering his first trade deadline with the team, gave his take recently, as reported by Defending Big D's Brandon Worley.
"I know Lindy and I, and our staff, we're very happy with where our team is at," said Nill. "Everyday we come to work, we're trying to make the team better. If there's something there, I'll do it, but I won't mortgage the future for something that's just going to help us for the next six weeks. If there's something there that makes sense for the long term, then I'd obviously do it. I'd do that anytime."
"I see something special with this group of guys," he continued. "I've been in a lot of dressing rooms, and there's something special with this dressing room. What's special about it is you have a core of young guys that are starting to figure it out. We just watched the Olympics, and you've got Jamie Benn went over there as a little bit of an add-on, and now people realize Benn is one of the top players in the game. When you start seeing these types of things — Tyler Seguin was on the bubble for making the team, Valeri Nichushkin was 18 years old and playing in the Olympics — you see start seeing these things happening in the dressing room, there's something special going on there."
Straightforward, yet cryptic at the same time. Nobody knows what Nill's plan is, but it's painfully clear that he will have some tough decisions ahead of him in the next week.
Derek Neumeier primarily covers the Dallas Stars, but also other various topics related to the sport of hockey. A Journalism graduate of Mount Royal University, Derek also writes for Defending Big D, and has done previous work with the Edmonton Oilers as a communications intern and Hockey Canada as a freelance writer. You can follow him on Twitter at @Derek_N_NHL