William Nylander

THW's NHL Draft War Room Rankings: #11 (Feb 2014)
THW's NHL Draft Rankings – The Next Ones Edition (aka Chris's List): #9 (March 2014)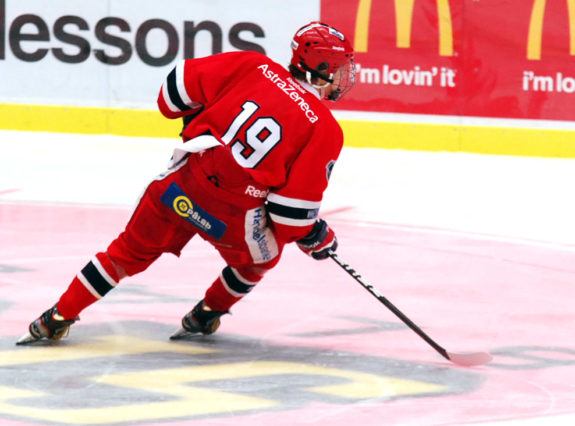 Hashtag/Nickname: #TheWizard. #SonOfSwedishGretz
Team: #88, MODO, SHL
Position: Centre/Right Wing
Shoots: Right
Height: 5'11
Weight: 169 lb.
Born: Calgary, AB, 1-May-96
Twitter: @snizzbone
Stats
Other Rankings
4 – Future Considerations, Feb-14
5 – ISS, Feb-14
11 – Bob MacKenzie, Jan-14
12 – NHL Combined – Mid-term, Jan-14
13 – Craig Button, Jan-14
Worth Retweeting
https://twitter.com/steffeG/statuses/422048556309315584
Modo got 1 point this evening. Best player in Modo was @snizzbone (William Nylander). Next game on saturday as i wrote before. BIG GAME!

— Modo International (@ModoInternation) February 27, 2014
http://t.co/TMB326PEad
#5 William Nylander @snizzbone
Right at home w/ MODO of SHL…Highend offensive upside & vision w/ developing maturity.

— ISS Hockey (@ISShockey) February 19, 2014
I'm endlessly amused that two Top 10 NHL draft picks – William Nylander/Kasperi Kapanen – play on same teams as their former-NHL-player Dads

— Bob McKenzie (@TSNBobMcKenzie) September 19, 2013
Profiles
One of my 2014 favourite prospects, William Nylander has the opportunity to go above and beyond what his father did: http://t.co/EGWfhlJIRf

— Christian Roatis (@croatis) September 6, 2013
Quotable
Quote 1: Goran Stubb, NHL Director of European Scouting, at NHL.com:
"William is an exceptional talent with all the tools needed to become a star. He's an artist on the ice. William is an excellent offensive player with an extremely high skill level. He's not a selfish player, but does tend to hold on to the puck too long at times. He needs to improve his defensive game, but he's a fun player to watch and a real crowd-pleaser."
From the War Room
Eldon MacDonald, THW: A few words on William Nylander:

All the skills –  Many say, William is the most skilled player in the draft. Dynamic, quick, agile, great hands, great passes, always changing the pace of play, can accelerate out of the blocks.
Wizard level creativity – William has the vision and creativity to augment his physical skills to make himself an offensive wizard at times.
Genes – Son of 14 year NHL veteran, Michael Nylander, William even had a chance to play with his Dad on occasion over the last two seasons.
Issues – William is a light weight, undersized forward who will always have strength issues. His defensive play also has a long ways to go. He has been bounced around a lot this season and has only found consistent success so far when he was paired with David Pastrňák at Södertälje of the Allsvenskan league. Most recently he has, however, been playing up in MODO in the top Swedish league and has, at times, been the best player on the ice.
Draft placement – William will need to improve his consistently to move up from around 10 on most lists. Failure to do so will likely cause a further drop in his rankings.
Video
About NHL Draft War Room Series
This series is compiled by Eldon MacDonald and edited by @ChrisRalphTHW)