Alex Nedeljkovic THW Close-Up:
Team: Plymouth Whalers
Date of Birth: 01/07/1996
Place of Birth: Parma, Ohio
Ht: 5'11.75″     Wt:  190 lbs
Catches: Left
Position: Goalie
NHL Draft Eligibility: 2014
Twitter: @Alex_Nedel39
THW Ranking: 48
Other Rankings:
ISS (North American Goalies): 2
CSS (North American Goalies): 4
Future Considerations: N/R
Craig Button: 30
***
*Check out THW's 2014 NHL Draft Rankings, your quintessential draft-ranking resource*
***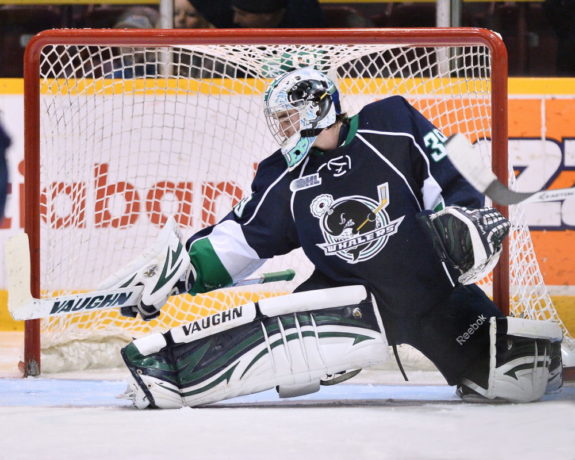 Plymouth's Backbone
Many probably didn't expect Alex Nedeljkovic to burst onto the OHL scene when he was selected by the Plymouth Whalers with the 123rd overall pick in the 2012 OHL Priority Selection. However, Nedeljkovic has not only played his way into the starting goaltending role in Plymouth, he has provided his team and organization with stability in the Whalers' crease as well as a mentality and demeanor of a goalie well beyond eighteen years of age.
During the 2012-2013 OHL season – Nedeljkovic's rookie season – the goalie managed to take over starting goaltending duties for the Whalers. Supplanting Carolina Hurricanes' draft pick Matt Mahalak, Nedeljkovic recorded a stellar 2.28 GAA and .923 Save Percentage in 26 games played.
Nedeljkovic's play during his rookie season was a sterling feat for the netminder to accomplish, but such a sample size was simply not enough for the Parma, Ohio native. While Nedeljkovic might have had a sizable workload during his rookie season, the netminder picked up the '13-'14 OHL season right where he left off in '12-'13 as he played in 61 games and posted a 2.88 GAA and .925 Save Percentage.
For a team that carried 15 rookies on its roster this season, Nedeljkovic certainly proved to be a rock in Plymouth's crease. Not only did Nedeljkovic show no signs of letting up this season, he also embraced his duties and responsibilities with an open and dedicated mind.
As a member of the USA U18 team, Nedeljkovic rose to the occasion for his team as he registered a 1.84 GAA and .902 Save Percentage in six games played at the WJC-18 Tournament. Even though Nedeljkovic didn't replicate his WJC-18 numbers at the '13-'14 Ivan Hlinka Tournament (4 GP, 3.49 GAA, .895 Save Percentage), he undoubtedly gained a tremendous amount of experience on the international stage during this hockey season.
Although the 2014 NHL Entry Draft might be more than a month away at this point in time, Alex Nedeljkovic has certainly done more than enough to increase his draft stock for June 27th/28th. While it might be hard to tell which round Nedeljkovic will be drafted in during this year's proceedings, one thing is for certain, and that is the fact that any team that selects Nedeljkovic will be rewarded with a prospect that not only has a great amount of talent, but a true desire to help his team and teammates succeed in any way possible.
Scout's Honour:
"Athletic netminder, good footwork, puck handling skills, and mobility. Seems tough and quick on the ice, but lacks size at six foot. Displays good lateral quickness. Last season had 19 wins and only two losses with the Plymouth Whalers." 
– Bill Placzek, Draftsite.com
"This season, Nedeljkovic (Na-Dell-Kovitch) is facing a lot more rubber. In his past two games, the Ohio native has made 84 saves and though the Whalers have struggled, the second-year netminder still boasts a .923 save percentage. And though Nedeljkovic would surely like more wins this year (he's 6-6-0), he does like the rhythm of playing in games where he's been peppered. He wants to work on his depth in net and challenge shooters more, though he's not a stay-at-home goalie."
– Ryan Kennedy, TheHockeyNews.com
"A very calming presence in net who is mentally strong and gives teammates a sense of confidence. Has excellent flexibility and athleticism. Shows excellent quickness both post-to-post and from down-to-top. Very quick footwork with fast legs/pads to take away lower half of net. Tremendous glove hand. Lacks ideal size in today's NHL, but does a good job fighting through screens to find pucks. Great in 1-on-1 situations, always forces shooters to make the first move."
– Staff from Red Line Report, RedLineReport.com
Where He'll End Up In June:
Nedeljkovic will likely be among the first few goalies selected at this year's NHL Entry Draft and should probably be drafted in the early-to-mid rounds of the draft.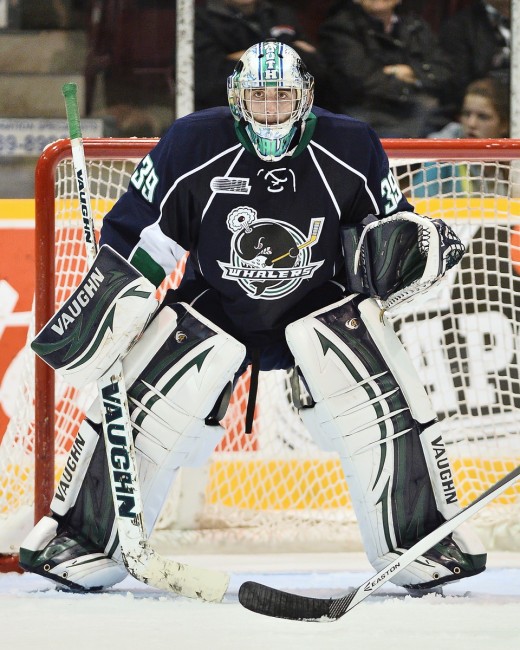 Statistics:
Bio/Interviews:
International Tournaments:
Member of USA 18 at WJC-18.
Participated in 2013 Ivan Hlinka Memorial Tournament as a member of USA 18.
NHL ETA:
Risk/Reward Analysis:
Risk: 1.5-2/5 Reward: 4-4.5/5
NHL Potential:
Number one starting goaltender.
Strengths:
Strong glove hand.
Good reflexes and flexibility.
Superb mental composition/awareness.
Calm demeanor.
Good positioning/angular play.
Good puck handling abilities.
Leg quickness.
Flaws/Aspects He Needs to Work On:
Fantasy Potential:
NHL Comparable:
Video:
*** THW's The Next Ones prospect profile template design architect: Chris Ralph
In his third year with The Hockey Writers, Toli covers all things related to the New York Islanders. Focusing on the Islanders, the NHL Draft & draft-eligible prospect goalies, and hockey history, Toli can be contacted on Facebook by searching/messaging Toli Metter and on twitter by searching @ToliMetterTHW.