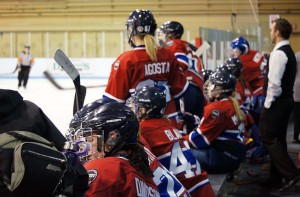 After two tremendous Canadian Women's Hockey League seasons it appears the Montreal Stars will not have one of their brightest Stars back in the lineup for the 2014-15 CWHL season.  According to the CBC Meghan Agosta-Marciano has applied to become a Police Officer with the Ontario Provincial Police, Hamilton Police Department, or the Vancouver Police Department. She intends to put her degree in Criminal Justice from Mercyhurst to good use.
That could soon be Constable @MeghanAgosta to you! Our Olympian has applied to be a police officer! http://t.co/80XUUxxNnX

— CBC Windsor (@CBCWindsor) April 9, 2014
Agosta is not retiring entirely from Hockey and does intend to continue as a member of the Canadian Women's National Team, with a goal of going to the 2018 Winter Olympics in South Korea.
In two seasons with the Montreal Stars of the CWHL (2011-12 and 2012-13) Agosta had 57 goals and 69 assists for 126 points in only 50 games played. She was also a plus 82 and contributed eight game winning goals. She was also a productive player at the Clarkson Cup Tournament with five goals, four assists, a plus two rating and one game winning goal in eight games over those two seasons.
Had an amazing day today. Working on some things to start my career. Such an exciting time for me. #passion #policing

— Meghan Agosta (@MeghanAgosta) April 8, 2014
In both her CWHL seasons she was the league's recipient of the Angela James Bowl which is awarded yearly to the top point scorer in the CWHL. Her 80 points during the 2011-12 CWHL season is the current CWHL record for most points in the regular season. No other player has scored more than 50 points in a season since.
In terms of the advanced statistics, Meghan Agosta-Marciano had 11.5 point shares (measures how many points in the standings a player contributed to their team) in 2011-12 and 6.2 point shares in 2012-13. She also has 23.5 VORP (value over replacement player – how many goals higher than a replacement player (league average minus 25%) a player contributed to their team) in 2011-12 and 10 VORP in 2012-13. These are the best ratings over a two season period in the history of the CWHL.
To show just how good these marks are relative to the CWHL this past season, Ann-Sophie Bettez of  the Montreal Stars had 6.7 points shares and 10.6 VORP. These were the top numbers in the CWHL for the 2013-14 season.  By these measures Agosta's 2011-12 performance in the CWHL was historic and dominant.
The three time Olympic gold medalist (2006, 2010, and 2014) was perhaps the Sidney Crosby of the CWHL during her time there. Her presence will be sorely missed next season and beyond.
This is the greatest issue facing Women's Hockey today, the lack of opportunities to make a living playing hockey forces them into "retirement" at an early age.  It is an illustration of the sacrifices these women make in their personal lives in order to play in the CWHL. At some point they all must move on to a paying career and start their lives outside of hockey.
One day a professional league will be available for these women to continue playing hockey as long as they are valued contributors. For now, the pioneering women of the CWHL will continue to push forward and grow the league towards that light at the end of the tunnel.
Future generations of Women's Hockey players owe a great measure of respect and gratitude to the sacrifices being made by present day players.
Covering the Florida Panthers for The Hockey Writers. Women's Hockey news and statistics for Outlook Hockey.