Over the last few years, a number of goalies from the OHL have been selected in various NHL Entry Drafts. Individuals such as Malcolm Subban and John Gibson might easily come to mind when one thinks of high-ceiling OHL goaltenders that have been taken in past NHL drafts, and this year's festivities in late June will likely feature a healthy representation of netminders from the "O".
With three of the top-ten ranked North American goalies in CSS's midterm rankings – Alex Nedeljkovic, Brent Moran, Brandon Halverson – the OHL has set many of its goaltenders up for success at this year's draft. While Moran and Halverson's chances of getting drafted are pretty high, there is no doubting why Alex Nedeljkovic received the highest ranking out of all three OHL netminders.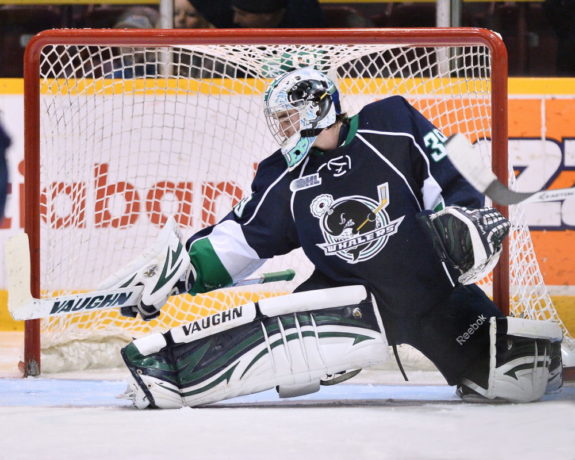 Nedeljkovic has been nothing short of spectacular for the Plymouth Whalers since taking over starting duties last year, and the goalie's ability to play at a high level is a testament to his high CSS midterm ranking. Recently, The Hockey Writers had a chance to sit down and have a conversation with Nedeljkovic, and it was plain to see why the Ontario Hockey League keeps producing quality goalies for NHL teams to select.
The Hockey Writers: You've gone from Midget to the MWEHL to the NA3HL to the OHL in just three hockey seasons, what has allowed you to progress so rapidly in such a short span of time?
Alex Nedeljkovic: Well, I think the biggest thing is the people around me. My family were definitely big supporters – my Mom, my Dad, my younger brother and sisters – they were very supportive of me. They were always coming to games. Whenever they couldn't, they were always pushing me to be better. I've had many coaches throughout my "triple-A" career going to the NA3HL, and now in Plymouth all of my coaches are very big supporters of me and always pushing me to do my best. I think the biggest thing for me was being surrounded by good people and people that wanted me to succeed, and hearing that made me want to succeed and do better, so that I can prove to people that I can do well.
THW: What has been the biggest difference, transition, or adjustment that you've had to make to your game while in the OHL the last two seasons?
AN: I think the biggest thing that I've had to adjust to is being a little bit more aggressive in my stance and playing a little bit farther out in my crease than I normally do. Guys are so good at shooting the puck nowadays that they could put the puck anywhere on net from anywhere on the ice. Most goalies are 6'3″ or 6'4″ now and could take up a lot of the net without going too far out, and being a little bit shorter than those guys I have to come out and take an extra step outside of the crease and try to cover as much net as I can. I think that has been the biggest thing – trying to step out of my comfort zone and really taking away as much net as I can.
THW: What was it that allowed you to come into the Plymouth Whalers' organization during the '12-'13 OHL season and take over the reins to starting goaltending duties?
AN: I think it was just hard work and determination. I went into the season and I wasn't really expecting a lot, I wasn't expecting to play every other weekend or anything like that. I was going in expecting to learn and take whatever I could from Matt [Mahalak] – who was in front of me – and from our goalie coach. I was just trying to build up my technique and work ethic so that I could get ready for next season, but things ended up working out in my favor. There were a few games where I was able to play and I tried to make the most of those games.
I think that one of the bigger things was that I was able to make the most of the opportunities that were given to me, and one thing led to another and before you knew it I was in net every other night. I was pretty happy about that and I think the biggest thing was taking advantage of the opportunities that were given to me since you're not always going to get an opportunity to do something like that. If you don't make the most of it you never know what can happen. I think if I hadn't made the most of that opportunity, then things might not have gone the way that they did for the rest of the season.
THW: You made the playoffs last year also, what was it like to square off against the London Knights and what did the playoff experience teach you for this season?
AN: I think that anyone can get anyone on any given day. You have to play a full 60 minutes of hockey in every single game no matter what – no matter if you're playing the 20th ranked team in the league or the number one ranked team – you have to play a full 60 minutes. In the last game of the series, we were down 4-0, and after almost 39 minutes of play we scored in the last two minutes of the second period and then we came out and scored three goals right away in the third period. So I don't know if we just caught them by surprise, maybe we were thinking that the game was over, or we just got some good bounces or what.
We ended up losing that game in overtime eventually, but I think that in that game – and every other game in that series – both teams weren't playing a full 60 minutes. I think that London made the most of their opportunities more often than we did. So the one thing that I took away from that series was that you have to play a full 60 minutes because lead changes are going to happen very often if you don't play the full sixty minutes.
THW: Despite the outcome of the Ivan Hlinka Memorial Tournament, what was it like to play on an international stage for a change?
AN: It was very special. Just like the outdoor game, it was very special to me – just going overseas and playing against different competition than what you would experience in North America. They're very fast over there, they like to handle the puck a lot more than we do here, and it's more of a puck possession game over there, so you really have to control the flow of the game by who is controlling the puck more.
Over there [overseas], I think that really determines the outcome of the game. Even over here [North America] it [puck control] does, but you see a lot of dump and chase action over here, whereas overseas you see a lot more puck handling, possession, and entries into the zone. That was the biggest thing – just how patient they were with the puck – it was pretty cool and it was good to be able to play against competition like that, so that you can see what both sides of the game are like.
THW: You recently mentioned that you think goaltending is 60% mental and 40% physical in an interview for NHL.com. What are some of the mental preparations that you take before a game or leading up to a game?
AN: Well, one thing that I've been trying to do lately is to focus on my breathing. Every day I'll take five to seven minutes and just focus on breathing and shutting everything out. I'll get into my room and close my door and just focus on my breathing – just to let everything flow out of my mind and feel my breath coming in and out of my mouth and nose. That's definitely been the biggest thing that has helped me to relax my body a little bit more.
On game-day it helps me to have a clear mind and if a goal goes in or something like that, then I just go right back to my breathing – I'll take a few breaths and let everything exit my mind and I'll just get ready for the next puck. You have to be so mentally fit in this game because something can happen at any given point in time, so you have to be mentally ready for anything, whether it's a good or bad outcome. If it's a good outcome, then you want to take that and be excited, but at the same time you don't want to get too high and excited because otherwise, before you know it, they're [the opposition] coming right back at you and you just gave up a goal. You don't want to get too high, you don't want to get too low, you just want to keep that median in between the two of them.
THW: Watching you play, it's obvious that you have great lateral movements, quickness, and recovery abilities. What would you say are your biggest assets or strengths as a netminder to teams looking at you for the upcoming draft?
AN: Well, first, I think I'm a pretty good puck-handler. I think that in today's game you have to be able to play the puck, and if you do, then it's a great asset and a great advantage over the team that you're playing against. If you're a good puck-handler, then it's just like having a third defenseman out there – this way you can make plays, you can pass up to the forwards, and the puck doesn't even enter your zone as it just gets dumped on to you. I think that's one thing that I can bring to an NHL team and another would be my athleticism.
Being a smaller goalie, I think I'm able to move around my net a little bit easier. Just being a little bit more athletic, you can provide that little spark to the team from the back-end. If the team gets off to a slow start and you make a big save at a key time, then it kind of picks your team up and gets them going, and they finally realize that they have to get going.
THW: You mentioned the fact that your puck-handling abilities are an asset to you. Has there been a specific NHL goalie that you've watched or is your favorite to learn from?
AN: Well, puck handling really came to when I was watching Martin Brodeur play. When I was growing up I didn't know exactly what to do, but then I saw Marty playing the puck a lot and I eventually saw him score his goal, so I was really intrigued about that. I thought that if he could do it, then I want to be able to do it, and that has been something that been at the back of my mind every time we're on the ice, "Maybe tonight will be the night that I can get a chance to score a goal or something."
I tried as best as I could to get better at puck handling and it's just a fun thing to do if you can play the puck, then you can send the puck all the way down the ice with ease. I think it's pretty fun – you kind of have a little bit of fun with the forwards when they're forechecking during a scrimmage and you can dangle around them and they're not expecting it.
THW: Is there any particular NHL goalie that you try to emulate or resemble in terms of style of play?
AN: I think somebody that I resemble that's in the NHL right now would probably be Ryan Miller or Cam Ward. Both of them have very good technical skills, they're very set and square, and very rarely get themselves out of position. At the same time they're very athletic, so even if they do get caught out of position, then they have the ability to make the save or give an effort to make a save and get back into position as quick as they can. They're very calm and poised, and they don't seem to let too many things rattle them or get to them, so if I were to pick two guys that resemble my game, then it'd be Cam Ward or Ryan Miller.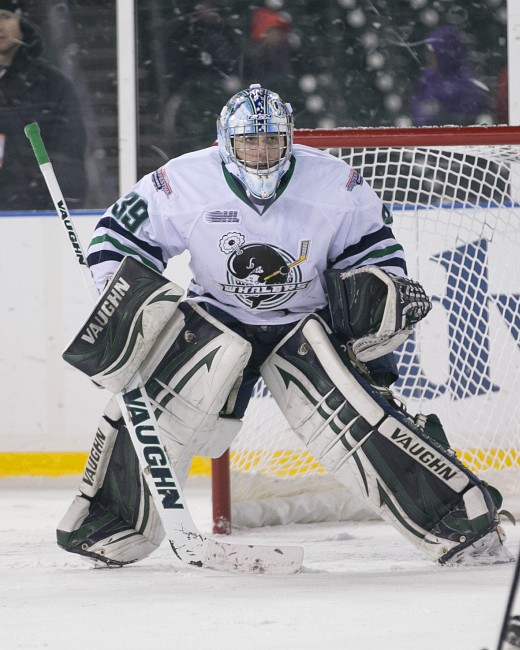 With so many goalies to potentially choose from at this year's NHL Entry Draft, Alex Nedeljkovic will undoubtedly set himself apart from the pack. Not only does the goalie possess immense talents that would make him an asset to any NHL team willing to put their stock into him, he also has intelligence and composure that is well beyond his 18 years of age. Whichever round Nedeljkovic winds up being taken in in late June, any NHL team selecting the goalie will be getting a well-rounded netminder that has no qualms with constantly improving his craft in order to be the best at his position.