In almost any other line of life, 30 doesn't qualify as old. Yeah, college days are behind, but age has hardly done its damage after three decades. In hockey? You've seen things at 30. You've tackled multiple eras of play, watched stars rise and fall, lived through lockouts and labor strife. Only the most talented vets can be productive on the ice past their primes. Being over 30 and living as a grinder? As tough as it gets, battling the ticking clock and the glut of newly drafted skaters every year. For those who manage to eke out another season or two, it's an exciting prospect. For those finally feeling the warmth of success after years of desolation, the reward is that much sweeter. Meet Derek MacKenzie, a fourth liner holding on, part of a winning Columbus Blue Jackets team at long last. He's someone you ought to know, even if he's not the guy scoring the points.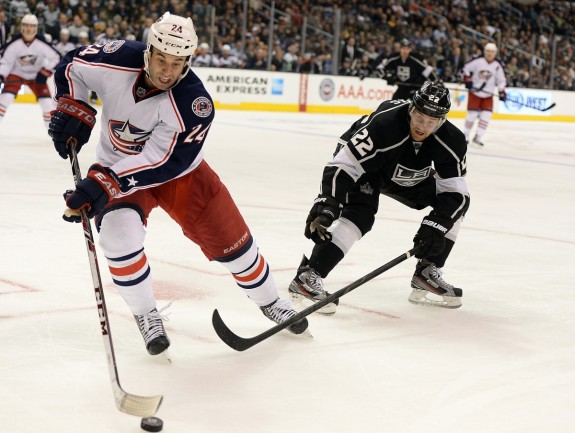 Life on the Fourth Line for Derek MacKenzie
For outsiders, some names on the Columbus roster catch the eye. Ryan Johansen is garnering attention, and Brandon Dubinsky is known from his years in New York. The top three Blue Jackets lines are balanced, even with Nathan Horton shifting to the first grouping. Meanwhile at the bottom of the roster, we find a line with two curious constants. The first is former Pittsburgh Penguins player Mark Letestu. He has been a versatile contributor, aiding on everything from powerplay to penalty kill. The other fourth line mainstay is the 32-year-old elder statesman of Columbus, Derek MacKenzie.
In the most basic ways, it's easy to understand why MacKenzie doesn't get much press. He doesn't tend to flash, his point totals don't pop out. But for Columbus fans, the man known as DMac is a holdover, a worker that has persisted through some of the lowest points in franchise history. Yet it's misleading to tell the story that way, as if Derek MacKenzie only found his way with the Blue Jackets thanks to a relatively poor team. This season, MacKenzie has forced his inclusion on the roster, eating crucial PK minutes, and seeing an overall rebound in ice time over last season.
When he's on the ice, MacKenzie is usually visible as an "effort" player, so it would be easy to lump him in with the "worker grit" narrative that Blue Jackets fans adore. That kind of subjective observation isn't useful. If you aren't a Columbus fan, there are two key reasons to appreciate the team's oldest skater.
Derek MacKenzie's Mind
The first (and the subtle) reason for Derek MacKenzie's likability is his intelligence. On January 25, the Blue Jackets' eight-game winning streak met an abrupt end at the hands of the lowly Buffalo Sabres. Optics aside, the loss wasn't as disappointing as you'd imagine. Instead of a bad Columbus outing, the Olympic effort of Ryan Miller changed the game. MacKenzie reflected on the night in his post-game interview. "Tonight we got some bad breaks," he rightfully noted.
The real takeaway is in Derek MacKenzie's evaluation of the Sabres blocking so many shots. He remarked, "I mean, I'd seen that stat. At one point I think we had 62 [shot] attempts and they had a bunch of blocks. But I mean, you can look at that either way. That means we had the puck a lot." MacKenzie's grasp of puck possession and calm after an unlucky loss sees the vet exuding both patience and overall understanding. Rather than reacting as a fourth line stereotype, DMac shows emotional restraint and a real knowledge of hockey.
This brief exchange is also a good symptom of the overall Columbus organization. Either Derek MacKenzie has a great understanding of how to explain puck control, or someone within the team has started to infuse this information into the Blue Jackets' culture. Both options are appealing, the latter particularly so (and maybe a sign of GM Jarmo Kekalainen's influence).
Joining the Blue Jackets Highlight Reel
The second, and mot obvious reason to support Derek MacKenzie is an occasional flash of skill. Let's be clear: DMac is not an elite playmaker the Blue Jackets can rely upon to win every game. But when left to his own devices on the penalty kill? Sometimes the vet can make other teams pay.
A burst of speed, a shot fake, and one of the better dekes you'll see this year? Yes, that's a fourth liner. I wouldn't bet on this kind of thing every night, but the threat remains: give Derek MacKenzie a breakaway, and the puck needn't only be dumped or bounced harmlessly off a goalie.
The Here and Now
Make no mistake: Derek MacKenzie is not the Columbus MVP. He's not an offensive force for the Blue Jackets. Even his sudden increase in scoring seems unlikely to last (a career high in shooting percentage at 32 is rarely sustainable). But in the here and now, Derek MacKenzie is a fourth liner to appreciate, both on the ice and in interviews. Columbus' vet remains a crucial part of the team spirit. Effort, intelligence, and occasional bursts of skill make MacKenzie a reason to keep an eye to the ice even when the top lines are done.