If you're a fan of the Toronto Maple Leafs, you're getting that sinking feeling again. Fans have been experiencing that feeling every year since 1967. It's time to be realistic and continue to build toward the future. That should be the team motto.
This team has shown glimpses of brilliance at times, and it is so hard not to like these guys. They're scrappy, young, fun and hard working. The addition of a guy like D Tim Gleason was key, as he is a lunch-pail guy and veteran presence. But the Maple Leafs need so much more, financially and standings-wise, it just doesn't make sense to mortgage the future. That being said, looking at NHL odds of winning the Cup, the Leafs sit at about 40/1 – an obvious tell that work needs to be done.
General manager Dave Nonis has done a decent job adding key pieces like LW Mason Raymond, who has posted 14 goals (including six power-play markers) with 33 points through 58 games. And C Dave Bolland (ankle) has been limited to just 15 games this season, but he was a nice addition who should be able to help the team after the Olympic break, barring any setbacks.
Of course, the addition of RW David Clarkson has been a giant swing and miss, and is the type of deal, financially, that has hamstrung the Leafs in the past. Clarkson doesn't need to be RW Phil Kessel, as there aren't many out there like him. But he needs to play at the level of LW James van Riemsdyk and RW Joffrey Lupul, and not at the level of RW Troy Bodie and C Peter Holland. There just seems to be no light at the end of the tunnel for Clarkson. His longest points streak of the season is three games, he hasn't had a multi-goal performance in a Leafs sweater, and he is scoreless in seven of his past eight games. Even if the Leafs wanted to trade him right now, no one is taking that contract, and the best return they would get might be a sack of used pucks and a handful of broken sticks.
If they were to go on a shopping spree…

If Nonis refuses to give up on the season, as they are still in the top wild card position and trying to hold off several teams for one of the final playoffs spots in the Eastern Conference, there are a couple of pieces out there that might make financial sense, without costing the team the farm. But will another role player put this team over the top? It is doubtful. The truth of the matter is you're not going to be able to add another Kessel, and that's about the only thing that will make a difference from another first- or second-round departure, should the Leafs even qualify for the postseason.
Tom Gilbert, D, Florida Panthers: The veteran rearguard had been on fire offensively, but that isn't really his game. He is more of a steady defensive presence who would log heavy minutes and bring experience down the stretch. Like Gleason, he could be an irritant, helping to get in the way of shots getting through to the netminders, something which has happened far too much this season.
Marcel Goc, C, Florida Panthers: Goc is someone who could help provide depth in the playoffs, and would not be a very costly addition. But again, is the German-born Goc the type of player who will make a difference in the wins column? Probably not. Still, he is a realistic target.
Ales Hemsky, RW, Edmonton Oilers: The veteran has an expiring contract, and it's hard to imagine he'll be back with the Oilers. So even if they are able to net a low-round draft choice, the Oilers might be willing to ship him east to a team like the Maple Leafs, or anyone else willing to answer the phone.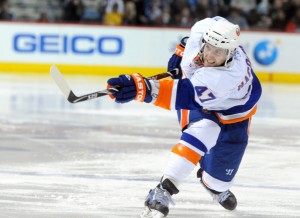 Andrew MacDonald, D, New York Islanders: MacDonald has an expiring contract, and he would be a giant fit for any team at the deadline. He leads the NHL with 185 blocked shots, which is 28 more than anyone else in the league. He also has four goals and 24 points through 58 games, and 45 hits. His physical presence would be huge for the Leafs in the postseason, and he is a realistic target without taking on a ton of salary.
…and if the Leafs trim fat from the roster

Again, there is no chance they'll be able to move Clarkson, as much as fans of the blue and white would like to see that. But if the team returns from the Olympic break and goes ice cold, there are a handful of players who could be moved.
The Maple Leafs have several expiring rosters, including Bodie, Bolland, RW Nikolai Kulemin and Raymond. G James Reimer is also a restricted free agent, and it would be interesting to see if the Leafs could piece together a deal for him. G Jonathan Bernier is under club control through 2015, and he will be a restricted free agent after next season. Reimer is unlikely to be back, so why not try to get something for him?
In closing, if you're a Maple Leafs fan looking for the team to land a Ryan Callahan or John Tavares or even a Thomas Vanek, tamp down expectations right now. They're not going to get an impact player at the deadline. My favorite addition would be MacDonald, who is a hard-nosed player who just seems built for the playoffs. He CAN be a difference maker, even if he doesn't have the flashy statistics and big name like some others out there.
We'll find out March 5 what the Leafs plan to do for the rest of the season. Rosters are frozen from 3pm ET Feb. 7 to 11:59pm ET Feb. 23 due to the Olympic break.