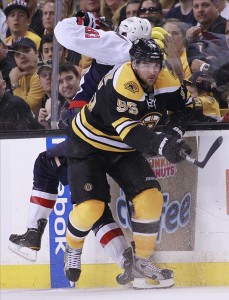 After some constant battling in the corners against David Booth of the Vancouver Canucks on Tuesday night, Johnny Boychuk laid out the winger as the second period came to a close with a thunderous check. Later in the third, Boychuk did it again,, this time with a textbook hip check that took both men down.
"When something like that happens to you, you get a little ticked off and you want to just crush people," said Boychuk.
Well put.
Boychuk put together a solid game in all three zones, playing a big part in the Bruins 3-1 win over the Canucks on Tuesday night. His physical game stuck out most, especially his 24:04 ice time which led all Bruins. A good sign to see with Zdeno Chara out for the next two Bruins games in order to carry the Slovakian flag in the 2014 Winter Olympics. With a night like he had on Tuesday, Boychuk will be looked upon to be the veteran leader on the blue line for the Bruins.
"They are going to expect a lot out of me," said Boychuk. "As a defense core we have to step up and not try to replace what we he [Chara] brings to the table but just step your game up individually and just try and keep it simple out there."
Perhaps in his defining shift of the night, Boychuk reminded everyone what simple looked like. After sustaining oncoming pressure from the Canucks in the defensive zone, a tired Boychuk flung a pass up ice to Daniel Paille who was able to beat Roberto Luongo on the breakaway with the Bruins' third goal of the night. It was all they needed.
"I was really tired," said Boychuk. "I am not going to lie, we were out there battling and you know I just looked up and Danny [Paille] was coming off of the bench, and he just had to make the pass. It's not as easy as it looks especially when you're at the end of a long, long shift.
With Seidenberg out for the season, and Dougie Hamilton's game improving, the Bruins are left with a pretty decent top-three on defense. Boychuk's veteran leadership, though joining Boston full-time in 2010, is something that the younger defenseman are feeding off of.
"We've been playing together I think for quite a while now, so the more we play the more we learn each other's tendencies and where we'll be on the ice, it just gets easier and easier," said Matt Bartkowski, Boychuk's partner on the blue line. "I like the challenge. I'm excited about that challenge and I'm looking forward to it, because the way things are looking we'll be playing against the top line, so I think it will be fun."

The Bruins play the St. Louis Blues and Ottawa Senators before pausing action for the Olympic break.