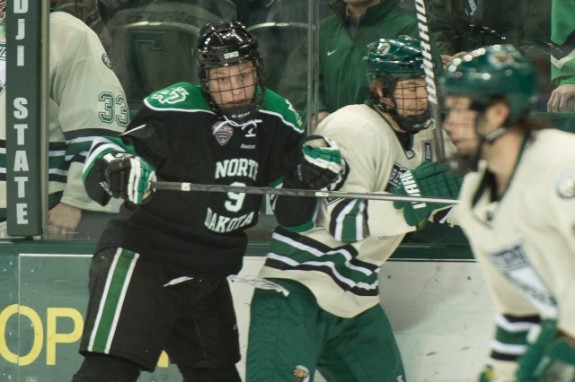 This weekend, the University of North Dakota (13-8-3, 8-6 NCHC) entertains the Nebraska-Omaha Mavericks (10-12-2, 7-5-2 NCHC) in a pivotal NCHC match-up. Coming into the series, UND is looking to remain hot; they've won nine of their last 11 games. UNO, on the other hand, has gone 3-6-2 during the same period.
This week, I decided to change things up a bit.  I interviewed Matthew Semisch of U.S. College Hockey Online to get his perspective on the upcoming series between the UNO and UND.
Eric Burton, The Hockey Writers: What are your thoughts on this weekend's series between the two teams?
Matthew Semisch, U.S. College Hockey Online:I haven't entirely made up my mind on how I look at this series, in large part because there's one variable that we're still not sure about. Dean Blais said last Friday that Ryan Massa – who was kind of UNO's No. 1 goaltender this season by default as he's a.) good, and b.) the only Mavericks goalie this season with prior college experience – is questionable for this upcoming weekend due to a groin injury.
UNO has its fair share of weapons up front, but the Mavericks have so rarely held opponents to fewer than three goals in a given game that I wonder what UND might be able to do there. We thought going into this season that UND might not exactly score at will, given what they lost after last season, but I like what UND's been able to put together despite only having statistically the 31st-best offense in the country.
Also, UND hasn't lost at home since right around Thanksgiving, and I know UND will want to keep the momentum it's been building at the Ralph rolling as it tries to keep pace with, or perhaps, even leapfrog St. Cloud State again at the top of the league standings.
EB: UND is tied with UNO for second place in the conference standings with 24 points.  It would appear that the NCHC is a bigger grind than the WCHA?
MS: Absolutely. I think we all assumed that, with the playing field in the NCHC being as level as it is, all eight teams would just beat the snot out of each other all season long as they vie for positions in a postseason where they beat each up all over again, and that's what's been happening.
It's amazing to think 75 percent of the teams in the league still have a realistic shot of winning the regular season title, but that's exactly what we've got. Look at Western Michigan in sixth place, for instance: Getting swept at home last weekend hurt, but they're only six points out of first place, so if they get back to racking up wins like they had been recently and get a bit of help elsewhere, they're still in with a chance.
EB: What does UND need to do to sweep the Mavericks?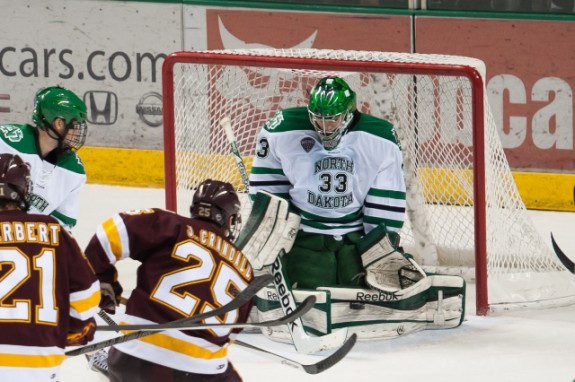 MS: UND will need to force the issue on offense. Probably easier said than done considering UND hasn't scored a ton of goals this season, but UNO's defense has been so suspect at times that they've proven they can be had if they run into a fast offense that can create and bury its scoring chances.
UND's defense will also need to be on high alert against UNO's offense, and a few Maverick forwards like Josh Archibald and Dominic Zombo have been particularly hot recently. Solid goaltending would also come in handy, but I think Clarke Saunders relishes playing this team. He's always been very good against UNO both at UND and Alabama-Huntsville, and lest we forget he had a big game last time out against UNO, stopping 36 shots Nov. 10 in Omaha.
EB: Since you cover NCHC hockey for USCHO and get to see UNO on a weekly basis, are the Mavericks meeting expectations this season?
MS: In terms of their current league position, I think they've exceeded expectations somewhat. Or at least they've exceeded mine, anyway. Depth wasn't really something UNO had in abundance coming into this season – and the Mavericks really didn't need Matt White getting kicked off the team last summer – so I felt fine picking UNO to finish seventh in the league, so perhaps UNO holding onto or climbing above its current spot in the league standings and getting home ice in the first round of the playoffs and perhaps making a bit of a postseason run would make you have to call the season a success.
EB: Looking at the pre-season NCHC Media Poll, the media had the Mavericks ranked in eighth place.  That seems a little low to me. In retrospect, does that seem to be poor prediction?
MS: No, I don't think so. That's not at all a knock on what UNO's been doing, though; it's down to the fact that, like I said before, the NCHC provided from the outset such an even playing field. I can't speak for anyone else who put together preseason predictions, but I was always going to feel a bit guilty about who I was going to list eighth. For the record, I had Western Michigan eighth, and I think it's fair to say they've proven me wrong to a certain extent.
EB: Looking at the numbers, UNO is ranked 14th in the nation in scoring and has scored 77 goals on the season. That's 10 goals more than UND has scored this season.  Unfortunately for the Mavericks, they have also given up 81 goals against.  What's going on there?
MS: Scoring most definitely has not been a problem for UNO, but stopping opponents from doing that most definitely has. UNO's offensive output hasn't surprised me much – although I think some people are surprised that it's Josh Archibald at the top of the Mavericks' scoring chart and not Ryan Walters after Walters' Hobey Baker contender 2012-13 season – but I haven't been blown away by UNO's defense and goaltending.
EB: Looking at the goalie statistics for the Mavericks, none of UNO's three goalies have a save percentage above.900 or a goals against average below 3.00, are going see a track meet this weekend? First team to 10 wins?
MS: I'm expecting a high-scoring series similar to what UNO had last weekend at home to St. Cloud State, but I'm just about positive we won't have anything as ridiculous as the 8-6 game we had at CenturyLink Center last Saturday. That said, UND-UNO has developed into a solid rivalry and their meetings are always fun to watch, so I think we'll see something a lot closer to your first idea there than the second. If it does become a first to ten though, oh boy.
Questions on defense for the Mavericks
EB: If my math is correct, UNO is 3-7-0 in non-conference play. In UNO's seven non-conference losses, UNO game up four or more goals. What's going on with the Maverick's defense? Is it safe to say that UNO is having defensive issues this season?
MS: I think it's fair to say UNO's defense has underachieved. There are certain parts of the Mavericks' D-corps that have done well – for instance, Ian Brady has quietly put together a very good freshman season, and players like Michael Young and Jaycob Megna have been good at helping to create scoring chances for their team – but things in UNO's own zone haven't been going as well as perhaps they should. That's going to continue to be a big question mark as we enter the home stretch of the regular season.
EB: UNO Head Coach Dean Blais has been the coach for five seasons, and the Mavericks have one NCAA tourney appearance. Are the Fans getting antsy in Omaha?
MS: I think they are a little, but I haven't seen anyone jumping on Blais' back about UNO's relative lack of success under him. Mike Kemp had a similar situation when he was the head coach and only made one NCAA tournament appearance himself with UNO, but I would disagree that right now is the time to get antsy. UNO is unquestionably on the outside looking in in the PairWise, but the Mavericks are tied for second place in the league on points, and the PairWise would become less of an issue if UNO can just keep racking up wins. UNO only had one win – in a shootout – between Dec. 6 and Jan. 17, and that didn't help fans' moods, but if the Mavericks can get something going here in the final month of the regular season, get home ice in the first round of the playoffs and make some waves in the postseason, to borrow a line from Mark Twain, some fans' feelings on this season will have been exaggerated.
The best team in the NCHC
EB: Who's the best team that you have seen this season (both NCHC and non-conference)?
MS: Great question, and it's one I've been actually been thinking about the past few days. I remember being excited about St. Cloud State coming here, not only because I was covering the SCSU-UNO series for the St. Cloud Times but also because the Huskies had made their living on building from the net out, but I ended up being a bit disappointed by their goaltending and defense last weekend.
In terms of teams I've seen play in person, though, I think I have to go with Cornell. Andy Iles is a great goaltender who the Big Red are going to miss terribly after he leaves Ithaca – his hometown – to move onto bigger and better things – and that team has so many weapons. Cole Bardreau and Joel Lowry particularly impressed me when they were here in Omaha early this season, but Cornell has a ton of talent up and down their roster. I've been really glad to see them do as well as they are.
EB: What's your prediction for the series?
MS: If this series was in Omaha, I'd call for a split. It's not, though, and UND has fared so well at home recently – and Saunders has historically been so good against UNO – that I see North Dakota picking up another two wins this weekend.
A sweep would be nice
There you have it, UND and UNO face-off this weekend in an important two-game series. This series could go a long ways in determining where they end up in the NCHC playoffs. You have six teams fighting for home ice in the NCHC playoffs. A sweep for either team would be huge. Let the games begin.