What if your favourite team ended up with the first overall pick at this year's NHL entry draft? It's not completely farfetched to think it could happen – especially after reports surfaced this week that Florida's Dale Tallon is shopping the highly coveted pick.
"Well, why not?" said Tallon in an article by NESN's Nicholas Goss. "I'm looking at everything. I'm open for business. You have three options – you either take it, move back or trade it. So that's what we're looking at. What's the best deal for our future, that's the key."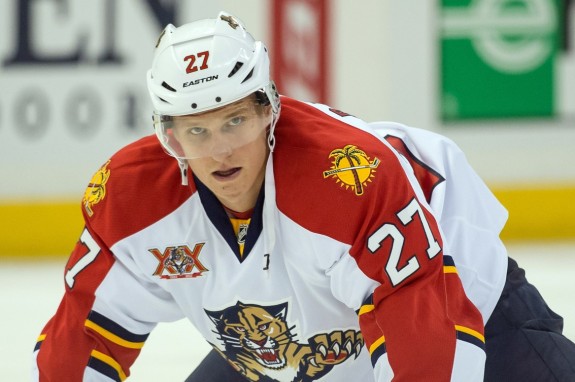 And that's the key, indeed, for the Florida Panthers. With Tallon's comments in mind, the best move for the future of the Panthers is to trade the first overall pick. At least that's how I see it. Sure, it can be argued that the additions of either Sam Bennett or Aaron Ekblad would benefit the team in a couple years. However, youth is not something the Panthers are lacking. The team closed out the 2013-14 season with 11 players under the age of 25 – and it's a group of young guys who certainly aren't lacking in size or skill.
Aleksander Barkov was taken by the Panthers second overall in the 2013 draft. While he did have an on and off season, the 18-year old put up 24 points (8g-16a) in 54 points with the big club this past season.
He also posted a minus-three rating on a team that finished the season minus-72 as a club – not a bad stat considering. Even though some of the plus-minus numbers are questionable for these young players, building a brotherhood and chemistry with their core group of players.
| Player | Age | Goals | Assists | Points | Plus/Minus |
| --- | --- | --- | --- | --- | --- |
| A. Barkov | 18 | 8 | 16 | 24 | -3 |
| J. Huberdeau | 20 | 9 | 19 | 28 | -5 |
| N. Bjugstad | 21 | 16 | 22 | 38 | -14 |
| E. Gudbranson | 22 | 3 | 6 | 9 | -7 |
| A. Petrovic | 22 | 0 | 1 | 1 | 3 |
| B. Pirri | 23 | 7 | 7 | 14 | 0 |
| D. Kulikov | 23 | 8 | 11 | 19 | -26 |
| D. Olsen | 23 | 3 | 9 | 12 | -3 |
| D. Shore | 23 | 5 | 2 | 7 | -1 |
| J. Hayes | 24 | 11 | 7 | 18 | -6 |
| C. Robak | 24 | 0 | 2 | 2 | -4 |
Now, the Panthers did take the first step in building a playoff team when they traded for Roberto Luongo at the deadline – only giving up goaltender Jacob Markstrom and forward Shawn Matthias. While Luongo is 35, he still has the ability to steal games. Without the pressure of the continuous goalie controversy that he experienced in Vancouver, Luongo should help Florida in 2014-15 surpass their point point total from this season.
Don't get me wrong, I do think the Panthers need to build from within their system. If this pick was a guaranteed Connor McDavid, I'd say lock it up in a safety deposit box and don't tell any other team what bank you use. And I'm not taking anything away from Ekblad or Bennett (or anyone else in the draft for that matter). But they're already a young team. What they need is a guy that can score or play defence – a guy that brings a winning culture to the team.
There are definitely teams that would love to move up to that number one spot. One can imagine that Edmonton would love to get their hands on Ekblad, while Calgary, Buffalo, and the Islanders would surely be in the market for a forward like Bennett.
Regardless, trading the number one pick is the best move for a team that is still in a rebuilding stage and yet so close to being – well, rebuilt. Whether they move it for multiple picks or some proven youth combined with picks, Tallon and his management team need to consider trading the pick. In fact, it's the best move for their rebuild.
Sorry Roberto, I know you were excited about winning the lottery.
First time I've ever won ANYTHING!!!! #NHLDraftLottery

— Strombone (@strombone1) April 16, 2014
Thoughts and Shots
The Best Candidates
More award finalists were announced this past week including the Mark Messier Leadership Awards, the Masterton Trophy, and the Ted Lindsay Award – among others. Don't get me wrong here, it's great that we honour the players, but as I wrote earlier in the year, there are far too many awards with subjective guidelines in choosing a winner.
Regardless, here's how this week's award announcements break down. Jonathan Toews, Dustin Brown, and Ryan Getzlaf were voted as the finalists for the Mark Messier Leadership Award. While there's no question that Toews – 'Captian Serious' – deserves a lot of praise for the success of his Blackhawks, Getzlaf takes my vote after his aging Ducks took the Pacific Division easily with five points more than the second-place San Jose Sharks.
The Bill Masterton Memorial trophy is – in simple terms – awarded to the comeback player of the year. This year, Jaromir Jagr, Manny Malholtra, and Dominic Moore are all candidates to take it home. While it was great to see Malholtra back after a career threatening eye injury. Moore gets my vote after dealing with the passing of his wife and coming back to record 18 points (6g-12a) and play in 73 of the Rangers 82 games.
While the Ted Lindsay Award and the NHL Foundation Player Award are two very subjective awards, I will note that I think Brent Burns will with the foundation award over Patrice Bergeron and Duncan Keith and Ryan Getzlaf will beat out Sidney Crosby and Claude Giroux for the Ted Lindsay Award.
Ted Lindsay finalists are the same as the Hart Trophy finalists: Crosby, Giroux and Getzlaf. The players and media agree, evidently.

— Chris Johnston (@reporterchris) May 5, 2014
The biggest question, is who takes home the Hart trophy for the league's most valuable player. The finalists include Crosby, Getzlaf, Giroux. While Crosby would be the obvious choice, Giroux is the most deserving. Without him, the Flyers likely would've missed the playoffs. What was most amazing, was Giroux's final point total.
Giroux had a tough start to say the least. However, he closed the season having played all 82 games for the Flyers recording the third highest point total in the NHL with 86 (28g-58a). Could you imagine Philadelphia without 'G'? That's why he's the most valuable player in 2013-14.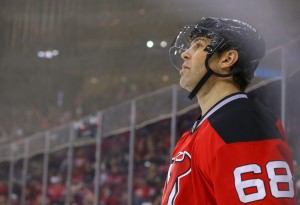 Golden Oldie
Speaking of valuable players, it became official this week that Jaromir Jagr would be back with the New Jersey Devils for the 2014-15 season. It will mark his 21st NHL season and he doesn't seem to be slowing down.
In 2013-14, Jagr led the Devils in points with 67 (24g-43a). But what's even more impressive is that he played in all 82 games for the red and black.
"I was happy being here," said Jagr in an article by The Associated Press. "There was no reason to change. There was no reason to test free agency."
The Devils' star ranks sixth all-time in points – only 16 back of Marcel Dionne. He's seventh all-time in goals and eighth all-time in assists. Folks, nobody's got the moves like Jagr.
A Trip to the K
Word is, Teemu Selanne could play his last hoorah in the Kontinental Hockey League in Russia. And why not? The league has been known to be much more of a wide-open game, a perfect fit for the Finnish Flash.
He may not be as fast or agile as he once was, but something tells me that Selanne will do just fine in the KHL. In fact, it'll just add to the future Hall of Famer's legacy that he's so perfectly engrained in the minds of NHL fans. Good luck, Teemu.
The Search Is On
Florida, Carolina, and Vancouver will all be joining the search party for new head coaches. This past week, Peter Horachek, Kirk Muller, and the oft-opinionated John Tortorella were relieved of their duties.
While Horachek and Muller were simply formalities, Torts never had a chance to succeed in Vancouver. I said it at the beginning of the season and I'll say it again now, he's a coach that demands a different style of play from his players. He wants blocked shots. He wants hard-nosed hockey. Vancouver is simply not that type of team.
Sure, they have the players to fit into that type of system with Ryan Kesler and Kevin Bieksa, however guys like Alex Burrows, and the Sedin twins aren't the kind of players Torts got used to in New York. He was placed in a no-win situation with the Canucks. He'll get another job – there's no question. Maybe this time he'll stand a chance.
Thanks For The Memories
Tom Poti and Mathieu Garon announced their retirements from the NHL this week. The 32-year old Garon played for six teams over his 12-year career. He finishes his career with a record of 144-131-3-28 in 341 career games with a .903 save percentage and a 2.83 career goals against average.
Poti, played for four teams over his 13-year career. In 824 career regular season games, he recorded 327 points (69g-258a) and 586 penalty minutes. His teams made the playoffs eight times and he put up 19 points (2g-17a) in 51 career playoff games.
While both will likely not make it into the Hockey Hall of Fame, it's great to see they both had successful careers that spanned over more than ten years.
Two Leagues, Two Cups
KHL coach Mike Keenan became the first ever coach to win both the NHL's Stanley Cup and the KHL's Gagarin Cup. Keenan's Metallurg Magnitogorsk defeated Lev Prague 7-4 to win the KHL championship to follow up his 1994 New York Rangers' Stanley Cup.
While many of the players on Metallurg will be unrecognizable to fans in North America, former Toronto Maple Leaf Tim Brent was part Keenan's historical moments. Way to go Iron Mike Keenan for making history.
Welcome to the Island
Washington traded the rights to Jaroslav Halak to the New York Islanders on Thursday for a 2014 fourth-round pick. Halak had a bit of hiccup near the end of his tenure with the Capitals when he reportedly refused to play his former mates, the St. Louis Blues.
Now, the Islanders will have to choose between Halak and Evgeni Nabakov. Who will get the money and who will be in the starting role when October comes around. My money's on Halak with his experience and proven ability – not to mention his lack of injury history in comparison to Nabakov.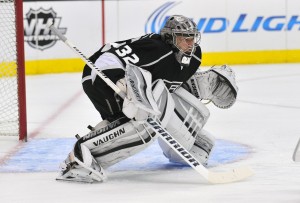 Playoff Obituaries
Well, I'm not sure what was more surprising. San Jose up three games in their first-round series only to lose to the Los Angeles Kings in Game 7, or Colorado having four lead in their Game 7 only to lose to Minnesota in overtime.
Regardless, the Kings became only the fifth professional sports team to come back from a 3-0 series deficit to win in a seven-game series. The Sharks curse continues and Joe Thornton is still awaiting a Stanley Cup.
Patrick Roy did all he could this season, but Minnesota was just more resilient when they needed to be and found a way to get some secondary scoring late in the series.
As for Philadelphia, what can you say? That series was so hard fought, it was bound to go to a seventh game. Honestly, Alain Vigneault has more playoff coaching experience and, for me, that's what made the difference. Better luck next year to all those teams that were bounced in the first round of the playoffs.
The Game of Thrones
Have you seen these Game of Throne team banners? If not, you have to check them out. With the exception of some (the Leafs and Penguins to name a couple), they are pretty awesome. Heck, shoutout to the NHL – here's your banners for next year's Winter Classic and every game for that matter.
Can you say money maker? I'm sure most fans would love to have one of these hanging in there window. It's worth a try.
Fighting at Fargo
I have a quick closing word for fans. Hockey – and any professional sport for that matter – is supposed to be entertaining for everyone. Sometimes, so-called fandom is taken to the extremes. I get it, we are passionate and defensive about our teams. But the second a fight breaks out in the stands or fans begin to riot, that's when fandom becomes criminal.
It doesn't matter where it happened – Philadelphia is just the latest incident. What needs to be remembered is that fans are simply there to watch and enjoy the game. Causing bloodshed because someone is wearing a different coloured jersey is gutless. It's shameful. To cheer it on makes you just as guilty.
Do we not remember the paramedic that was beaten within an inch of his life at a Los Angeles Dodgers game? Wake up people – hockey is not life or death. It's a game. Just like those players on the ice, we need to learn to respect others around us and enjoy this amazing game together. The fight at Wells Fargo Arena is simply an example of stupidity that exists all across professional sports. But hey, one voice can only be heard by so many. Until next time, that's all for Tape2Tape.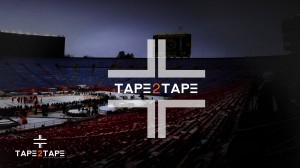 Have some thoughts about this week's column, let me know on Twitter @AndrewGForbes or on Google+.
Tape2Tape is a column looking at some of the biggest story lines from around the world of hockey. It discusses a few different topics, with focus put on one major story. Agree or disagree, writer – Andrew Forbes – would love to hear what you have to say.