We could continue to harp on the St. Louis Blues' shortcomings in their first-round series loss to the Chicago Blackhawks. The offense amassed just six goals in the final four games, the power play dished out a brutal 2-for-29 and Ryan Miller was not the goalie we all expected. We could rattle on and on about what could have been done and what deals could have been made. However, there's no changing the past. Unless your name is Dr. Emmett Brown or Mr. Peabody, we're stuck just wondering, what if?
It's time to look to the future. There is one thing that Blues management needs to do in order to ensure the same postseason result isn't repeated for a third year in a row.
[See related: Blues Flirt with Stanley Cup Playoffs Disaster]
Acquire a top-tier forward. Easier said than done, right?
The Blues have lacked a proven goal scorer since Brett Hull departed in the summer of 1998. Inversely, the team hasn't seen one of its players tally more than 50 assists since Doug Weight did it in 2003-04 (51).
This has been the subject of many Blues forum threads, Facebook posts and tweets. One active Twitter user was slammed for his tweet the day after the Blues' Game 5 loss.
Fact: TJ Oshie, Alex Steen and David Backes would be on the Hawks third line. — Street Lightning (@socityhooligan) April 26, 2014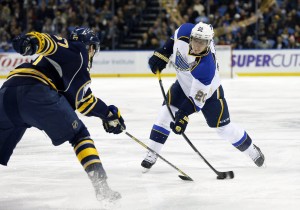 Although this does seem like a harsh statement, it does have some truth behind it. The Blackhawks rolled two dynamic top lines, with Brandon Saad – Jonathan Toews – Marian Hossa and Patrick Sharp – Bryan Bickell – Patrick Kane dominating a lot of play in the series. I doubt that the tweet is stating that T.J. Oshie, David Backes and Alexander Steen would be the seventh, eighth and ninth best forwards if they played in Chicago; instead, I believe the tweet was meant to display that, if the lines remained intact, the Blues' line would not receive the minutes of the Blackhawks' already existing top lines. It's 140 characters at a time, let's cut him some slack.
One guy — yes, one guy — can change all of that in St. Louis. Whether it be an elite playmaker or a scorching winger with a heavy shot, the Blues could go from a mid-level offensive team to competing on the same level with the defending Stanley Cup champs.
Let's dissect this belief a little further.
Top-end talent
The obvious reason would be that the St. Louis club would see an instant rise in offensive production by simply adding one skater to the 12-man forward unit. If the club opts to let certain free agents walk, such as UFAs Brenden Morrow, Steve Ott and Derek Roy as well as RFA Patrik Berglund, the Blues would be freeing up money for multiple moves. This would mostly involve locking up RFAs Jaden Schwartz and Vladimir Sobotka, while also allocating money to a split starter or backup to team-up in goal with rookie Jake Allen. Also consider that the salary cap is expected to go from this year's $64.3 million to about $71 million next season.
I won't begin to speculate what each player is worth. I'll leave that to the forums.
This means that the Blues could have some money to play with come July 1. Someone who is available — we'll speculate in a moment — could add 50-90 points per season (take a few points away that the Roys and Morrows would have contributed). That's the simple math, or the grade-school algebra, that comes from a top-point producer joining the roster.
Opens up the ice
We've reached the point where we talk the difficult math, or the trigonometry, of adding a pure point scorer.
The Blues have always been a team that scores by committee. That would only improve with that one guy in the lineup. Imagine the space that would be added with a scorer on the first line. All of a sudden, the Steen – Backes – Oshie line is transformed into a dynamic second line, playing minutes on most nights against secondary pairings in the league. Backes could transform from a mid-50s point producer to a reliable 60-point player and Oshie could see his first 25-plus goal season.
This would continue to trickle down the lineup. If on the same line as Schwartz and Vladimir Tarasenko, this player could draw defenders his way, allowing more time and space for the young Blues to make magic.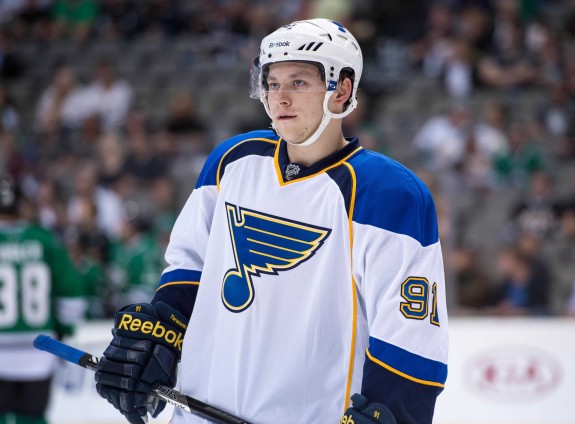 The bottom two lines receive less stress on adding goals, as well. These skaters can focus on doing the dirty work in the corners or delivering monster checks rather than creating much-needed goals.
Now the question remains: Who is that one guy?
Once again, the intention of this post is not to speculate and cause a stir among the fan base. However, there are a select group of players that could fit the mold of the Blues' offense.
Paul Stastny. Born in Quebec City and raised in St. Louis, Stastny seems like the perfect fit for the Blues. The hard-working centerman can thread the needle on his passes and has made scorers out of his linemates in Colorado. During his rookie year (2006-07), Stastny posted 78 points in 82 games, overtaking the franchise's rookie scoring record. He turned Wojtek Wolski into a 22-goal scorer and allowed the Avalanche to boast one of the best one-two punches up the middle with Joe Sakic on the top line.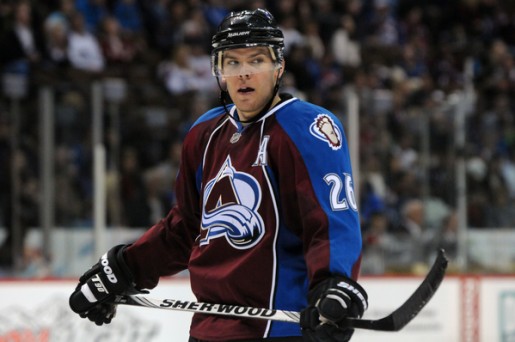 The same could be done here (to a lesser extent, of course). With Stastny manning the top line, Backes would be a formidable second-line center that can be relied on for defensive situations and for an extra shooter — something he already does, but now add a craftier center into the mix.
The 28-year old Stastny would open up lanes for the gifted Blues wingers, preferably Schwartz and Tarasenko, to complete the youngsters' transformation into elite talent. His speed and offensive prowess would add a key cog into the Blues' machine.
Joe Thornton. Before I am crucified for suggesting this public enemy should don the Bluenote, hear me out. The lumbering center has made a living out of turning 20-goal scorers into 50-goal scorers. Ok, maybe only once, but he is still an impeccable passer with tremendous vision. The way that he can hit the open man cross-ice or slam a perfect pass tape-to-tape on the power play mirrors that of, dare I say, Adam Oates.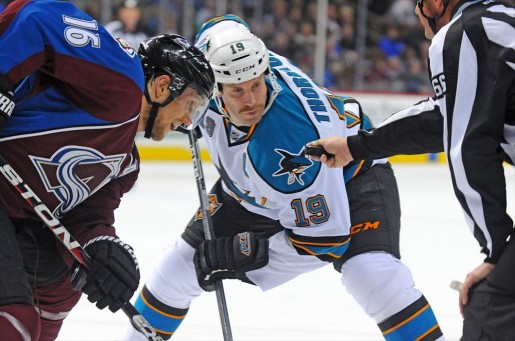 If Thornton can do what he did for Cheechoo, or what he has done for Patrick Marleau for the better part of a decade, the Blues would be on easy street. His numbers have been steadily trending down as of late, due to his age and a diminished role with new faces Logan Couture and Joe Pavelski taking his spot. His veteran presence would be a welcomed addition to head coach Ken Hitchcock, who has been criticized in the past for overusing his older players. This time, it would be welcomed.
The only tricky part is pulling Thornton from San Jose. The 34-year old captain is locked up until the end of the 2016-17 season ($6.75 million cap hit), meaning it would take a trade to make this a reality. After a devastating first-round loss to the Los Angeles Kings, the Sharks could be looking to make a change in a big way. It would likely take a piece of the Blues' core to swing the deal, though, so Blues general manager Doug Armstrong would have to tread lightly in what would be a beneficial move for his team moving forward.
Thomas Vanek. It's time to switch gears from set-up man to scoring winger. Aside from Stastny and goaltender Miller, Vanek is the biggest name on the free-agent market this summer. He was a hot commodity in 2013-14, packing his bags twice as he went from the Buffalo Sabres to the New York Islanders and, finally, to the Montreal Canadiens. When it was all said and done, the 30-year old left winger tallied 27 goals and 68 points in 78 games this season.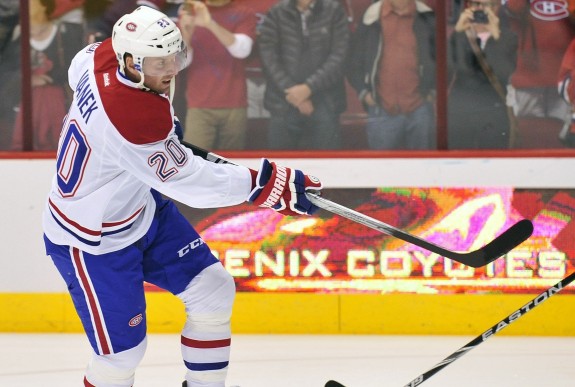 A two-time 40-goal scorer, Vanek possesses soft hands and a rocket shot, for which he is known to use on the power play from the top of the circles. His skillset allows him to swiftly skate past opponents on the boards or bring it up the gut and rifle a top-shelf wrister over the goaltender.
Yet, there have been murmurs over the past season that the Austrian wants to return to Minnesota, where his family lives, where he played college hockey and where his friend and former captain, Jason Pominville, is currently earning a paycheck. That prophecy and the fact that Vanek could warrant a long-term, big-money contract could be what takes the Blues out of the bidding war.
If it is all smoke and mirrors, though, Vanek could want to go to a contender that he feels stands the best chance. That team could be from anywhere in the NHL landscape.
—
Just one change could be all it takes. One person could be the difference from the Blues personnel watching the second round of the playoffs and battling on to finally capture that elusive Stanley Cup.