Nikita Scherbak THW Close-Up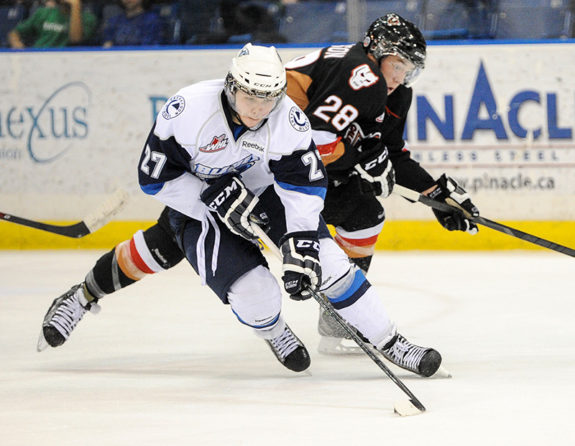 Date of Birth: December 30, 1995
Place of Birth: Moscow, Russia
Ht: 6'2" Wt: 175 lbs
Shoots: Left
Position: Right Wing
NHL Draft Eligibility: 2014
It's not unusual for imports to North America to have a tough time in their first year. There's a lot of things that can trip them up; the language barrier, a different culture, different ice sizes and more intensive travel chief among them. Thus, expectations are usually low for even the most talented Europeans coming to North America in Year 1.
I think it's safe to say that Saskatoon Blades forward Nikita Scherbak demolished all expectations for a rookie Russian in the Western Hockey League. Heck, he would've been impressive if he was older or already acclimatized to North America. Thrown into a Saskatoon Blades line-up in the midst of a rebuild following them hosting last year's Memorial Cup, Scherbak was likely hoped to be an everyday player who eventually developed into a contributor. Instead, he became Saskatoon's best player almost from his arrival. He put up 78 points in 65 games as a rookie, somehow not winning the WHL's top rookie award despite being far-and-away the highest-scoring rookie in the Dub (and 23rd in league scoring overall).
It's hard not to like a lot of things about Scherbak's game. He's got a big frame but still has room to fill out, so his relative physical maturity (as a December birthday he's one of the draft's older prospects) isn't as stark as you'd expect. He's a good skater with strong acceleration, and he's quite aggressive on the fore-check. He sees the ice well, has good patience and anticipation with the puck and has shockingly good consistency for a player so new to the North American game. His longest scoring drought was three games, and he was one of the most eye-opening players at the 2014 Top Prospects Game in Calgary in January.
If Scherbak has flaws, they're likely his physical and defensive games. He's more comfortable with the puck than without, and sometimes drifts a bit in his defensive coverage. That's probably an adjustment he's making from Europe to North America, and I'd expect that to correct itself given time. In terms of physicality, Scherbak doesn't play a hugely physical or mean game, and as a result he may tend to the perimeter against larger, more physical defenders. However, given that he's still filling out and will likely add some muscle, the physical part of his game will likely come along as well.
The big question mark for this dynamic Russian import is how much more he can improve given increased familiarity with the North American game. Scherbak's not your stereotypical Russian player, and he plays a more of a hybrid style compared to other imports. Based on his stellar first year, it will be very interesting to see how quickly he can round out his game, and whether he cane retain the dynamic offensive qualities that made him so effective as a rookie.
Scout's Honour:
"The best thing about him is that he's very coachable and teachable. Because he can skate he can get on the puck. But when he's not on it right away he's not afraid to make or take a hit. When you've got that part of a game from a Russian player it's exciting."
–David Struch, Saskatoon Blades head coach
Statistics:
Bio/Interview(s)/Link(s):
International Tournaments:
Scherbak has no significant international experience.
ETA:
1-2 years
Risk-Reward Analysis:
Risk 1/5, Reward 4/5
NHL Potential:
Second or third line winger.
Strengths:
Strong skater
Good vision
Good passer
Has adjusted to North American game very quickly, suggesting strong hockey IQ
Flaws/Aspects He Needs To Work On:
Needs to add to his physical strength
Needs to improve his defensive decision-making
Needs to continue to make minor adjustments to North American ice
Fantasy Hockey Potential:
Offensive 8.5/10, Defensive 7.5/10
NHL Player(s) Comparison:
If Scherbak can continue to grow, he could progress towards being a Marian Gaborik-type player.
When He'll Go In June:
Scherbak projects to be chosen in the middle-to-late first round.