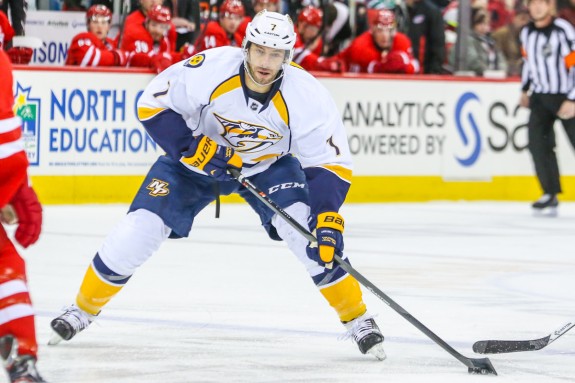 Peter Laviolette and Matt Cullen had fond memories together in the Carolina Hurricanes organization years ago. After all, who wouldn't after winning a Stanley Cup? Laviolette head coached the Hurricanes' 2006 Stanley Cup winning team with Cullen on the roster. Now, they reunite in another Southern city — Nashville.
"My time with Matt in Carolina was terrific," Laviolette said Sunday. "We had success as a team and Matt was a big part of it. He really played a significant role in our championship run."
In Carolina, there was an exceptional amount of talent at forward with Eric Staal, Rod Brind'Amour, Justin Williams, Cory Stillman, Erik Cole and Ray Whitney.
"I think it goes to the balance of the team. When you have a guy like Eric Staal, a guy like Rod Brind'Amour, and a guy like Matt taking on the minutes and contributing with a guy like Ray Whitney, [it was] like a layered attack."
While Carolina had incredible scoring depth, the Predators are currently not as fortunate. Most of Nashville's "top 6 forwards" would not be worthy of being on the top lines in other cities throughout the league. While this is not a high mark for the Predators, it is great opportunity for Cullen to become a go-to scorer once again under Laviolette. Expect the 37-year old veteran to have a bigger role not only on the ice, but in the locker room as well, trying to aid in the adaptation of the new coach's system.
"I definitely think Matt has a veteran presence in that room. Certainly, I will be counting on Matt for what I know of Matt, which is a great two-way player and a great leader. I think he can help solidify a group of forwards who need to find the next gear. That will certainly be the objective when I get there. Having someone who has worked in that system before is an advantage moving forward."
The way Laviolette coaches the game is the same way Cullen plays the game, filled with puck possession and skating.
"[Laviolette] likes to play a more of an up-tempo type of game," Cullen said May 6. "He brings a lot of fire to the game and a lot of passion. I think he is going to be a great fit for the organization."
Cullen related Laviolette's game to the way the Predators played in the final 12 games of the regular season when the team finished 9-1-2. In those last 12 games, Cullen amassed 4 goals, 9 assists. Cullen may just succeed in the scoring department under Laviolette, once again.
"Our game will probably look a lot like it was towards the end of last season. I don't see a big coaching transition. It seems seamless."
"Matt is a terrific person and a great hockey player," Laviolette said. "We are looking forward to getting back with Matt."