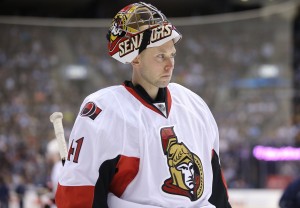 Much has been made of a lack a quality goaltending that the Ottawa Senators received from Craig Anderson this past season. His numbers of 3.00 goals against average and a 0.911 save percentage were miles behind his production from the previous season. Although this does seem to fit his pattern over his four seasons with the Senators.
There have also been many opinions as to whether Robin Lehner is ready for the starter's role. We will examine both avenues further.
Craig Anderson's numbers with the Senators
| | | | | | |
| --- | --- | --- | --- | --- | --- |
| SEASON | GP | GAA | SV% | WIN% | GSAA |
| 2010-11 | 18 | 2.05 | 0.939 | 61% | 15 |
| 2011-12 | 63 | 2.84 | 0.914 | 52% | 0.8 |
| 2012-13 | 24 | 1.69 | 0.941 | 50% | 20 |
| 2013-14 | 53 | 3.00 | 0.911 | 47% | -5 |
*GSAA = Goals Saved Above Average (goals he saved above or below what the average NHL goaltender would have saved in the same number of shots).
Clearly in seasons where he plays more than 25 games he reverts to the level of an average to below average National Hockey League goaltender. In fact over his entire 371 game NHL career he has saved 41 goals over the average NHL goaltender. To illustrate, that would be six seasons worth of 60 starts and an average of six goals saved above average.
Essentially this shows that overall Craig Anderson is very slightly above the average NHL goaltender. While he is a fair stop gap, he should not be counted on to carry his team through multiple seasons.
This past season was not one to remember for Anderson. He was pulled five times and only managed to post a Quality Start in 50% of his starts. Along with that he made 10 "Really Bad Starts" where he posted a save percentage of 85% or lower.
Are the Senators getting good value in Craig Anderson's performance?
His even strength save percentage was good at 0.925% last season. This ranked him 8th in the NHL among goalies with a minimum of 50 starts. Right behind Henrik Lundqvist and Jaroslav Halak at 0.926% and tied with the likes of Roberto Luongo, Corey Crawford, Jonas Hiller and Mike Smith.
The average salary cap hit of these goaltenders his is amongst is $4.7 million, while Anderson's cap hit is just under $3.2 million. Overall, for what he is, the Ottawa Senators are getting good value for their money in his performance.
The biggest downfall to Craig Anderson this past season was his play while his team was shorthanded. He finished the year with a 0.842 save percentage when shorthanded. That ranked him 20th in the NHL amongst goalies with 50 or more starts. Surely it did not help that the Senators penalty kill ranked 22nd in the NHL killing only 80.9% this year. They were also shorthanded 320 times which was most in the NHL.
The Ottawa Senators also lost valuable points in shootouts. Craig Anderson had a 0.333 save percentage in the six shootouts he had this year. He posted a record of three wins and three losses.
Looking ahead to the future of Craig Anderson and Robin Lehner
At the age of 33 and heading into the final year of his contract it is expected that this will be Craig Anderson's last season in an Ottawa Senators uniform. Surely the hope is that Robin Lehner will be ready to handle the starting duties by the time the 2015-16 NHL season begins.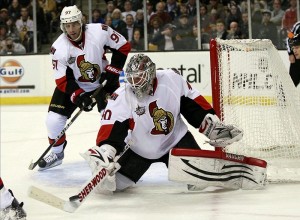 Through 61 NHL games Robin Lehner has a goals against average of 2.82 and a save percentage of 0.918 over the last three years. Over his first 17 games he was extremely impressive with 2.18 goals against average and a 0.936 save percentage.
This past season he posted 3.06 goals against average and a 0.913 save percentage which really brought those numbers back to earth. Still just 22 years old there is the assumption that he will blossom into a top flight NHL goaltender.
In comparison by the time Carey Price was 22 years old he had played 93 NHL games with 2.65 goals against average and a 0.912 save percentage. Since then his career numbers are now 2.52 goals against average and a 0.917 save percentage through 369 games. So Lehner's numbers do not appear to be far off another highly touted goaltender, which is now considered one of the elite NHL goalies.
The hope for next season
Ottawa Senators general manager Bryan Murray and head coach Paul MacLean are surely hoping that Robin Lehner can take the next step and seize the starter's role from Craig Anderson at some point during the season. If that happens they will be in good shape moving forward, however if Lehner does not take the next step in his development that makes things more complicated for Bryan Murray.
The Senators will then need to decide whether they attempt to resign Craig Anderson for another season to let Robin Lehner further develop, or if they will hand the reigns to Lehner and hope for the best while bringing in a veteran backup.
Time will tell which way things fall, but surely this is a key season for Robin Lehner in his young career.