by Eldon MacDonald (edited by @ChrisRalphTHW)
Alexis Vanier
THW's NHL Draft War Room Rankings – Apr-14: #39
THW's NHL Draft Rankings – The Next Ones Edition (aka Chris's List) #36 (March 2014)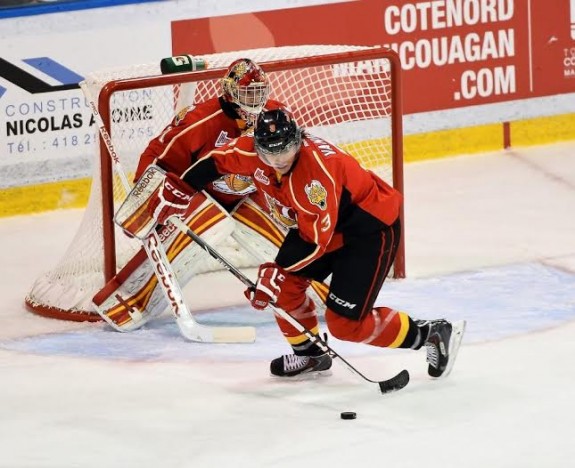 Hashtag: #LeMonstre
Team: 3, Baie-Comeau, QMJHL
Position: Defense
Shoots: Left
Height: 6'5
Weight: 224 lb.
Born: St. Constant, QC, 20-Dec-95
Twitter: @AlexisVanier
[Your quintessential draft resource:
Stats
Other Rankings
34 – Bob MacKenzie, Jan-14
80 – Craig Button, Mar-14
152 – NHL Combined – Final, Apr-14
Worth Retweeting
Another big d-man for the #Habs at the draft? Alexis Vanier 6'5 225lbs, Baie Comeau Drakkar… 15 goals, 21 assists, 52PIM, +11 #GoHabsGo

— Matt Smith (@Snakebite350) May 9, 2014
Skating keeps him out of first. RT @marctangent: @coreypronman have you seen Alexis Vanier? Size & production would suggest 1st/2nd rounder?

— Corey Pronman (@coreypronman) December 10, 2013
https://twitter.com/Jerome_Berube/status/381241800201363456
Interview
Contains All the Prospects Profiled in This Series]
Profiles
Quotable
Quote 1: Ian Esplen at HockeyNow.ca, "Every time that Vanier was on the ice I found it hard not to notice him. For a six-foot-five, 215-pound defenceman, he skates awfully well once he is moving and I'm sure that caught more than a few scouts' eye. While he needs to improve the quickness in his first step, I felt his skating is still pretty good. Aside from his athletic talents, Vanier also has a great shot, good passing skills and thinks the game very well. Overall, this is one player to watch the rest of the way as he will surely charge up the draft rankings based on these tools alone."
Quote 2: Allan Muir atNHL.SI.com, "Biggest surprise of the QMJHL this year … his size and strength are obvious but his offensive game is impressive, despite the point production … his defensive game is OK, too."
From the War Room
Eldon MacDonald, THW:  A few words on Alexis Vanier:
Le Monstre – 6'5, 224 lb. – A monster on the outside and an ogre on the inside when he wants to be – keep your head up!
Overwhelming physical presence – Alexis just has that overwhelming physical presence at the back end – the man-child physique at 6'5, the overpowering shot, reminiscent of Sheldon Souray, the willingness to use the mitts, the willingness to be a little bit mean, the willingness to do the monster mash on his opponents. Yes, a physical presence, indeed!
Improvements to make – Alexis should continue to work on his skating to finalize his preparation for the big leagues – a little more acceleration and a little more speed and, oh my, you have the complete package. Huge guys sometimes take a little longer to mature, Alexis, however, has come a long way this year.
The injury – Wondering about the decline in production as the year progressed, well, Alexis got injured (shoulder) during the Subway Super Series in November and seemingly never fully recovered. In fact, he had to shut his season down and miss the playoffs due to that injury. Before the injury – 25 games, 24 points; after the injury – 36 games, 12 points.
Draft placement – NHL scouts will do their homework and decide not to miss out on this behemoth – early to mid second round is the most likely outcome for Alexis. However, in a year where there are so many small players, first round could be more than just a possibility.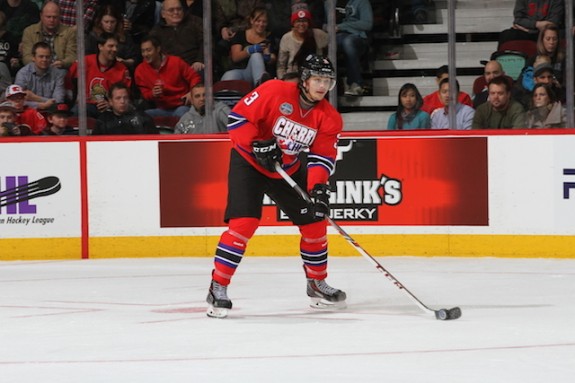 Video
Video 1: TVASports.ca– Two goals and three assists versus The Quebec Remparts
Video 2: HockeyFights.com– Fight with Owen Bennington of Val d'Or Foreurs