The second in the series of Sharks report cards, this one examine the defense. Seven defenders shared time on the blue line in San Jose. The Sharks defensemen were seemingly among the best in the league as 2013 turned to 2014. But a bit of trouble in net and the exposure of a very shallow defensive system proved just how much trouble Team Teal is in this offseason.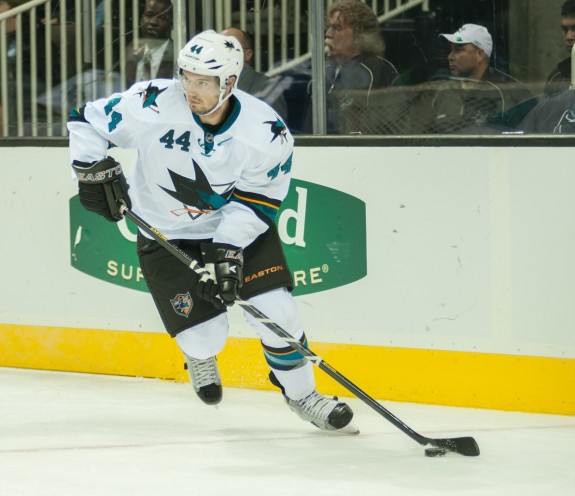 Sharks Defensemen: Optimal Pairings
Once again, my opinion on the best possible pairings that the Sharks can muster. The six best Sharks defensemen could be put together as so:
Marc-Edouard Vlasic — Jason Demers
Brad Stuart — Justin Braun
Scott Hannan — Dan Boyle
Sorry, Matt Irwin, someone had to be cut.
Marc-Edouard Vlasic
Plainly, the best defenseman on the Sharks roster, Marc-Edouard Vlasic displayed exactly what (not to toot my own horn) I expected of him this season. A +31 for the entire regular season was second only to Matt Niskanen of the Penguins (with nearly double the points of Pickles). Vlasic was tasked nearly every night with taking out the best of the league. His best work came against the aforementioned Penguins when he kept likely MVP Sidney Crosby locked down. In fact, the superstar Canadian registered a -5 on the game. His worst of the entire season. Vlasic's positional expertise and hockey IQ frustrated forwards and was key to keeping his coach's hair on his head. GRADE: A+
Jason Demers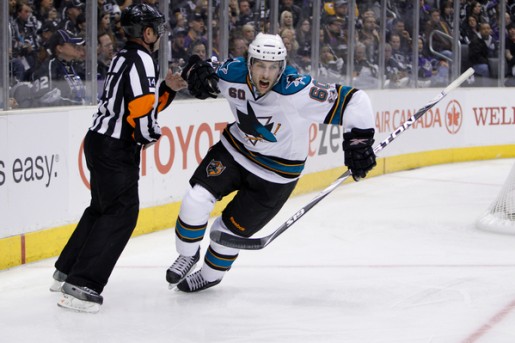 Vlasic's partner on the top defense pair is not the second best defender on the squad. He is, however, a very capable defender in his own right. Jason Demers more than held his own facing down the best of the best. Benefiting from Vlasic's clamp-down defense, he tied Justin Braun for the lead in takeaways among Sharks defensemen. He was the second line choice during penalty kill time. Demers floundered without Vlasic, however. His corsi for percentage dropped six points and his goals for percentage dropped by nearly 20 percent! GRADE: B
Brad Stuart
The second blue liner on the left was forced to replace Marc-Edouard on the top line when he went down in the playoffs. Suffice it to say, he couldn't add up. During the regular season, Brad Stuart was the third most used on the penalty kill. He was last among Sharks defensemen in scoring yet posted 3 game winners through the year. Stuart, however, was the most punishing defender on roster. His 122 hits dwarf the second highest number by over forty. Brad did not face the toughest competition in the league. According to ExtraSkater, he was right around the league average in quality of competition. Despite the average competition, Stuart only posted a Corsi For of 51.5%. In other words, he was nothing special. GRADE: B-
Justin Braun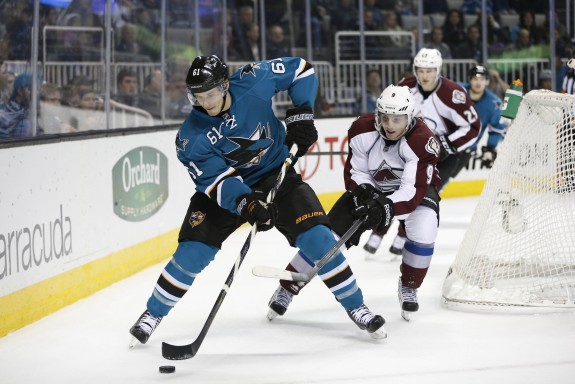 Justin Braun is even more under the radar than Marc-Edouard Vlasic was last season. If that's even possible. Braun was the only defenseman to play all 82 games. Braun was the most trusted players on Todd McLellan's blue line. He started the largest percentage of his shifts in the defensive zone of all Sharks defensemen. Per ExtraSkater, he started in the back third for nearly 35% of his shifts. He and Vlasic also were the top pair for penalty kill time. Given all this responsibility, how did Braun respond? The American amassed a +19, 146 blocked shots, and a Corsi for of 54.1%. Not bad, huh? GRADE: A-
Scott Hannan
Unfortunately, Justin Braun is the last good news I have on this report card. Scott Hannan spent a lot of his time watching skaters blow by him. This often led to him taking hooking penalties or interference or something to prevent further damage. His goals for and corsi relative percentages were both deep into the negatives. His 55 PIM were the most among Sharks defensemen despite playing the fewest games.  Hannan is well past his prime and has been declining for some time now. It's no surprise he gets the low mark he does. GRADE: C-
Dan Boyle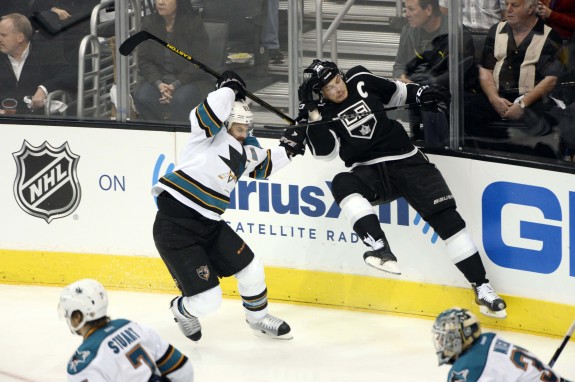 He wears the "A," yet he no longer has a contract. The only real scoring threat on the Sharks blue line, Dan Boyle's age caught up with him this season. A concussion from a vicious hit early in the season sidelined the veteran and it seemed like he never fully recovered. He still contributed well on the power play with 18 points on the man advantage. But his defensive abilities seriously suffered. He lost more than a step. Boyle spent very little time in high pressure situations for the defense. His -8 plus/minus was his worst as a Shark. More than the stats, the overall climate of the situation spelled the end of an era in San Jose. It was time to say goodbye. GRADE: C