This is the first part of  the Sharks report card series. These articles will grade the regular season performance of Team Teal. In this article, we will focus on the offense that improved from a bottom-feeding sucker fish in 2013 to the feared Great Whites they were meant to be last season. The Sharks forwards created three (sometimes four) effective and dangerous lines of scorers. Going up a full half point in the goals per game category, the Sharks offense exploded this season.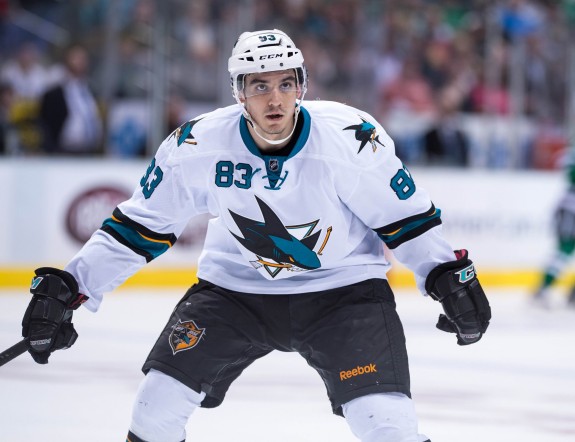 The Sharks Forwards Organized Into Lines
Here is my own opinion of the optimal line pairings for San Jose. These are not what was the most common, and certainly not what was used in the playoffs. Injuries during the year are not taken into account. This is the perfect world scenario.
Tomas Hertl — Joe Thornton — Brent Burns
Patrick Marleau — Logan Couture — Matt Nieto
Raffi Torres — Joe Pavelski — Tommy Wingels
James Sheppard — Andrew Desjardins — Mike Brown
Now, I will go into each player and grade their regular season individually.
Tomas Hertl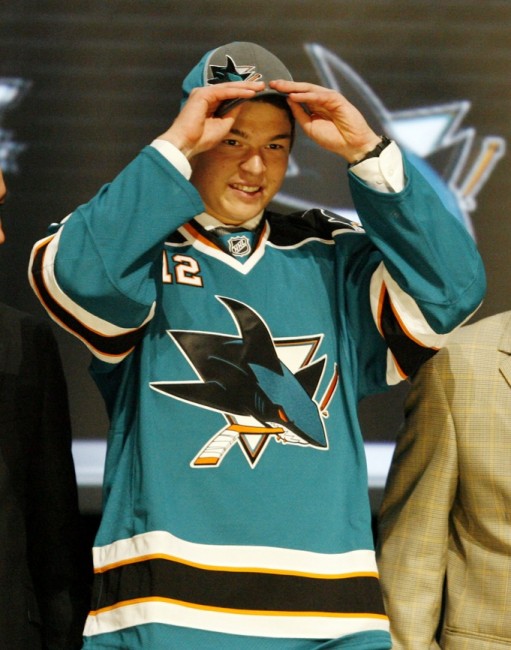 Perhaps the Calder Trophy debate would actually be a debate had Dustin Brown not stuck that leg out at him in Los Angeles. Hertl only played in 37 games in his rookie season, but he made an immense impact in that short time. We all remember that night when he exploded past Henrik Lundqvist of the Rangers for four goals. But he also demonstrated a willingness to throw his body around. He made hits and took them as well. Under his captain, Tomas Hertl reassured Sharks fans that the future is still sound in San Jose. His fifteen goals and ten assists could be much higher, but he far exceeded expectations this year. GRADE: A-
Joe Thornton
The captain was still the captain. He may have had the lowest shooting percentage of his career (in full seasons) but he also came second in the entire league in assists. He was also the team leader at the faceoff dot. His tutelage of Tomas Hertl is what made the youngster so successful in his first season. Thornton also had one of the most memorable quotes from the Sharks forwards after Hertl took criticism for his "cockiness." He was the emotional leader on this squad and proved his usefulness yet again. The unfortunate truth is, his age definitely started to show and he almost refused to shoot the puck. GRADE: B+
Brent Burns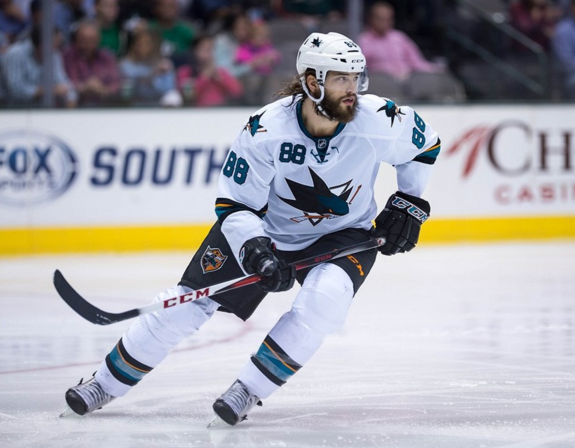 The Tom-Dick-Hairy line (dubbed for their nicknames) is completed with Brent Burns. Chewbacca cut his hair off when he returned from injury mid-season. Playing 69 games, Burnzie scored 22 goals and 26 assists. He was one of the smallest headlines for the entire season. Brent quietly compiled a respectable season alongside his captain and a brand new rookie. His forward-leading +26 is not surprising given his experience at defense. While he and Jumbo suffered down the stretch, Burns found a new home on the second power play unit. He scored 11 power play points. GRADE: B+
Patrick Marleau
Probably the most scrutinized player on the Sharks roster, Marleau has been under pressure for what seems like an eternity. Another thirty goal season by Marleau is even more impressive considering he was in the top 20 in terms of quality of competition he faced. 70 points and no real drought to speak of during the season, Patty Marleau did his best to silence his haters. He was especially dangerous on the power play where he earned 23 points during the season. His speed has not left him yet, either. The only real issue I have with Marleau is that he seemingly never plays defense! His favorite center, Logan Couture had a plus/minus of +21! Marleau sits at an even +0. GRADE: B+
Logan Couture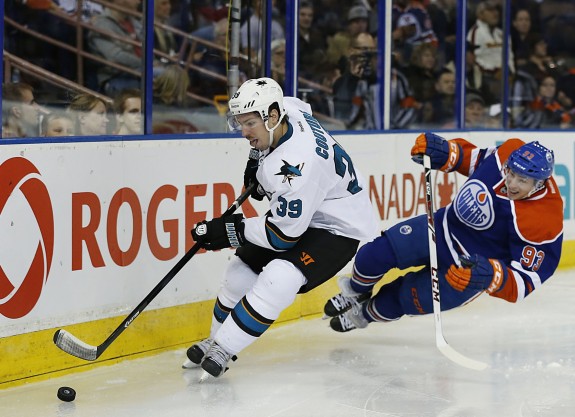 I haven't really reamed anyone here yet. Allow me to remedy that. Logan Couture is supposed to be the future. He is supposed to become the future face of the franchise. But this season was not the leap forward we all imagined. Among Sharks forwards, he easily has the most pressure on him at all times. He faced an even tougher quality of competition this season than Patrick Marleau did. His 54 points in 65 games is okay, but not what we were expecting. He suffered a hand injury and the team suffered in his absence. The power play unit became ineffective and never truly regained it's bite. 23 goals isn't bad, but it isn't enough if you had two thirty goal seasons in your first three years in the league. Couture also fell into the streaky behavior that has maligned Sharks forwards for years. December saw 11 straight games without a goal. His grade is low because we all know he is better than this. GRADE: C+
Matt Nieto
After the meteoric rise in fame of Tomas Hertl, who would've thought any other rookie would get any press this season? Nieto, who sat down with THW's Dan Rice this season, contributed beyond the scoresheet. His speed was a key factor in running down opposing defenses. Along with Marleau and Hertl, he provided more speed to bring down opponents. His numbers were nothing special, but 24 points for a rookie can still be considered a good season. GRADE: B-
Raffi Torres
A very short season for Raffi. With only five games under his belt before the playoffs started, Raffi showed that even his major injury during the preseason could not douse his vicious style. He came right back and made an immediate impact. But his season can only be graded with an incomplete.
Joe Pavelski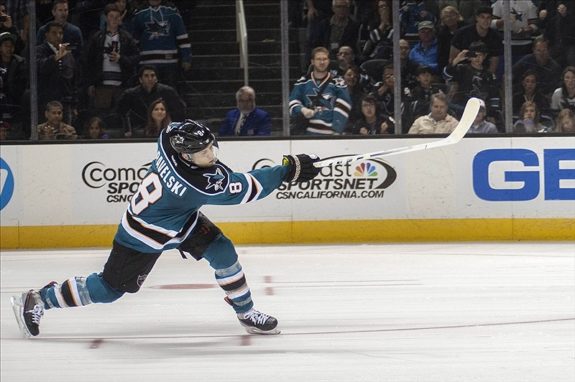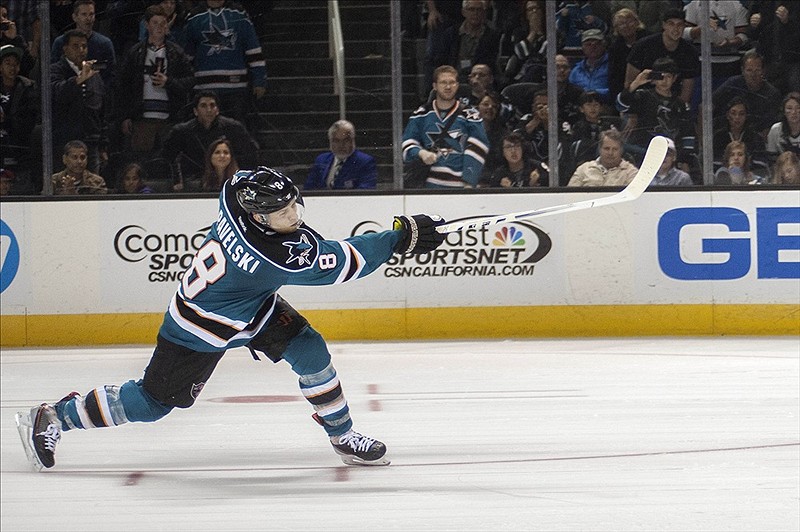 What can I possibly say to sum Pavelski's year? Easily his best season ever, Joe Pavelski earned three hat tricks, on his way to a 41 goal season. Among the league's best in scoring, Pavelski was easily the best player wearing teal this season. He was flexible no matter where his coach put him (either on the first, second, or third lines) and he played every single game. His intensity was an example for the young guns and he is responsible for the coming out party of Tommy Wingels. I see a lot of Pavs in Wingels' game. His 31 power play points led the team by a wide margin as well. There isn't much else I could have asked Pavelski to do this season. GRADE: A+
Tommy Wingels
The reason the Sharks forwards were dangerous no matter what line they were on is because of young guys like Tommy Wingels. Sharks forwards beneath the top two lines in recent years have been all but an afterthought. Wingels showed a knack for being in the right place at the right time. A lot like a young Joe Pavelski. A few blown calls robbed Tommy of two game winning goals early in the season, but that did not hamper the third line too much. He has shown steady production in his time in the NHL. Expect to hear more from him soon. GRADE: B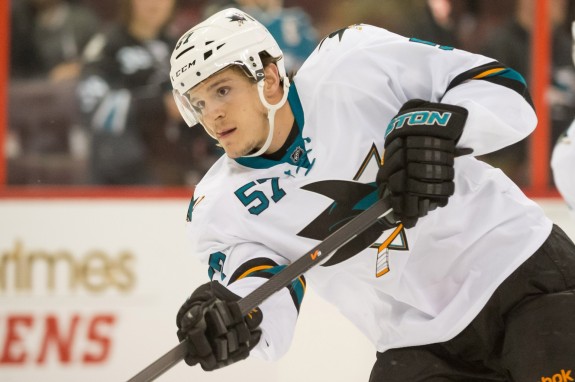 James Sheppard
Sheppard is a role player down on the fourth line. He saw some time up with Joe Pavelski on the third, but never really found his footing against tougher competition. Sheppard was a fleet footed fourth liner that was very good at creating energy for his team. Unfortunately, there isn't much room up above him to grow. Besides, the Sharks would like to have a more dangerous threat down there with the heavy hitters. GRADE: C
Andrew Desjardins
Desi is a vastly unappreciated center. Sure, he isn't going to be a top six forward, but he can be called one of the best fourth line centers out there. The Sharks forwards are defined by each line's center. Desjardins proved an effective leader on a line that saw many different faces. He was great at setting the table for his teammates and made the energy line a legitimate threat to score. Late in the season, Todd McLellan even gave him more time on the second penalty kill unit. His shot blocking was well-demonstrated there. GRADE: B-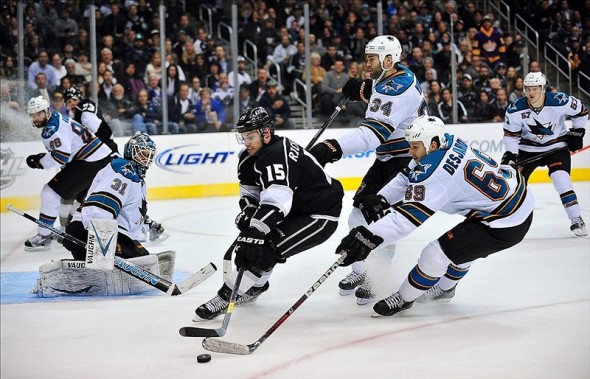 Mike Brown
I'm not a Mike Brown fan. I won't lie about that. I think he was a short term solution to Raffi Torres' injury. He does not fit the Sharks style and I thought they were sinking beneath their morals in using him. He agitates and he does it well. But he is not the fourth line contributor that the Sharks want. I had to think long and hard who I would rather see in this lineup. Havlat or Brown. But my expectations for Mike Brown are much lower than Marty. I know the former all-star has it in him, he just can't find it. GRADE: D+