In case you missed it, Tomas Hertl is good.  Very, very good.  I mentioned before how he would do well with the Sharks captain, but I didn't give him this much credit.  He has blown away all expectations in just three games.  Hertl explodes onto the scene now as a legitimate contender for some serious hardware at the end of the season.
Hertl, so hot right now. Hertl.

— ktr (@Papa__Roche) October 9, 2013
Hertl's to do list for tonight: Score 4 goals – #Czech

— Shawn Reznik (@ShawnTHW) October 9, 2013
The world basically exploded after this goal.  The small market team even had Twitter trending with Hertl's name!  The Sharks store at SAP Center doesn't even have his jersey in stock yet!
Hertl Explodes With Six Goals in Three Games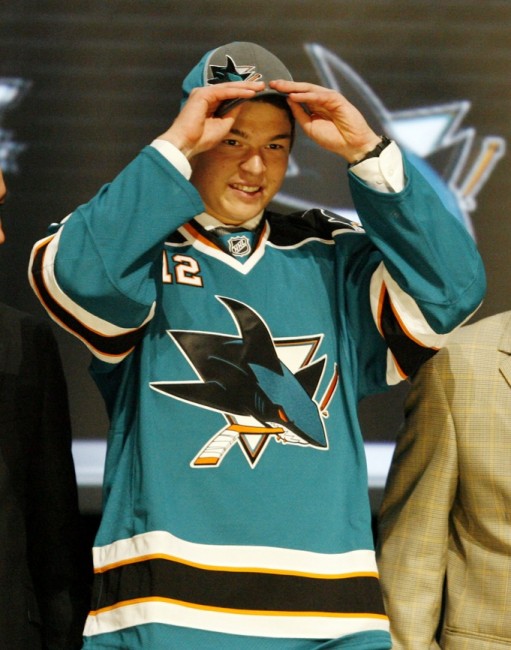 In game number two of the season, Hertl scored his first goal against the Phoenix Coyotes.  Then, he scored his second (a power play goal).  That night he was elected the first star of the game and the first star of the NHL.  His coming out party had begun.
Then the best goalie in the game right now, "King" Henrik as he has become known as, swaggered into SAP Center.  The well-dressed Swedish netminder was virtually undressed and outclassed on Thursday.  It is safe to say, when Hertl explodes the Sharks will explode after him.  His redirect on the sharp cross-ice pass put the Sharks up 4-1.  It also chased the so-called best goalie in the league right now.  But Hertl was not done.  Three minutes later, Dan Boyle's broken stick broke up a Rangers break and gave the puck to Jumbo Joe.  Thornton fed Hertl who went in alone on Lundqvist's replacement, Martin Biron, and slid one right in between his legs.  At 6-1, the rout was definitely on.
After the Rangers scored in the third, Hertl decided it was time for more.  A rebound on the power play and the goal of the year candidate came three minutes apart from each other to send SAP Center into a frenzy.
Is Hertl For Real?
When a youngster like Hertl explodes onto the hockey scene like this, there is bound to be the discussion.  Is this just a great night?  Or is this the sign of things to come?
Let me fire the first shot.  This is no one-hit wonder.  This kid is real.  Hertl has shown an affinity for finding the puck, no matter who has it.  In three games, he has shown no fear in using his big body to make hits or block shots.  In fact, earlier in Tuesday's game, he took a shot to the arm as he fought for position in front of the net.
I have no doubt that the hard work and fearlessness is a product of skating on a line with the likes of Brent Burns and Joe Thornton.  The two veterans are hailed for their grit and selfless plays.  When you're 19 years old, the NHL can be a scary place.  When you're 19 and your captain is your linemate, you better believe any mistakes you make will be discussed thoroughly.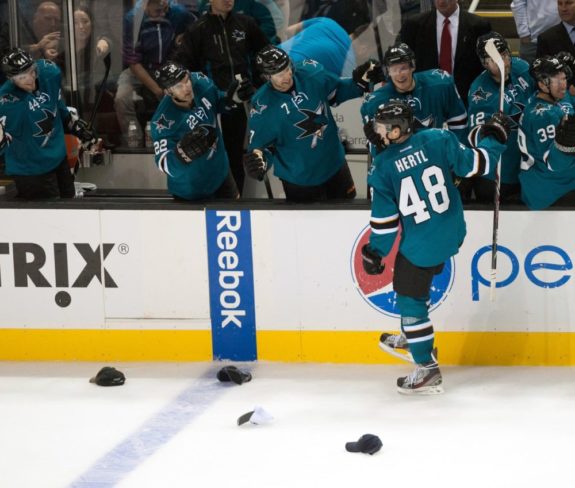 The thing that makes me believe he is a legitimate Calder contender, however, cannot be quantified by his stats.  Sure, he leads the league in goals right now.  And points.  But what really makes him special is his purity for the sport.  He truly loves to play the game and is simply having too much fun.  The cutaway to his mom during the celebration and postgame interview reminded us all, that he is just a kid.  A kid playing his favorite sport for a living.  As he himself stated: "This is dream."
Can Hertl Pull Off a Calder Trophy Steal?
Coming into the season, few had Hertl on their radar for a Calder.  However, Yahoo Sports mentioned him in their preseason list.  And their only knock on him was his lack of North American hockey experience.  Now that we have all witnessed what can happen when Hertl explodes, look for a lot more attention from opposing defenses.
But what the young Czech will benefit from is his coaching staff.  The Sharks have looked far superior to all three teams they have faced this season.  And the Canucks, Coyotes, and Rangers are not bottom feeders in the NHL.  They are playing faster, sharper, and more aggressive hockey than has been seen in San Jose for years.
Todd McLellan's style has paid huge dividends so far, and look for Hertl to be right in the thick of things.  He is not carrying this team.  Remember a guy named Logan Couture?  What about Joe Pavelski?  And Patrick Marleau?  Opponents cannot hope to focus on one scorer in San Jose, and that's why Hertl will make a serious run at the Calder.
By the way, before Hertl explodes on Tuesday, this gem was created.

Kenneth is a graduate of the University of San Francisco in Politics and Chemistry. But his passion in life has always been hockey. He has played since he was four and even coached a few teams. Kenneth writes for the San Jose Sharks at thehockeywriters.com