The projected forward lines have nineteen year old, Tomas Hertl playing alongside captain Joe Thornton.  Honestly, the Sharks could not ask for a better player to mold young talent and lead by example than Jumbo.  With 16 seasons under his belt and consistent play more than expected, the Sharks captain may just be the best man in the NHL to welcome a rookie to the league.
Tomas Hertl: Player Profile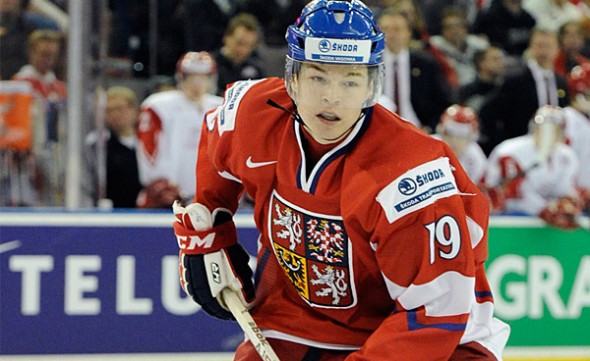 DOB: November 23, 1993 (19)
6'2" 200 pounds
Shoots left
From Praha, CZE
Strengths: puck handling, creativity, vision, and passing
Weaknesses: speed and defensive play
Potential top 6 forward in NHL
Has never played on a small surface like that of the NHL
Molding Young Talent
The first few years of a player's career are crucial.  The most talented and potentially superstar prospects can be erased with one injury or a few poor decisions that dismantle all confidence.  Case in point, Rick DiPietro.  The story of the former number one pick is tragic.  Wonderfully talented, the goalie from Boston University that nearly won a national title in the only year he played there.  His ability to control rebounds, agility, and even some elements of stick handling made him a hot commodity.  After being drafted in 2000 by the Islanders, the keeper played 20 games the following season.  The Islanders struggled and Rick spent the next two seasons in the minors.  He reemerged in 2003 where he posted a 2.36 GAA.  It seemed as though he was destined for greatness.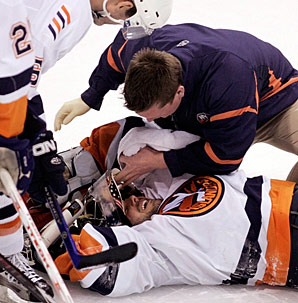 But DiPietro did not reach that potential in the NHL.  The American netminder had issues off the ice that found him in poor graces with the fans.  He was cocky and never seemed to grow out of his college life.  When in Boston, he was a superstar and the big man on campus.  He wanted to lead, but failed to build respect with his teammates due to a "short fuse."  That brings us to his injuries.  In 2007, he raced out to poke a puck at the blue line.  Steve Bégin of the Canadiens collided with him in a play that resulted in a concussion.  Another concussion ended that regular season in a game against the Rangers. After playing four playoff games, the offseason featured a major surgery to repair a torn labrum.  The injuries would simply keep coming.
DiPietro's downfall can be attributed to a multitude of factors.  His own attitude made him tough to get along with.  The team had difficulty rallying around him.  His coaching staff made poor decisions.  He sat on the bench while injured, effectively sitting as an inactive backup.  Islanders brass handed him a ludicrous 15-year contract while he was battling injuries.  Charles Wang gave him that contract and his fate was sealed.  With a pressure to heal and perform in his face, Rick succumbed and folded.
How Sharks Can Avoid Disaster
In terms of NHL experience and consistency, Joe Thornton is an elite among captains in the league.  Joe may not have the scoring touch he touted in Boston anymore, but he has remained a prominent performer.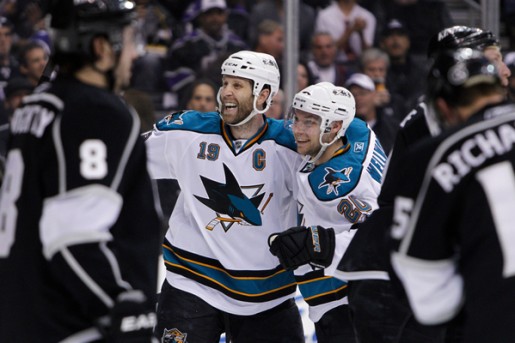 He garners respect from his peers year in and year out.  How many times have you heard someone talk about how much they just cannot stand Jumbo?  He is a likable character and plays the game the way it is meant to be played.  He has become a master at adapting his game to his abilities.  While he does not have the legs to beat defenders down the ice anymore, his playmaking abilities have flourished in recent years.  Critics knock his failure to seize a Cup, but it is easy to see how young stars benefit from time with Thornton (i.e. Logan Couture).
With Tomas Hertl comes an interesting scenario.  TJ Galiardi, the winger along with Joe and Brent Burns, was shipped to Calgary in the offseason.  This opens up a perfect slot for Tomas Hertl to fill in.  The Thornton line became the energy line that sustained heavy pressure during shifts.  Last year, the NHL witnessed a defender explode onto the scoreboard with the guidance of Thornton last season.  Brent Burns scored nine goals in 24 games with Thornton as his center.  Just watch as the captain forces this turnover and feeds Burns… twice.

Burns thrives off of Joe's work ethic and so will Tomas Hertl.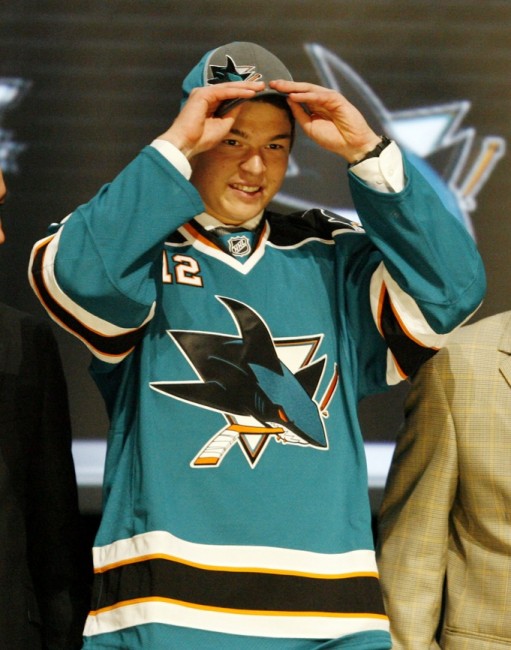 Hertl is already a more gifted forward than Brent Burns, at least in terms of offensive skills.  His maturity in the NHL will come with experience.  Tomas Hertl has the talent to play with the elite, but in order to get there he must be handled right.  Thornton will keep him level headed when plays get heated.  If he makes a mistake, Thornton will be there with constructive criticism.  Joe's clinical passing and high hockey IQ will model the game that the NHL demands.  Tomas Hertl will also see more opportunities because of Thornton's passing game.  Since his shot has diminished with age, Joe may defer to his teenage linemate when the time comes.